We know you've been eyeing that mouthwatering french cruller at Dunkin' Donuts. Along with the famous long john donut, these french crullers stand out with their elegance. They make the perfect combination of toasty churros and a pillow-like beignet. With a crunchy exterior and airy inside, a sweet glaze completes this luscious European treat.
Munch on this French pastry with a cup of sweet dalgona coffee for a perfect afternoon delight. We bet you won't find anyone who will turn down this sweet glazed cruller.
The Difference Between a Donut and a Cruller
Dunkin' has yeast donuts, cake donuts, and the famous french cruller. Yeast donuts have a sponge-like and tender texture which cake donuts also have inside their crisp exterior. Meanwhile, french crullers have an airy and soft texture with a crunchy exterior.
Donuts can have a slightly fermented flavor or different flavors (vanilla, chocolate, blueberry, etc.), while crullers usually have a light "egg-like" flavor and are often glazed for added sweetness and a yummier taste. You may not know this, but the Dunkin' Donuts cruller has the lowest calories among its vibrant donut collection. 
To pull off their unique structure, the french cruller donut needs the right amount of egg whites which act as leavening agents. They add air to the batter for a nice lift which also helps the pastry take structure. You can also enjoy the cruller donut with just about any flavor of glaze besides the classic honey flavored one that we used in this recipe. 
Tips on Making French Crullers
A quick trip to your pantry and you're ready to make your Dunkin' Donuts french cruller. Not only are the ingredients within your reach but making this is trouble-free too. Apart from the classic French cruller donut, what makes these desserts extra tasty is its sweet honey glaze.
The thick glossy honey syrup blends well with our egg-flavored treat. What makes this recipe even better is that you can easily adjust the consistency of your glaze just the way you like it.
For some helpful tips on making a fluffy yet crunchy french cruller, remember to: 
Add the eggs little by little and don't use too much of them.

If your dough has too many eggs it will make your fried cruller heavy and rubbery. 

Use starch or yogurt as alternatives to eggs if you prefer.

Starch will give your pastries a boost and help them take shape while yogurt will make them soft and fluffy. Check out our CAQ section below for a quick guide on how to replace eggs in this cruller recipe. 
Drizzle pecan coconut glaze over your airy French donuts for a quick glaze alternative with delicious nutty flavors. Ready to take a bite of these donut crullers?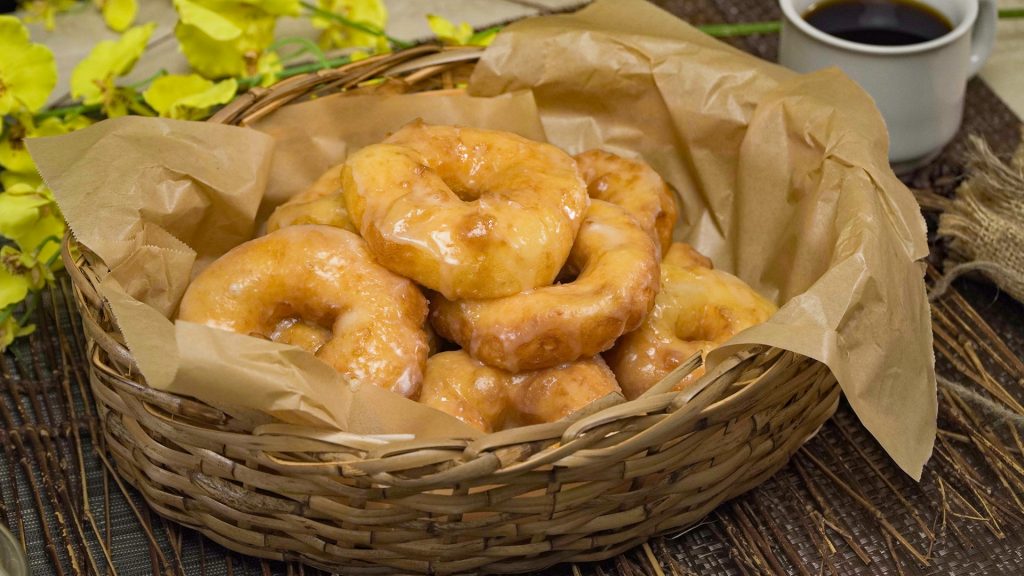 French Cruller Recipe (Dunkin' Donuts Copycat)
How To Make French Crullers (Dunkin' Donuts Copycat)
Take donut desserts to the next level by making this cruller recipe inspired by Dunkin' Donuts. This cruller's toasty and crisp exterior combined with its puffy and airy texture pairs best with its sweet glossy honey glaze.
Ingredients
5

eggs,

at room temperature, divided

5

oz

unsalted butter 

1⅔

cups

all purpose flour,

sifted

¾

cup

water

¾

cup

milk

2

tsp

granulated sugar

½

tsp

salt

vegetable oil ,

roughly 5 cups for frying, plus more for greasing

parchment paper,

cut into 3½-inch X 3½-inch squares  
For Honey Glaze:
1½

cups

confectioners' sugar

1

tbsp

honey

4

tbsp

milk
Instructions
Prepare a container to hold a large-tipped piping bag and brush your parchment paper squares with vegetable oil or cooking spray.

Bring the water, milk, butter, sugar, and salt to a brisk boil in a heavy-bottomed saucepan.

Over medium heat, mix in the flour all at once in your butter and sugar mixture. Stir until the flour is well incorporated, anywhere from 2 to 5 minutes. You'll know if you've done this correctly once the dough no longer sticks to the sides of your saucepan.

Transfer the dough onto a mixing bowl attached to a hand beater. Beat the dough for 1 to 3 minutes to cool down briefly.

Reduce the mixer to medium speed and add 2 eggs. Beat until evenly incorporated.

Gradually add the next egg, beating constantly, until all 5 eggs are used up. In this way, it will allow the dough to be elastic and can hold a shape.

Preheat your vegetable oil, ready for frying.

Pipe a ring of dough onto each of the greased parchment paper squares, roughly 1-inch diameter. You can freestyle from this point with different shapes or even a larger circle, but keep in mind that the dough will double in size while deep-fried.

When the oil has reached temperature, carefully place a cruller by holding the paper and sliding it into the hot oil. Do this one at a time.

Deep fry the cruller for about 3 to 5 minutes until it turns golden, then flip it over and let it fry for another couple of minutes before removing it to drain on a cooling rack or paper towels.
For the Honey Glaze:
Mix the confectioners' sugar, honey, and milk until smooth.

When the crullers are cool to the touch, dip the top of each cruller into the honey glaze and set it on a cooling rack to let the drip runoff.

When the glaze has set, the crullers are ready to serve.

Serve with the ⅓ cup of honey glaze on the side. Enjoy!
Nutrition
Sugar:

43g

:

Calcium:

94mg

Calories:

606kcal

Carbohydrates:

75g

Cholesterol:

229mg

Fat:

29g

Fiber:

1g

Iron:

3mg

Monounsaturated Fat:

8g

Polyunsaturated Fat:

2g

Potassium:

179mg

Protein:

12g

Saturated Fat:

17g

Sodium:

323mg

Trans Fat:

1g

Vitamin A:

1025IU

Vitamin C:

1mg
Nutrition Disclaimer
Commonly Asked Questions
Can I make French crullers without eggs?
Of course. You can use starch or yogurt in place of the eggs. Mix 2 tablespoons of starch with 3 tablespoons of water to replace 1 egg. Meanwhile, ¼ cup of yogurt is a good alternative for 1 egg.
Can I bake these French crullers?
Yes! Bake your crullers in the oven at 450 degrees F. But be sure to arrange them 2 inches apart since the crullers will grow once they are cooked. After 5 minutes, turn down the heat to 350 degrees F then bake for another 15 minutes. Let them cool for 5 to 10 minutes before glazing and serving them.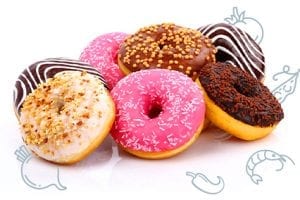 Conclusion
Nothing beats the captivating smell of warm french crullers fresh out of the fryer. We're sure no one will be able to keep their hands away from these honey-glazed French donuts once you make them.