So easy to make, these scrumptious squash meatballs will leave you wanting more! No one would guess that these meatballs, in fact, have no meat! Try this recipe today and add a healthy meal to your family's diet. Meatballs have grown so popular that almost every culture offers its own version.
When choosing the perfect squash for this dish, it is important to look for one that is firm, dry rind free of soft spots and cracks. Squash should be heavy for its size with a firm, dry rounded stem, which helps keep out bacteria. Also, avoid spaghetti squash that has a shiny rind, this is an indication that it may have been picked too soon or have a wax coating. What's great is that spaghetti squash can be found all year round but its peak season is early fall through winter.
Certainly, one of the key components of making meatballs is the breadcrumbs. In meatballs, breadcrumbs are sometimes added with egg, the motivation is mostly textural. It is smoother and spongier. The breadcrumbs also soak up liquid so the meatballs stay moist. Since meatballs are often cooked to well-done, they tend to be tough and dense. Breadcrumbs act as a binding agent, but, more importantly, the starch in the bread form into a gel. This gel acts much like a fat, which helps the squash stay juicy and tender. Lastly, breadcrumbs can help crisp the outside when frying them.
Meatballs need to be seasoned, period. As a rule, about 1 teaspoon per pound of squash will make for perfectly seasoned squash meatballs. However, if you're using a salty cheese like Parmesan in the mix, cut back on the salt a little bit. You don't want your balls to be too salty. Herbs! They're an important part of your standard Italian-style meatball mix. Without them, your squash meatballs will end up tasting like a vegetarian patty. But don't feel like you have to be tied to only parsley or basil. Mix it up with herbs like mint, oregano, and marjoram. You can even add a pinch of nutmeg, too.

Tip: For one to two pounds of meat, you usually won't need more than one or two eggs. And make sure not to add too much breadcrumbs, either – about a half cup per pound of meat would be enough.
The squash mixture will be sticky and make rolling a ball hard if you roll your meatballs with dry hands. For this, lightly oil your hands. You'll only need a light rolling motion to form a ball. Finally, depending on how you'll serve the meatballs, you should roll them to the size suited for the dish. If they're served on their own, they should be pretty big, about 2 inches in diameter, for example. When serving on top of spaghetti, a medium-sized squash ball will be enough. This one is all about preference, but just consider how the balls will be eaten.
This recipe would easily be on your go-to list for meal ideas, even during the weekdays. In other words, there's really no reason not to try this hefty snack. So, if you want to learn more 30-minute recipes, you can our try Potato Risotto recipe.

Tip: The recipe uses spaghetti squash but you could always switch it up with any squash that's in season.
How To Make Squash Meatballs
A healthier alternative to an all-time favorite Italian meatballs. Delicious "meatless meatballs" for when you want the family to eat healthy. Packed with flavors, this dish is guaranteed to be a crowd pleaser!
Ingredients
½

cup

breadcrumbs

3

large eggs beaten

¼

cup

white onion chopped

½

tablespoon

salt

½

lb

spaghetti squash

¼

cup

mint chopped

1

teaspoon

black pepper

4

garlic cloves chopped
Instructions
You will need to prepare the following ingredients for this recipe.

In a mixing bowl with ½ a pound of spaghetti squash add ½ a tablespoon of salt. This will help

Mix these two ingredients well and allow to sit for 15 minutes, until the liquid from the squash has seeped out.

Squeeze the squash over a strainer to drain any excess liquid.

Place your strained spaghetti squash in another bowl. Add ¼ cup of chopped white onions.

Throw in 4 cloves of chopped garlic to the mixture.

Next, add ½ a cup of panko breadcrumbs to your mixing bowl.

Now, add ⅛ cup of chopped mint and a tablespoon of freshly ground black pepper.

In a separate smaller mixing bowl, beat 3 large eggs. Add the beaten eggs to your meatball mixture.

Gently stir your mixture with a spatula until all ingredients have been completely incorporated.

Once combined completely, shape your mixture into bite-sized spheres. Place on a platter and set aside for frying.

In a large pot, heat canola oil at 350F and fry the meatless meatballs for 4-4 ½ minutes or till golden brown.

Gently, stir the meatballs using a slotted spoon. This will help you cook them evenly.

Once dark golden brown, remove from oil and place on paper towels to drain any excess oil.

Place the squash meatballs on a platter and serve with ketchup or any other sauce that catches your fancy!
Nutrition Facts
Calories:
125
kcal
|
Carbohydrates:
15
g
|
Protein:
7
g
|
Fat:
4
g
|
Saturated Fat:
1
g
|
Cholesterol:
123
mg
|
Sodium:
1026
mg
|
Potassium:
158
mg
|
Fiber:
2
g
|
Sugar:
3
g
|
Vitamin A:
346
IU
|
Vitamin C:
3
mg
|
Calcium:
65
mg
|
Iron:
2
mg
Commonly Asked Questions
Is there an easier way to peel squash?
Putting in the hard work of chopping and peeling your squash can be time-consuming. Make things easier for yourself and place the entire squash in the oven. First, pierce the hard skin of your squash a number of times to help it cook evenly. Place the squash on a baking sheet. Drizzle with olive oil and season with salt. Bake in the oven at 350F for 30-45 minutes. Remove and allow to cool. Now you can scoop out the softened flesh out, ready to use in this recipe.
Can I prepare the squash ahead of time?
Yes, you can save the unused cooked squash to be used another day. All you have to do is store it in the freezer in a freezer-safe container. This will make the squash good to last for 2-3 weeks.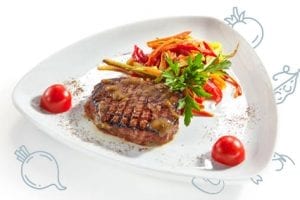 Conclusion
Other variations of meatless meatballs include placing a small cube of fontina cheese into the middle of each meatball before frying. To make a meal of meatballs, they can be served with an arugula salad or lightly sauteed vegetables including spinach or Swiss chard. For children's meals, homemade French fries can be served as an accompaniment.
So easy to make, these scrumptious squash meatballs will leave you wanting more! No one would guess these meatballs, have no meat! Try this recipe today and add a healthy meal to your family's diet. With a history of feeding generations and a million recipes available, it's safe to say that meatballs aren't going anywhere!