There's something we need to get out of the way before we start with this recipe: Squash is a fruit. Although they're prepared and cooked like a vegetable, it's actually a fruit by birth. Also, the best part about squash is the variety that it brings all-year-round. You'll never run out of stock of squash, especially in the winter. Besides squash soup, squash risotto, and spaghetti squash, our fried squash meatballs is another must-try dish using this healthy ingredient.
Squash, in general,
is packed
with fiber, protein, and vitamins. In addition, they help improve bone strength and carb digestion. It's certainly a great alternative for meat without risking the taste of the dish. For this quick and easy recipe, we'll be using spaghetti squash, which has a mild flavor and stringy texture. In other words, it's easier to bake, boil, or steam. It's also rich in antioxidants. So, it's no wonder spaghetti squash is a popular substitute for pasta.
Above all, this recipe is perfect if you're following a healthier diet. It's heavy on herbs and vegetables and also has some protein. For added flavor, you can opt for sprinkling some cayenne pepper or paprika for a nice kick.
In addition, the breadcrumbs in our squash meatballs give them a subtle texture, while the mint leaves give them a refreshing flavor. Although prepping the meatballs can get quite messy, it can be avoided by
lightly
greasing your hands before shaping, to make smooth and round meatballs. 
For serving suggestions, we recommend throwing these meat-free meatballs in a bowl of spaghetti or savory casserole for a filling meal!
It'll definitely make a fun combination of flavors. You can't
really
go wrong with this recipe plus you can
easily
find the ingredients in your kitchen. Now, let's start cooking!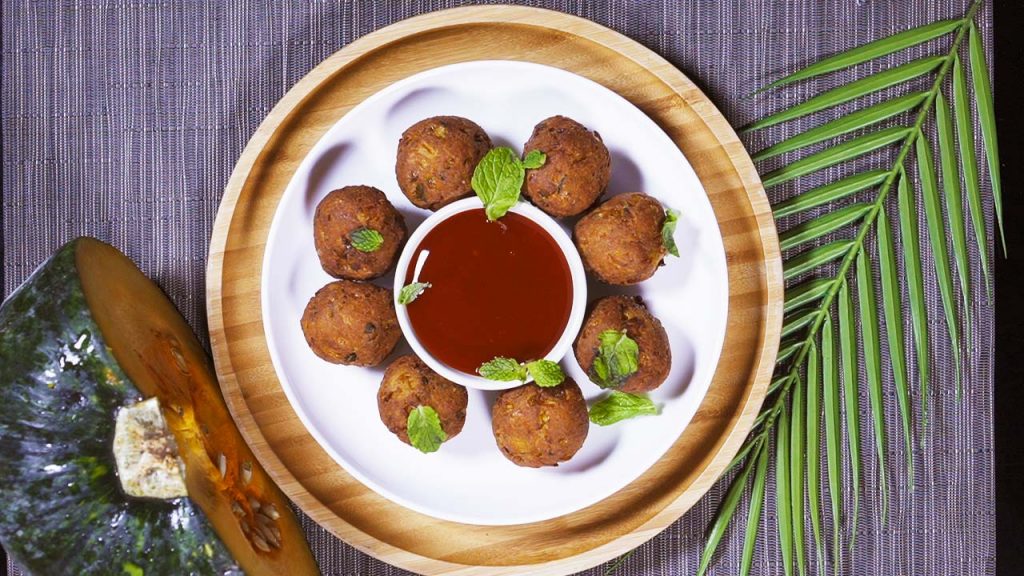 Squash Meatballs Recipe
How To Make Squash Meatballs
Serve savory fried squash meatballs that you can easily whip up in your kitchen and enjoy crispy-fried meat-free meatballs loaded with fresh flavors!
Ingredients
½

cup

breadcrumbs

3

pcs

eggs,

beaten

5½

cup

yellow onion ,

chopped

1

tbsp

salt

2

lb

squash,

grated

1

oz

mint leaves,

chopped

1

tbsp

ground black pepper

4

cloves

garlic,

chopped
Instructions
In a mixing bowl, combine the squash and salt. Let it sit for 15 minutes or until the liquid from the squash has seeped out.

Squeeze the squash over a strainer to drain any excess liquid.

Place your strained squash in another bowl. Throw in the onions, garlic cloves, breadcrumbs, mint, pepper, and eggs into the bowl.

Gently stir your mixture with a spatula until all ingredients have been completely incorporated.

Once combined, use a spoon to scoop out the mixture and form them into balls.

In a large pot, heat canola oil at 350 degrees F and fry the meatless meatballs for 4 to 5 minutes or until golden brown.

Place the squash meatballs on a platter, garnish with mint, and serve with ketchup or any other sauce that catches your fancy!
Nutrition
Sugar:

5g

:

Calcium:

72mg

Calories:

86kcal

Carbohydrates:

20g

Cholesterol:

1mg

Fat:

1g

Fiber:

3g

Iron:

1mg

Monounsaturated Fat:

1g

Polyunsaturated Fat:

1g

Potassium:

407mg

Protein:

2g

Saturated Fat:

1g

Sodium:

622mg

Vitamin A:

8142IU

Vitamin C:

22mg
Nutrition Disclaimer
Frequently Asked Questions
Can I use other varieties of squash?
Yes! Despite the recommended spaghetti squash, you can use any squash you have on hand. The taste would barely have a difference as squash mostly have the same sweet and nutty flavor.
How do you prepare spaghetti squash?
First off, set your squash crosswise and cut off both ends. Next, let it stand upright and cut it lengthwise. You have the option to scoop out the seeds and set it aside to roast them separately or remove them later after cooking the squash. Place both halves on a baking sheet face down. Bake them for 45 minutes under 375 degrees F. They should be soft enough for you to use for the meatballs, however, you can also cook them longer for a softer texture. If you have more time, you can let them simmer in a crockpot for 4 to 6 hours. Or you can try microwaving them for 10 to 12 minutes or until soft. For any method, the best way to tell if the spaghetti squash is done by taking a few strands and tasting it.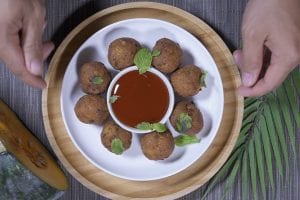 Conclusion
These scrumptious squash meatballs are so easy to make. It's a diet-friendly alternative to meat without having to worry about fat content. Squash meatballs are great for any occasion. You can pair this dish with a variety of meals, whether it be corn on a cob, mashed potatoes, or you can even make your own healthy meatball sub.
Topics: