No spooky costume party is complete without some creepy Halloween cupcakes! These spooky cupcakes are treats you ought to keep an eye out for. We say that because each delicious chocolate cupcake comes with gummy eyeballs and "bloody" red buttercream frosting to set a chilling but fun mood. Guests with a sweet tooth are sure to enjoy a batch of these Halloween muffins which will go absolutely well with witches brew drink.
Tips on Making Halloween Cupcakes
Our Spooky Delights Halloween cupcakes are delightfully easy to make. With our tips and ideas, you're guaranteed an amazing batch of moist chocolate cupcakes. Take note of these tips before you go grab an apron and get baking:
All ingredients should be at room temperature.

They will be easier to work with later on.

Mix until everything is just combined.

Once you see the ingredient you added in is no longer as visible, you're done. Do not overmix your batter as this could make your cupcakes tough.

Use an ice cream scoop to fill your cupcake liners to ¾ full.

This ensures that your cupcakes will bake evenly and come out in uniform sizes.

Use gel food coloring for your buttercream frosting

. It gives the most intense colors, perfect for bloody bright red icing! You can also make it black or green for Frankenstein-inspired

creepy cupcakes

.

Get creative with your Halloween cupcake decorations

! You can use

candy corn

,

chocolate chips

, gummy worms, or dust them with

powdered sugar

,

cocoa powder

, cookie crumbs, and even

pumpkin spice

. You can even fill them with

cream cheese frosting

if you want.

Can't find any gummy eyeballs?

No problem! Just use any red, ring-shaped candy and fill the hole with a black gumdrop, M&M candy, or even our

butterfinger eyeballs

. 
If you've got an eye for making more yummy treats, we've got a bunch of Halloween cupcake recipes for you. Our red velvet bloody cupcakes and spider cupcakes are some gory treats you'll surely enjoy. Happy Halloween!
Frequently Asked Questions
What makes cupcakes light and fluffy?
A good amount of gluten and fat traps air bubbles in the cupcake, giving it the desired structure and fluff. Be sure not to deflate your cupcakes by refraining from opening the oven door to check. Allow them to fully cook and set before doing a cake doneness test.
What is the secret to moist cupcakes?
The secret to moist cupcakes is increasing their fat content. If you want your cupcakes to be extra moist, use canola oil instead of butter, and sour cream or yogurt instead of milk. Switching to brown sugar will also help because it has a higher moisture level than white sugar. Through time, you can keep them moist by cooling and storing them properly. Just make sure to bring them back to room temperature for at least 15 minutes before serving.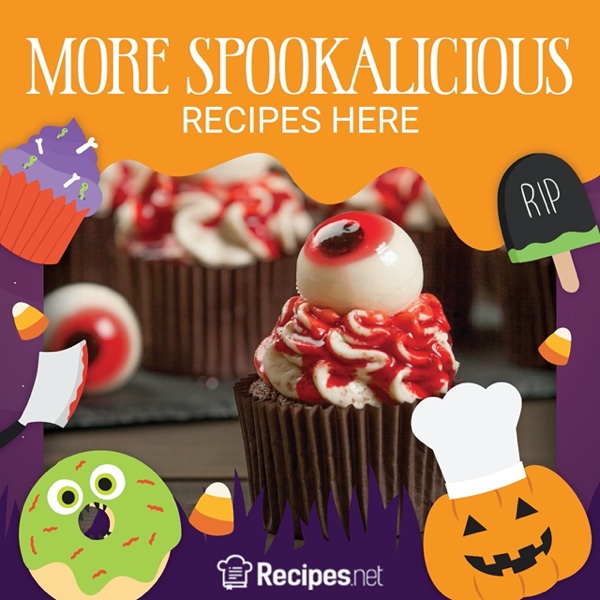 Conclusion
Both kids and adults alike are sure to be spooked by these gummy eyeball-topped Halloween cupcakes. Enjoy decorating them to your desire, and make it a fun family activity by having the kids help out in making them.
Topics: