Not everyone has imagined themselves eating livers, and even though chicken liver recipes sound strikingly foreign for some, they actually taste incredibly good and filling. If you're still not convinced, then let this chicken liver recipe do the work.
You'd love serving chicken liver not just with gravy, but with vegetables too just like how we loved it in our Chicken Liver Kabobs. Go ahead and serve this on your next barbeque picnic.
What's In Our Chicken Liver Recipe?
You may hate chicken livers but this quick recipe certainly deserves a try. This chicken liver with onions is tender and made even flavorful with rich and savory gravy not to mention it's a protein-packed dish.
We're making our smooth and creamy gravy with drippings that pack even more flavor into it. You'll want your chicken livers and gravy served with Roasted Green Beans or with creamy Buttermilk Mashed Potatoes for a filling meal.
Tips In Making Chicken Livers
This chicken livers in gravy might sound new to you, but once you try making it you'll appreciate how easy and simple it is to make. It won't give you a hard time if recreating this dish the first time.
Here are some tips that might come in handy when making fried chicken livers in gray:
Rinse the liver.

Before anything else, rinse your liver in cold water and let it drain. 

Soak the liver in milk.

If you want to subdue its sharp raw taste, you can soak it in milk for 20 to 30 minutes. Although for some, cooking it without soaking it in milk gives their meat a more savory flavor. 

Adjust the consistency of the gravy to your liking.

You can use flour to thicken the mixture. If it's too thick, add a little bit of milk and whisk it to desired consistency.

Do not overcook the livers.

Upon frying chicken livers, overcooking will break down its texture. So, carefully brown them lightly.
We're so excited for you to try this exotic and flavorful dish on your next lunch. So let's get started on this chicken liver recipe. 
How To Make Chicken Livers in Gravy
Savor these flavorful chicken livers in thick meaty gravy filled with onions, celery, and bell peppers. Enjoy it even more with delicious sides.
Ingredients
1

lb

chicken livers

1

margarine

1

cup

green bell pepper,

chopped

½

cup

celery,

chopped

1

onion,

chopped

1

cup

flour,

divided

1

tbsp

cooking oil
Instructions
Preheat the oven to 350 degrees F.

Before frying, season the chicken livers with salt and pepper then flour them lightly.

Heat oil in a skillet and brown the livers slightly.

Remove the livers from the heat and place them in a baking dish.

Saute the onions, peppers, and celery in melted margarine and place them over the livers.

In the drippings from browning the livers, brown ¼ cup of flour then add water to make the gravy.

Pour the gravy over the livers and bake for 25 minutes.

Serve and enjoy.
Nutrition
Calcium:

116mg

Calories:

1208kcal

Carbohydrates:

117g

Cholesterol:

1565mg

Fat:

38g

Fiber:

9g

Iron:

47mg

Potassium:

1730mg

Protein:

93g

Saturated Fat:

9g

Sodium:

383mg

Sugar:

10g

Trans Fat:

1g

Vitamin A:

51065IU

Vitamin C:

211mg
Nutrition Disclaimer
Commonly Asked Questions
How to store cooked livers with gravy?
Simply put it in an airtight container and keep it in the fridge for 3 to 4 days, until you decide to reheat it.

How to reheat cooked livers with gravy?
You can bring your livers with gravy to boil using its broth or reheat it using the microwave for 1 minute.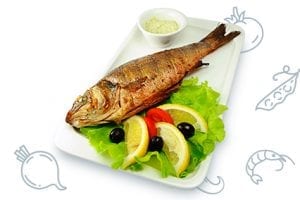 Conclusion
You're missing out a lot if you haven't tried a plate of tender chicken livers with savory gravy. This exotic dish will make you want to try new meals. This recipe will excite you and might just save your lunch dilemma. Serve this unique dish as an appetizer with flavors that will stimulate your appetite.
Related Pan-Fry & Skillet Recipes