Here comes the perfect fried chicken recipe that will satisfy your Midwest food cravings. Let's be honest, Culver's fried chicken was a knockout and a total crowd-pleaser. That's why people missed it when it was scratched off the menu! But that doesn't mean you can never taste that phenomenal fried chicken ever again, because you can make it at home.
People have been asking for Culver's fried chicken to make a comeback and we know why. What's all the buzz about this fried chicken? What makes it so special? Culver's fried chicken recipe is a Midwest favorite because it serves the perfect chicken that has a crunchy and flavorful golden breading and a juicy and tender white meat. Culver's fried chicken is also known to be non-greasy and always cooked fresh. If you haven't tried their fried chicken then you're totally missing out!
If you're out of meal recipes to cook and you want to make a phenomenal fried chicken to impress the whole family, our copycat Culver's fried chicken recipe is perfect for you. We're aiming for the fried chicken that everyone loves— crispy on the outside and silky and tender on the inside. Let's not forget to add spices to make the flavor of our fried chicken stand out. What's the secret to our Copycat Culver's Fried Chicken Basket Recipe? Buttermilk. We marinate our chicken in buttermilk to maintain its moisture and make them naturally tender. Try it yourself and you'll never make fried chicken the same way again. Check out this Copycat Applebee's Sweet Mashed Potatoes Recipe and Sicilian Strawberry Slaw Recipe for the perfect sides.
Copycat Culver's Fried Chicken Basket Recipe
Ingredients
1

fryer chicken

cut into pieces

2

cups

buttermilk

2

cups

flour

1

tsp

salt

½

tsp

black pepper

½

tsp

cayenne pepper

vegetable oil, for frying
Instructions
Put the chicken in a large dish. Pour the buttermilk on top and cover. Refrigerate for 1 hour and drain the chicken.

Combine the flour, salt, pepper, and cayenne in a plastic bag.

Heat oil in a cast iron skillet over medium high.

Coat the chicken pieces in the flour mixture until fully coated.

Fry for 15 minutes on each side until golden brown.

Drain them on paper towels and your knockout fried chicken is ready to be served.
Commonly Asked Questions
Where do I soak chicken in before frying them?
In our recipe, we soak our chicken in buttermilk before refrigerating then coat it with flour, salt, pepper, and cayenne. But if you want to add in more spices you can marinate your chicken in 1 cup of water, ¼ cup of salt, ¼ cup of granulated sugar, spices such as chili powder, along with 3 to 4 cups of buttermilk. Then chill the marinated chicken overnight for the marinade flavors to be fully absorbed.
Should I cover my chicken when frying?
Those who pan-fry than deep-fry chicken usually cover their chicken in the first half of cooking time. You let it cook at medium heat and let the steam cook the chicken all the way through. After that, remove the lid and raise it to medium-high heat to make the skin of your fried chicken crispy.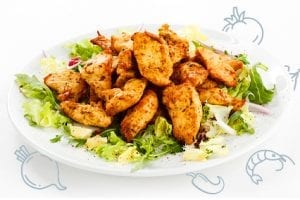 Conclusion
Whether you're missing this Midwest favorite or you want to try an exceptional fried chicken recipe, you won't regret making this copycat recipe that's easy and mind-blowing. Who would've thought that you can easily get your favorite fried chicken take out fix at home?
Miss Culver's fried chicken no more, because this recipe will definitely cheer you up and change the way you cook fried chicken.