Explore different flavors and spices with this unique orange chicken recipe. The secret? Cinnamon and orange fusion. A perfectly baked chicken with a rich sweet, tangy, and savory sauce awaits you. This cinnamon chicken recipe will sweeten up your day, giving your usual cinnamon chicken a completely different flavor.
Cinnamon has a spicy and sweet kick that enhances the tasteof any fruits or vegetables, in this case, orange. Besides being used to season the meat before storing, cinnamon has a lot of health benefits too! It can lower blood sugar levels and is used to treat respiratory and heart diseases. This ingredient is also anti-inflammatory and rich in antioxidants. It's widely used in making desserts like this Cinnamon French Toast Bake Recipe that you can enjoy after digging into your orange cinnamon chicken!
This recipe is perfect to spice up your weekend nights, casual lunches, and dinners. In addition, this flavorful dish is very easy to make! After a little prepping and cooking, you'll just let the flavor and spices do the work! If you're looking for ways to spice up the way you cook chicken, the citrus and spicy mix flavor of this orange cinnamon chicken is worth trying. You'd be surprised how easy it is to give your chicken an impressively intense and refreshing flavor!
Orange Cinnamon Chicken Recipe
Ingredients
4

boneless skinless chicken breasts halves

1 ½

tbsp

butter

½

cup

orange juice

2

tbsp

honey

pinch

of salt

to taste

1

tsp

ground cinnamon

1

tbsp

all-purpose flour

½

orange

sliced
Instructions
Preheat your oven to 375 degrees F.

In a skillet, melt the butter over medium-high heat. Cook the chicken pieces in the butter for 10 minutes until both sides turn golden brown.

After cooking, place the chicken in a shallow baking dish.

In the skillet, stir in the flour, cinnamon, honey, and orange juice. Bring to a boil and cook until mixture has thickened.

Season the mixture with salt to taste, then pour over the chicken pieces in the baking dish.

Cover the chicken breasts with orange slices then bake in the preheated oven for 45 minutes until the juices run clear and meat is white and tender.

Serve your flavored chicken pieces on a platter. Top them with the sauce and garnish it with more orange slices for decoration if you want. Enjoy your zesty and mildly spicy flavored chicken!
Commonly Asked Questions
What does cinnamon do to your meat?
The right amount of the strong aromatic flavor of cinnamon helps balance out the richness of your chicken meat. It pairs well with salty and acidic ingredients.
Can I use old cinnamon for cooking?
Spices rarely go bad, though they tend to lose potency and flavor over time. But you shouldn't worry about using old cinnamon when cooking, especially in making this orange cinnamon chicken recipe! However, we suggest using fresher cinnamon and other spices if you're after a really good flavor.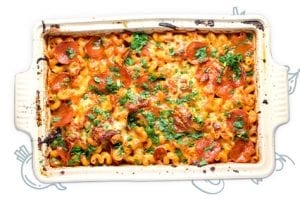 Conclusion
This cinnamon chicken recipe will definitely be one of your favorites. The strong and energizing flavor of the chicken leaves a lasting impression and will make you do the recipe again and again! You can serve orange cinnamon chicken with rice and greens for a fuller meal. Try it out and let us know what you think about the sweet and spicy flavor that this dish brings.