Pan fried noodles are simply the best for their addicting and comforting savory flavors and pork lo mein can attest to that. Chinese lo mein serves marinated pork tenderloin and sweet and crisp vegetables in a tangy and savory sauce. 
Skip your usual Chinese take out by making homemade traditional pork lo mein. Serve it with chinese lemon chicken for dinner and enjoy the iconic palatable flavors of Chinese cuisine in these easy homemade dishes.
What's In Our Pork Lo Mein?
You might think that making an authentic lo mein recipe will require a lot of ingredients that might be hard to find, but ours will prove you wrong. Aside from the soft egg noodles, we're adding other delicious ingredients into this pork lo mein recipe:
Lo mein sauce

– The sauce is the star of this dish and the key to its tangy and savory flavors. We get the flavors mainly from our savory chicken stock and  oyster sauce. 

Marinated pork tenderloin

–  We're marinating tenderloin strips in a mixture of rice wine, soy sauce, and sugar to add flavorful meaty bites into our noodle dish. You can also use any cut of pork you prefer and marinate them with the same mix we used.

Shiitake mushrooms

– Aside from its many health benefits, its rich savory taste makes it a perfect addition to our recipe. If you don't have shiitake, you can also try adding white or brown mushrooms to your lo mein. 

Veggies

– The secret to adding vegetables to any dish and retaining their crispness and crunch would be adding them last before serving. Crisp and crunchy vegetables work amazingly with delicate soft noodles. Other than those that we used in this recipe, you can try adding some bok choy or napa cabbage. 
Tips for Cooking Lo Mein Egg Noodles
Lo mein noodles are a crucial component to this dish. So we have to make sure to cook it perfectly. Here some tips that might come in handy when making your noodles:
Use fresh egg noodles

that are preferably about ¼-inch thick.

When you boil your egg noodles,

keep them al dente and thoroughly drained out

, so that they won't stick to your wok when you fry them. They stick to the wok when stir-frying because most of the starch already came out while boiling.

Drop some olive oil into the water

and stir so that the noodles won't stick with each other.

Make homemade egg noodles

. We suggest making egg noodles from scratch for noodles with better quality. Our easy to follow recipe only takes an hour to make.
Why not try to cook one of each and see how big of a difference these dishes have? After making this recipe, try making our chicken chow mein for another must-try delicious Chinese takeout.
Bring home a savory plate of pork lo mein and enjoy delicate egg noodles with well-marinated and stir-fried meat, and crisp sweet vegetables coated in a rich sauce packed with flavor.
Advertisement
Continue Reading Below
Ingredients
1

can

bamboo shoots,

drained

3

scallions,

sliced

4

garlic cloves

1

cup

shiitake mushrooms

1

ginger,

thumb-sized piece

2

carrots

1

zucchini

2

tbsp

sesame oil

1

lb

Asian egg noodles

1

lb

pork tenderloin,

trimmed

1

tsp

rice wine

1

tsp

soy sauce

1

tsp

white sugar

6

tsp

cornstarch,

divided

1

cup

chicken stock

2

tbsp

oyster sauce

4

tbsp

peanut oil,

divided
Instructions
Roughly chop the bamboo shoots, scallions, garlic, and mushrooms. Then julienne the ginger, carrots, and zucchini.

Boil a pot of water with sesame oil and pour in the egg noodles. Boil for 3 to 4 minutes or until al dente. Drain and set aside.

While the noodles are boiling, slice the pork tenderloin into small, thin strips. In a small bowl, mix rice wine, soy sauce, and sugar to make a marinade.

In another bowl, pour 2 teaspoons of cornstarch.

Dip the strips of pork tenderloin into the cornstarch and coat well. After them, place them in the marinade for 10 to 15 minutes.

In a larger bowl, stir together the chicken stock, oyster sauce, 2 tablespoons peanut oil, half of the garlic, and the remaining cornstarch. Set this sauce aside.

In a large frying pan or wok, heat the remaining peanut oil and stir-fry the vegetables for about 3 to 4 minutes.

After cooking the vegetables, place them in a separate bowl. Using the same wok or skillet, cook the pork.

Add in the noodles and vegetables again. After frying for 2 to 3 minutes, pour in the sauce mix and cook until thickened. Serve immediately and enjoy!
Advertisement
Continue Reading Below
Advertisement
Continue Reading Below
Commonly Asked Questions
What is the difference between lo mein and chow mein?
The crucial difference between them is the method of how we cook the noodles. chow mein is a spicy stir-fried noodle dish that results in its crunchy texture. To make it, we can either fry the noodles and make a noodle pancake then pour the stir-fried meat and vegetables over it or stir-fry the chow mein noodles with the meat and vegetables. In lo mein, we boil the noodles for a soft and silky texture, with our savory sauce coating the noodles and sticking to it. We add the parboiled noodles towards the end of cooking and toss them with our meat, vegetables, and sauce.
Can you use spaghetti to make lo mein?
Egg noodles are the best to use for making pork lo mein. But you can replace it with other pasta like spaghetti, linguine, fettuccine or bucatini. It gives off almost the same consistency and texture as egg noodles.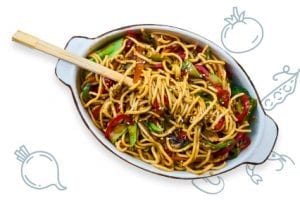 Conclusion
Enjoy a delectable plate of pork noodles full of meat, vegetables, and a rich sauce that strike a balance in terms of flavor. Take your Chinese cuisine experience to the next level by making our easy pork lo mein recipe and bring new Asian favorites to your home.
Advertisement
Continue Reading Below
Topics:
Advertisement
Continue Reading Below
Advertisement
Continue Reading Below