If you're craving for some patented fried chicken, we've got just the treat for you. Serve up our breaded chicken recipe that tastes exactly like Church's Chicken! It comes with bountiful amounts of herbs and spices that will quench your appetite. In this recipe, we're quickly frying our marinated and breaded chicken drumsticks (just to brown them) then baking them to golden brown deliciousness for the best fried chicken ever!
And what could be more perfect to serve with breaded chicken than a bowl of Mashed Potatoes like Church's Chicken? Don't forget to add some color to your dish with some Coleslaw as well. No matter what you're serving it with, we guarantee this breaded chicken recipe will be the star of your meals!
Why We Love Church's Fried Chicken
Church's fried chicken is one of the most coveted chicken recipes out there! It's tasteful, perfectly crunchy, and great for big meals. Their chicken would not be complete without their scrumptious side of Honey-Butter Biscuit. It's a signature meal that's beloved across America. Because let's face it, who doesn't love a good chicken that's fried to perfection?
The secret to Church's signature fried chicken is that it's double-breaded and hand-battered in small batches. This certainly ensures that each piece of chicken has that Church's touch each time they're fried. It's what makes them unique from how Popeye's or KFC makes their chicken meals!
Outside the Americas, Church's is called Texas Chicken, so as to promote the deliciousness of the restaurant's texas fried chicken. Each chicken meal and side vary in profile depending on the country. A popular example in most Texas Chicken restaurants is the Spicy Chicken where they use a chicken marinade that's left overnight. But regardless of where the texas fried chicken is brought internationally, Church's ensures that their signature flavor and value is still there. So if you ever come across a Texas Chicken overseas, don't be shy to pop in to get your fix of Church's fried chicken.
How to Make Breaded Chicken Just Like Church's
There's no need to fuss over frying with our recipe! Instead, we will be baking and letting the oven do the job for us. But we've got a few tricks up our sleeve with this breaded chicken recipe that you should keep in mind.
One is our creamy yogurt and spice mix chicken marinade. Many would opt for buttermilk or some other acidic marinade, but we chose to use yogurt for its gentler and effective way of tenderizing your chicken pieces. Yogurt is the best kind of marinade to help tenderize the chicken slowly, giving you the greatest texture after every bite.
Another trick is to brown your chicken pieces. But wait, why would we need to do that if we're just going to place them in the oven anyway? The oven will do the rest of the golden-brown cooking, but it's not enough to build flavor. Browning adds more taste to the skin of the chicken and locks in all those juicy flavors from the marinade and breaded mix. It's sure to help the movement of flavors along as it cooks in the oven.
When you manage to do these little steps properly, you're sure to get the best crispy baked chicken dish! With this copycat recipe, you'll never have to worry about lining up at Church's Chicken to get a superbly fried chicken. Serve up this breaded chicken recipe at your next lunch or dinner with friends and family. Pair it with some mashed potatoes, coleslaw, and other sides to your desire. It's guaranteed to taste like Church's fried chicken; but tastier and more satisfying!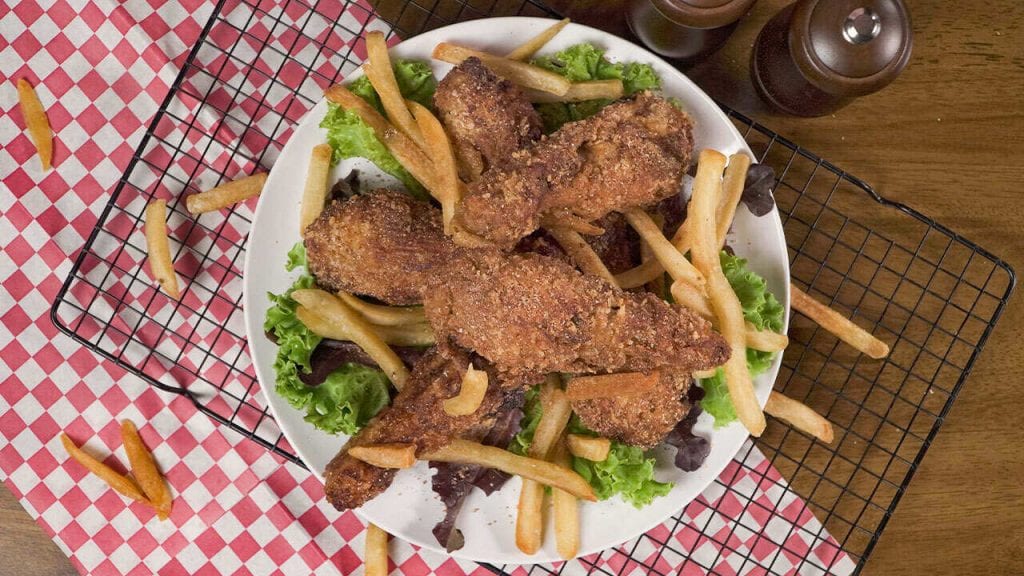 Church's Chicken Copycat Breaded Chicken Recipe
How To Make Church's Chicken Copycat Breaded Chicken
A breaded chicken recipe where we infuse our chicken with the finest herbs and spices and perfectly marinate it for a rich and juicy flavor, just like Church's Chicken.
Ingredients
1

lb

chicken drumsticks

2

cups

plain yogurt
For Spiced Mixture:
1

tbsp

brown sugar

1

tbsp

garlic salt

2

tsp

chili powder

1

tsp

ground black pepper

1

tsp

smoked paprika

1

tsp

onion powder
For Breading:
½

cup

cornstarch

½

cup

all-purpose flour

1

cup

breadcrumbs

¼

cup

cornmeal

vegetable oil
To Serve:
potato fries

barbecue sauce,

or ranch, gravy, or any sauce of your choice
Instructions
Spiced Mixture:
Combine the brown sugar, garlic salt, chili powder, ground pepper, paprika, and onion powder. Set aside.

Combine the yogurt and 1½ tablespoons of the spice mixture. Mix until evenly incorporated.

Add the chicken into the prepared marinade. Coat each chicken.

Cover and transfer to a chilled area. Allow to marinate for at least for 6 hours, best if overnight.
Breading:
Preheat the oven to 380 degrees F.

Combine the flour, cornstarch, cornmeal, breadcrumbs, and 1 tablespoon of the spice mixture. Mix until evenly incorporated.

Drain the drumsticks from the yogurt marinade and dab off any excess marinade.

Coat the drumsticks into the breading mixture, shake off any excess, then layer them neatly onto a roasting tray lined with parchment.

Fry the chicken in hot oil for roughly 6 to 8 minutes until golden brown. Arrange neatly onto a roasting tray.

Transfer to the oven, and roast for roughly 30 minutes until the inside of the chicken is cooked.

Before serving, season the chicken with the remaining spice mixture.

Serve with the sauce of your choice and crispy fries. Enjoy!
Recipe Notes
Out of breadcrumbs? Try making your own by simply cutting 4 ounces of bread into cubes. Crumble them in a food processor, then transfer them to a baking sheet. Bake them for 4 to 5 minutes in an oven at 300 degrees F, checking every 2 minutes to stir and let cook evenly. And voila, you have just enough breadcrumbs to use for our breaded chicken recipe.
For other breadcrumbs alternatives, you can use the same amount of panko, cracker, pretzel crumbs, crushed cornflakes or unsweetened cereals. Crush them in a large Ziploc bag or pulse them in a food processor to refine.
Nutrition
Sugar:

14g

:

Calcium:

294mg

Calories:

636kcal

Carbohydrates:

85g

Cholesterol:

114mg

Fat:

18g

Fiber:

5g

Iron:

4mg

Monounsaturated Fat:

6g

Polyunsaturated Fat:

3g

Potassium:

678mg

Protein:

32g

Saturated Fat:

7g

Sodium:

2796mg

Trans Fat:

1g

Vitamin A:

936IU

Vitamin C:

1mg
Nutrition Disclaimer
Commonly Asked Questions
Can I use other chicken pieces for this recipe?
While our breaded chicken recipe comes with drumsticks, you are free to use any chicken parts of your choice! Try using chicken breasts, thighs and even rib parts. You may also do a combination of all three with drumsticks. But do note that different chicken cuts have their own recommended baking temperature and time.

Can I freeze my breaded chicken?
You definitely can! Make sure to place your uncooked breaded chicken on a baking sheet covered loosely with some plastic wrap for 3 to 4 hours. Afterwards, you can place the separate, uncooked breaded chicken pieces in a Ziploc or freezer bag. These will last you for up to one month.

How long do I have to marinate the chicken?
The recommended marinating time for chicken and pork is 3 to 12 hours. For this recipe, we suggest marinating them for at least 6 hours to allow the yogurt to soften the chicken pieces. But it's also best to let them marinate overnight to yield a juicier and flavorful chicken. Remember to also refrigerate your marinated chicken in a closed container.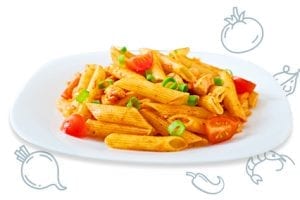 Conclusion
Skip the line at Church's Chicken and make this breaded chicken recipe instead in the comfort of your home! You'll love that it's baked instead, but will taste like Church's fried chicken. Our breaded chicken is packed with so much flavor that your friends and family will be asking for the recipe themselves. Try them out the next time you're craving for a delightful chicken dish.