Make this easy casserole recipe using leftover rice! We'll be making the best mashed potato casserole you'll ever have with fluffy white rice at the bottom. The combination of a loaded mashed potato casserole with hearty white rice makes it a worthy contender for special occasion dinners!
Serve this Mashed Potatoes and Rice Casserole Recipe with our Rosemary-Roasted Turkey Recipe, and your guests won't even notice that it's a leftover dish! So if you're worried about your leftovers, don't worry, we've got it covered!
What Goes In A Casserole?
With tons of recipes found on the internet, it can be a little bit confusing if you're thinking of dishes to serve for the family. But with all the holidays that passed by, you might have a bit of leftover in your fridge. So if you're worried it might be put to waste that's where casseroles come to our rescue!
Casseroles are the go-to dish of all homemakers. It's quick and easy to whip up and cheap at the same time! Plus, it's an all-in-one dish. The basics of casserole making require main and secondary ingredients and the ever consistent starch. 
Proteins are the usual star ingredients, supported by vegetables and starch. It's the perfect choice for a fuss-free dinner since you can have proteins, starch, and vegetables in just one dish, just like our addicting Chicken, Broccoli, and Corn Casserole Recipe! 
Aside from that, the casserole basic formula also needs a binder and a topping to bring all the ingredients together. Binders are usually sauces while the most common topping is cheese. You can use a trusty chicken broth, a refreshing vegetable broth, or even a hearty marinara sauce as a binder. You can also use heavy creams such as sour cream as long as it'll compliment your dish.
So if you've got tons of leftover meals in your fridge and looking for ways to reinvent it, casseroles are the perfect dish for you!
A Delicious Mashed Potato Casserole and Rice Casserole
Almost all households keep a list of casserole recipes for quick dinner ideas. Now, you've got another addition on your list to pair with your favorite savory proteins. This baked mashed potato casserole with a left-over rice casserole in the bottom might be the perfect addition to your list! 
And what's not to love? Potatoes are the star of vegetables and rice is a healthy carbohydrate. So if you're looking for a dish to go with your Breaded Dijon Pork Chops Recipe, this cheesy mashed potato casserole with left-over steamed rice makes the perfect side dish!
Now when making our mashed potato casserole recipe, we recommend using Yukon Gold potatoes. Yukon Gold potatoes have a slightly sweet, waxy texture, and moist flesh. It's slightly starchy so it holds better when we cook it. But for alternatives, you can also use Idaho russet potatoes which have a fluffy, and soft texture. In addition, they are very absorbent so they will easily soak up the flavors of butter and cheese.
For our sauce, we'll be using a prepared Marinara sauce to seal in our dish. The velvety texture and the rich bite of the marinara sauce perfectly blend with our cheesy rice casserole recipe. Plus the added savoriness of the grated mozzarella cheese and cheddar cheese balances the slight sweetness of the rice casserole.
When assembling your casserole dish, be sure to leave room for the ingredients to bubble up and rise. Leaving an inch of headspace prevents it from spilling and wasting a few portions. If you want to have a crispier top, sprinkle panko breadcrumbs to your casserole along with the cheese for a flaky yet creamy top!
Now that we're ready for our potato and rice casserole, let's check out more casserole recipes the family might love!
Tips In Making Mashed Potato Casserole And More Recipes To Try
Now if you're searching for more casserole recipes, you're in luck because we've got a bunch of casserole recipes that you'll definitely enjoy! For another easy rice casserole dish, try our hearty Sausage and Rice Casserole Recipe. This sausage and rice combo has healthy veggies and tasty broth perfect for a family Sunday lunch.
Looking for an easy chicken and rice casserole recipe? Our Spanish Chicken and Rice Casserole Recipe combine tomatoes, red peppers, and green peas for an easy chicken dish! But if you're in search of a turkey rice casserole recipe this Cheesy Ground Turkey Casserole Recipe will put a halt to your search! With its cream of mushroom soup sauce and shredded cheddar cheese, the family won't believe it's the turkey from the last Thanksgiving celebration.
Thinking of more ways to sneak in the veggies to your kids' meals, our Easy Broccoli Rice Casserole Recipe hides the broccoli with its creamy cheesy goodness. And if you're looking for great dishes to pair with your casserole, check out our helpful CAQ section below for must-try suggestions!  
You can also add bits of jalapeno peppers to the mashed potato or use a spicy marinara sauce for an added heat. Or if you have left-over rotisserie chicken mix in a few strips for a hint of smokiness. And if bacon is your guilty-pleasure you can also add a bit of bacon to the mashed potato or sprinkle it on top with the cheese.
But for now, let's head on making our main casserole dish!
Mashed Potatoes and Rice Casserole Recipe Video
How To Make Mashed Potatoes and Rice Casserole
No leftover rice will be put to waste with this Mashed Potatoes and Rice Casserole Recipe. One bite contains a variety of cheese, marinara sauce, and fluffy rice!
Ingredients
5

tbsp

Marinara sauce,

prepared

7

oz

long grain rice,

steamed

10½

oz

potatoes,

preferably Yukon Gold Potatoes, washed and peeled

1

cup

milk

2

tbsp

unsalted butter

1

tsp

turmeric powder

Salt and ground black pepper,

to taste

⅓

cup

mozzarella cheese,

grated, plus more for sprinkling

⅓

cup

cheddar cheese,

grated
To Serve:
fresh parsley,

finely chopped
Instructions
Preheat your oven to 350 degrees F.

Prepare a stockpot and transfer your potatoes into it. Pour water into the pot, enough to cover the potatoes.

Boil the potatoes until tender when poked with a tester, for approximately 30 mins.

On a saucepot, combine milk, turmeric, and butter. Bring mixture to a boil, or until butter has melted. Set aside.

Drain the potatoes and discard the water.

Mash the warm potatoes using a masher or ricer, and transfer to a bowl.

Add both kinds of cheeses together, and gradually with the milk mixture. Fold until creamy and smooth.

Season the mashed potatoes to taste with salt and ground black pepper. Adjust accordingly then mix it. Set aside.

Layer the cooked rice into the bottom of a rectangular baking dish.

Next, spread the mashed potatoes on top of the rice, enough to cover.

Finally, sprinkle mozzarella cheese around the baking dish, leaving a space in the middle

Add the marinara sauce to the middle of the casserole and spread as necessary to cover the middle space.

Bake the casserole for about 10 to 15 minutes, or until the cheese is golden brown and has melted.

Serve hot, fresh from the oven, garnished with parsley.
Nutrition
Calcium:

138mg

Calories:

266kcal

Carbohydrates:

38g

Cholesterol:

26mg

Fat:

9g

Fiber:

2g

Iron:

1mg

Potassium:

357mg

Protein:

8g

Saturated Fat:

5g

Sodium:

166mg

Sugar:

3g

Vitamin A:

343IU

Vitamin C:

11mg
Nutrition Disclaimer
Commonly Asked Questions
Can I make this casserole dish ahead of time?
Yes! If you're a bit busy the day before you're planning to serve this, prepare your steamed rice, cook your mashed potatoes, and spread the mashed potato on top. Cover and store it in your fridge overnight. When you're ready to serve your casserole add in the cheeses and bake according to our recipe instructions.
How do I store leftover casserole?
Cover your casserole dish then store it in the fridge. This would help your casserole last for up to 3 to 4 days. But if you want to keep it longer, cut them into individual portions then store them in a freezer-safe bag. Freezing your casserole will help it last for up to 6 months.
How do I reheat a leftover casserole?
For an easy instant meal, loosely cover your casserole with foil then put it in the oven. Reheat it at 350 degrees F for 20 to 30 minutes or until thoroughly warm. For your frozen casserole, thaw it in the fridge overnight then reheat it the next day.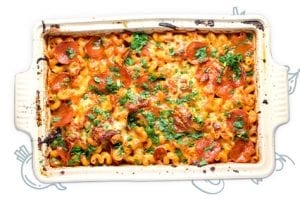 Conclusion
Satisfy those hunger cravings with this easy Mashed Potatoes and Rice Casserole Recipe. Your leftover rice from last night's celebration won't be put to waste. Instead, it will be transformed into a new dish with a layer of creamy mashed potatoes on top! Plus this recipe only takes 35 minutes to make!
Related Casserole Recipes