Grilling should not be just for the weekends and special occasions. Skewing up some veggies for a super quick and easy grilled delight should spice up the table without the heavy preparations! How about a special corn recipe for grilling up some juicy corn kabobs?
What makes kabobs great is that it gives you more room to experiment and get creative while satisfying your cravings! Some people love to prepare their kabobs with a mix of a little meat and seafood like this delish Teriyaki Kabob Recipe. And some people like it healthy and filled with colorful greens! If you're the latter, you would love our corn kabobs recipe!
When it comes to corn kabobs, having less is more. With just a few ingredients, this simple corn kabobs recipe should not only provide you with a healthy and nutritious dish, but also accentuates the dining table because of the different colors from the veggies!
Now that you've learned to make corn kabobs, how about checking out this Black Bean and Corn Salsa recipe to get inspired for even more variations of this healthy vegetable?
Ingredients
½

cup

unsalted butter

melted

½

tsp

garlic salt

1

tbsp

lemon juice

1

tbsp

thyme

2

zucchini

(10 oz) sliced into thick rings

1

red pepper

1

yellow pepper

1

onion

cubed

4

ears corn

shucked and cut into thick rings

olive oil

for brushing
Instructions
Preheat a greased grill to medium-high heat.

Arrange alternating pieces of corn cobs, peppers, and zucchini on 4 skewers, and brush with olive oil

Grill kabobs on both sides until they begin to brown.

While the kabobs are grilling, mix the butter, garlic salt, lemon juice, and thyme in a small bowl.

Once the kabobs are done, brush them with butter mixture and serve while hot!
Commonly Asked Questions
How long do you soak skewers before grilling?
Wooden skewers can burn easily on a hot grill. Soaking them in warm water for at least 20 to 30 minutes before grilling can keep them safe and functional even when grilling.

How do you grill kabobs without burning the vegetables?
You can brush your vegetable pieces on your kabobs with olive oil or vegetable oil before putting them on the grill. This way, you can avoid having your kabobs being burnt.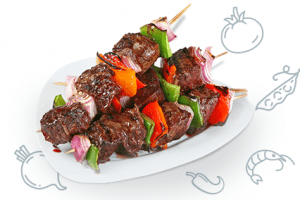 Conclusion
Grilling should not be as hard as it sounds! With this corn recipe, you can easily prepare a nutritious and flavorful grilled dish with little preparation and cooking time. With corn kabobs, your dining experience will be more interesting and appetizing!