This beer chili is the best chili recipe ever for many reasons. The colorful mix of onion, bell pepper, kidney beans marry with ground beef (or ground beef sausage), beer, beef broth, and crushed tomatoes for this ultimate comfort food. Don't feel overwhelmed by the long list of ingredients—they're all easy to find! Enjoy this chili with beer alongside your ice-cold beer and Domino's chicken wings during a game day.
A chili recipe with beer might sound a bit unusual to you. But we assure you, it's one of the most amazing versions of chili recipes you ought to try. Adding just a small amount of beer is enough to tempt your taste buds. In this recipe, the chili is simmered in a Dutch oven on medium heat, but the slow cooker and Instant Pot delivers equally comforting chili. Either way, this belly-filling beef and beer chili recipe will invite you to a fun and cozy eating experience.  
Tips for Making Beef and Beer Chili
This chili recipe is unlike any other you have tried. And despite the very small amount of beer in this dish, your kids can also enjoy this game-day chili. To make the best chili recipe with beer that everyone can enjoy, take note of our tips and tricks below:
Consider the overall flavor of the dish when looking for the best beer for chili

. If you're leaning towards a

spicy chili recipe

, opt for dark beers. Choose mild beers,

such as American or Mexican light lager and red ale

, if you want to whip up something mild and less spicy. Pick whichever you think would give your beef chili a subtle punch.

Use real fresh garlic cloves instead of garlic powder

. To make one of the best

chili recipes

, use garlic cloves. While it's okay to use garlic powder to flavor your beef and beer chili, garlic cloves impart a stronger taste.

Incorporate a small amount of a sweet ingredient.

Adding a sweet element balances out the flavor of the chili. You can use brown sugar or ketchup. But if you prefer a more natural sweetness, toss in some diced carrots or sweet potatoes.

Drain the canned beans properly to avoid a metallic taste

. If using canned beans for your

chili recipe

, make sure to drain the starchy liquid. Then, rinse the beans before adding them to the Dutch oven (or Instant Pot and slow cooker) to avoid any hint of metallic flavor. If using fresh beans, brine them first before cooking to tenderize them a bit. Although, you can also skip this ingredient altogether if you prefer a chili

with no beans

.

Slice the vegetables evenly for even cooking

. A

good chili recipe

often starts with evenly-sliced veggies and aromatics. Make sure that you cut them into equal-sized pieces to promote even cooking. The same goes for aromatics.

Add cornmeal to thicken your chili

. One trick to pull off the

best beer chili recipe

is to add a thickener, of course. Cornmeal is one of our go-to thickening ingredients, along with cornstarch or all-purpose flour. Or, you can also just add more beans.

Drizzle with an acidic ingredient at the end for a slight tang

. This tip is helpful, especially if you decide to simmer the chili for a much longer time. Adding even just a teaspoon of lime juice, apple cider or sherry vinegar at the end of the cooking can deliver a slight tang to your

chili

.

Garnish your chili with toppings of your choice

. A rich

chili

is good, but one with toppings is even better. Serve your chili with your preferred garnish. Lime juice is a classic option. But shredded cheese, green onions, sour cream, and tortilla chips are fun toppings, too! 
On the prowl for the best chili recipes? This boilermaker chili with beans and bacon bits delivers spicy-cheesy flavors that everyone will love. We also have a soft spot for this hearty steak chili that's made of stew meat, kidney beans, and various spices. This vegetable chili also does not fall behind in terms of richness and deliciousness, not to mention healthy too.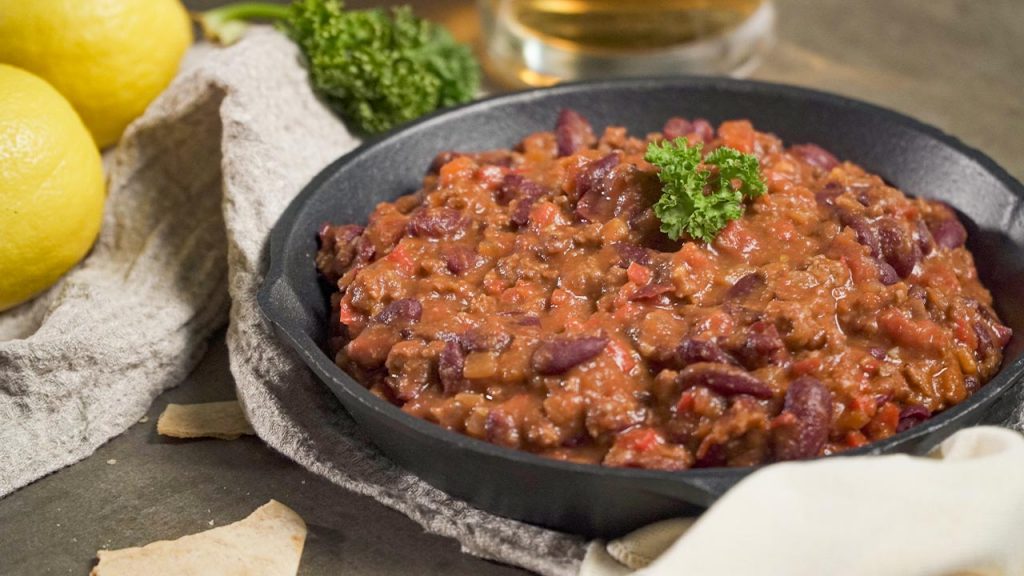 Beef and Beer Chili Recipe
How To Make Beef and Beer Chili
This beef chili gets its deep flavor from beer, beef broth, and various spices. Serve a bowl of this chili on a cold winter night or any game day gathering.
Ingredients
1½

cups

red onion,

chopped

1

cup

red bell pepper,

chopped

8

oz

ground beef

2

garlic cloves,

minced

1½

tbsp

chili powder

2

tsp

ground cumin

1

tsp

brown sugar

½

tsp

salt

½

tsp

dried oregano

19

oz

red kidney beans,

canned and drained

14½

oz

tomatoes,

canned, diced or crushed, undrained

14

oz

beef broth

12

oz

beer

1

tbsp

yellow cornmeal

1

tbsp

lime juice,

fresh, or lemon juice
Instructions
Combine onion, bell pepper, beef, and garlic in a large Dutch oven over medium-high heat.

Cook and stir to crumble for 5 minutes or until beef is browned.

Stir in the chili powder, cumin, sugar, and salt. Cook for 1 minute.

Add the oregano, beans, tomatoes, beef broth, and beer. Bring to a boil then reduce heat and simmer for 15 minutes.

Stir in the cornmeal and cook for another 5 minutes. Stir in lime juice and serve.
Recipe Notes
You can also use fresh tomatoes instead of canned tomatoes.

Add Worcestershire sauce to give the chili a hint of umami flavor. 

You can use a combination or white kidney beans, red kidney beans,

pinto beans

, and

black beans

for a more vibrant chili with beer.

For a richer and more flavorful result, simmer the chili for a longer period.
Nutrition
Sugar:

8g

:

Calcium:

116mg

Calories:

374kcal

Carbohydrates:

51g

Cholesterol:

35mg

Fat:

5g

Fiber:

14g

Iron:

8mg

Potassium:

1396mg

Protein:

29g

Saturated Fat:

2g

Sodium:

582mg

Vitamin A:

2189IU

Vitamin C:

65mg
Nutrition Disclaimer
Frequently Asked Questions
What does adding beer do to chili?
Cooking with beer is a very common culinary technique to enhance many dishes. Case in point: when you add beer to a chili recipe, it improves the flavor and texture of the finished dish. Generally, beer lends a robust taste with an underlying malty palate to the chili. However, other beer styles can deliver various tasting notes. They can even add sweetness and thicken the chili. Simply put, a chili recipe with beer is one of the best chili recipes you should add to your dinner rotation.
What kinds of beer can you use for making chili?
If you're wondering what's the best beer for chili, then there are actually many kinds of beer that go well with this dish. The rich flavors of stout are a welcome addition to chili recipes. Pilsners and amber ale lend a hint of sweetness to the dish. American pale ales, meanwhile, work best in light chili recipes. Other beer styles that will amplify the flavors and textures of your chili are red ales, wheat beers (witbiers), American or Mexican light lagers, and porters. Just pick the beer style that will perfectly match the flavor of your chili recipe.
What can I substitute for beer in chili?
If you don't have a beer or are simply hesitant to put alcohol in your chili, there are many alternatives that you can use instead. Chicken or beef broths are great swap-ins for beer in chili recipes. You can also rely on tomato juice, mushroom stocks, and soda. You can rest assured that your beef chili will still be rich, thick, and delicious.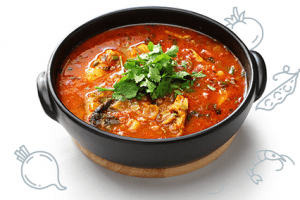 Conclusion
This rich and flavorful beer chili is pure comfort food at its finest. Adding a small amount of beer delivers big flavors to the chili. You can even make it in advance— it will taste even more delicious the following day!