Satisfyingly delicious is how we describe this blueberry cream cheese pie recipe. This no bake blueberry pie has a flaky yet tender pastry crust that holds the thick and fruity blueberry filling. The smooth consistency of the filling is made with fresh blueberries, softened cream cheese, and condensed milk. Finally, the added vanilla and lemon juice creates that delicious balance of sweet and tart flavors. Complete the layered dessert with a luscious blueberry glaze topping. Serve this sweet tasting fruit pie after eating a hearty meal of shrimp and mushroom pasta. 
Tips on Making Blueberry Cream Cheese Pie
This blueberry cream cheese pie is made easier with its no-bake ingredients. But there are still some tips you need to know to ensure its richness. We listed a few helpful baking tips for you to try when making this fruit and cream pie dessert. 
Use frozen or fresh blueberries

instead of the canned ones. Using fresh or frozen blueberries gives the dessert a richer tart flavor. It also lessens the chances of a runny or gooey pie filling. Just make sure that you drain them properly, especially if you're using frozen blueberries. 
Try making a homemade pie crust

. If you have some time, make this simple no bake

graham crust

that pairs well with the rest of the ingredients. Alternatively, you can also try a baked

pie crust

version. Both the

graham cracker pie

and baked pie crust will taste amazing with the blueberry cream cheese filling. 
Avoid using evaporated milk

. The

blueberry cream cheese

filling should have that thick and creamy consistency. Evaporated milk is too thin and silky. That's why condensed milk is better for thickening the filling, and it's also much sweeter.
Try mixing in fresh raspberries into the glaze or filling

. Mix in other fruits aside from blueberries. You can add about 1 cup of each berry for a delicious blueberry-raspberry cream cheese pie combination. Other fruit variations include strawberries or blackberries as well to ensure that sweet and tart balance.
Serve with a delicious topping.

Aside from the blueberry glaze, add more decoration to the dessert with some simple toppings. Try adding a dollop of whipped cream or lightly sprinkle some lemon zest all over the glaze.
How To Make Blueberry Cream Cheese Pie
Make this easy no bake blueberry pie version of the classic blueberry cheesecake dish. It's deliciously topped with a generous amount of blueberry glaze.
Ingredients
For Blueberry Cream Cheese Filling:
8

oz

cream cheese,

softened

14

oz

condensed milk

⅓

cup

lemon juice

1

tsp

vanilla extract

2

cups

fresh blueberries

¾

cup

powdered sugar
For Blueberry Glaze:
1

cup

granulated sugar

2

tbsps

cornstarch

1

cup

water

2

cups

fresh blueberries,

divided
To Serve:
whipping cream,

for topping
Instructions
Bluberry Cream Cheese Filling:
In a large bowl, add in cream cheese. Whip until fluffy.

Slowly add in condensed milk and powdered sugar. Continue mixing until well combined.

Add in lemon juice and vanilla, then fold in the blueberries.

Carefully pour the mixture into the pie shell.

Let chill for 2 to 3 hours.
Blueberry Glaze:
Crush about ½ cup of blueberries. Set aside.

In a small saucepan, add sugar and cornstarch. Then, gradually stir in water.

Add in the crushed blueberries in the saucepan.

Cook over medium heat. Continuously stir until mixture boils and thickens.

Strain, then let cool.

Add the remaining ½ cup of blueberries onto the chilled pie.

Carefully and evenly pour the blueberry glaze on top. Refrigerate and enjoy!
Nutrition
Sugar:

72g

:

Calcium:

179mg

Calories:

547kcal

Carbohydrates:

88g

Cholesterol:

48mg

Fat:

20g

Fiber:

2g

Iron:

1mg

Monounsaturated Fat:

6g

Polyunsaturated Fat:

1g

Potassium:

313mg

Protein:

8g

Saturated Fat:

10g

Sodium:

244mg

Vitamin A:

554IU

Vitamin C:

12mg
Nutrition Disclaimer
Frequently Asked Questions
How do you thicken blueberry pie filling?
To thicken your runny pie filling, try adding flour or cornstarch into the mixture and continue stirring until it reaches the desired consistency. You can also try tapioca, arrowroot, or potato starch as an alternative. Aside from thickening agents, remember to make sure that your canned or fresh blueberries are completely drained before adding them into the mix. Too much natural liquid or juice can make your pie runny.
Can you freeze blueberry cream pie?
Yes, you can freeze this blueberry cream cheese pie for a longer shelf life. Carefully cover the uneaten pie with plastic wrap and tightly seal to avoid any freezer burns. If you're freezing individual slices, transfer each to a freezer safe zipper bag or an airtight container. This blueberry pie can last for up to 1 to 2 months in the freezer.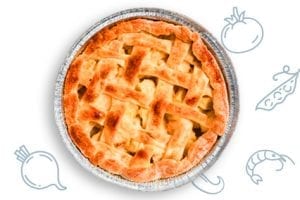 Conclusion
This no bake blueberry pie has a scrumptious golden brown pie crust with blueberry cream cheese filling and glaze. It's that kind of decadent dessert best served during special occasions. The soft, creamy, and moist texture is surely a hit among blueberry lovers.
Topics: