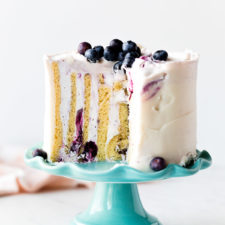 Vertical Cake (Lemon & Blueberry) Recipe
Deliciously soft vertical cake with lemon cream cheese buttercream, this peculiar dessert has fresh blueberries and refreshingly sweet and tangy flavors.
Chill and Freeze Time:
3 hours 15 minutes
Total:
4 hours 27 minutes
Ingredients
For Cake:
all-purpose flour,

for dusting pan and confectioners' sugar for dusting baked cake

4

large eggs,

at room temperature

¾

cup

granulated sugar

1½

tsp

pure vanilla extract

2

tbsp

vegetable oil

1

cup

all-purpose flour,

spoon & leveled

1

tsp

baking powder

¼

tsp

salt
For Blueberry Whipped Cream:
1

tsp

cornstarch

2

tsp

warm water

1

cup

fresh blueberries,

or frozen

1

tbsp

lemon juice

1

tbsp

granulated sugar

1½

cups

heavy cream

3

tbsp

confectioners' sugar
For Cream Cheese Buttercream:
½

cup

unsalted butter,

softened to room temperature

4

oz

block full-fat cream cheese,

softened to room temperature

3

cups

confectioners' sugar

2

tbsp

lemon juice

½

tsp

pure vanilla extract

blueberries,

fresh for garnish, optional
Instructions
Preheat oven to 350 degrees F.

Spray a 12×17-inch baking pan with nonstick spray or grease with butter, so the parchment paper sticks. Then line it with parchment paper. Spray or grease the parchment paper, then dust with a very light layer of flour. (A sifter helps.)
Cake:
Using a hand mixer or a stand mixer fitted with a whisk attachment, beat the eggs in a large bowl on high speed for about 5 minutes until pale yellow and relatively thick. Switch the mixer to medium speed and beat in the sugar, vanilla, and oil for about 1 minute or just until combined. Set aside.

Whisk the flour, baking powder, and salt together in a small bowl. In 2 or 3 additions, sift the dry ingredients over the egg mixture, gently folding together after each addition; do not want to deflate the eggs. Make sure there are no pockets of dry ingredients. The batter is thick and airy.

Spread batter evenly into the prepared pan. Stretch the batter out to fit this pan, making a thin layer. Tap the whole pan on the counter a few times to pop any air bubbles on top.

Bake for about 12 to 13 minutes or until the cake is set and the top springs back when lightly poked with your finger. Do not over-bake.

As the cake bakes, place a piece of parchment paper (a little larger than the cake) or a thin kitchen towel flat on the counter. Using a sifter, dust with a light coating of confectioners' sugar.
To roll the cake:
Once the cake comes out of the oven, run a thin knife along the edges to help release the cake, then immediately invert it onto the parchment/towel.

Peel off the parchment paper that was on the bottom of the cake as it baked. Using a sifter, dust surface with a light coating of confectioners' sugar. Starting with the narrow end, slowly and gently roll the cake up with the parchment/towel.

The cake will be warm. Allow the cake to cool completely rolled up in the parchment/towel. Place in the refrigerator for about 2 to 3 hours to speed it up.
Blueberry sauce:
As the cake cools, make the blueberry sauce. The blueberry sauce must be completely cool before folding into the whipped cream, so make it ahead of time or when the cake is cooling. Mix the cornstarch and water together in a very small bowl. Set aside.

Combine blueberries, lemon juice, and granulated sugar together in a small saucepan over medium-low heat. Stir constantly, bursting the blueberries against the sides of the pan.

Once the blueberries have released some liquid, add the cornstarch/water. Turn the heat up to medium. Stir and cook for about 3 minutes. Remove from heat and allow to cool completely; mixture will thicken as it cools. Place it in the refrigerator to cool down quicker.

Remove the cake roll from the refrigerator and allow to sit on the counter for a few minutes to warm up as you prepare the whipped cream.
Whipped cream:
Using a hand mixer or a stand mixer fitted with a whisk attachment, whip the heavy cream and confectioners' sugar together on medium-high speed for about 3 to 4 minutes until medium peaks form. Medium peaks are between soft/loose peaks and stiff peaks.

Using a spoon or rubber spatula, gently fold in cooled blueberry sauce. To make blueberry swirls, don't completely combine the two; only fold together a few times. Place in the refrigerator until ready to use.
To assemble the vertical cake:
Slowly and gently unroll the cake. If you notice the cake cracking, unroll slower and gently press the cracked pieces back together. (Some cracks are fine!)

Using a very sharp knife or even kitchen shears, cut the cake into 3 long strips. The cake is about 11 inches wide (it shrinks when baking and cooling), so each strip will be a little over 3.5 inches wide.

Spread whipped cream evenly on top of each strip. Working with 1 strip at a time, gently roll the cake strip back up without the parchment/towel this time. Connect the end of the first rolled strip with the next, continuing to roll and wrap the cake up.

Turn cake upright on its flattest end and place on a cake turntable for decorating or onto a cake stand or serving plate. Refrigerate covered or uncovered for at least 1 hour or freeze covered or uncovered for about 45 minutes. Chilling helps ensure the cake holds its delicate shape.
Cream cheese buttercream:
In a large bowl using a hand-held mixer or stand mixer fitted with a whisk or paddle attachment, beat the butter and cream cheese together on medium speed for about 2 minutes until creamy and smooth.

Add confectioners' sugar, lemon juice, and vanilla extract with the mixer running on low. Increase to high speed and beat for about 3 minutes. Add more confectioners' sugar if frosting is too thin, more lemon juice if frosting is too thick, or a pinch of salt if frosting is too sweet.

Remove cake from the refrigerator or freezer. Spread the frosting all over the top and sides. A bench scraper and small offset spatula are handy for decorating. Some of the whipped cream exposed on the top of the cake will mix with the buttercream, creating beautiful random swirls of purple.

Garnish with fresh blueberries, if desired. If using a cake turntable, use a couple of thin spatulas (and a helper!) to carefully lift the cake off the turntable and onto a cake stand or server. (Decorating on a cake board is helpful for this, too.)

Refrigerate for at least 30 minutes before slicing. This helps the cake hold its shape when cutting. Cover leftover cake tightly and store in the refrigerator for up to 5 days.
Nutrition
Calories: 

716.42kcal

Fat: 

39.00g

Saturated Fat: 

21.34g

Trans Fat: 

0.50g

Monounsaturated Fat: 

12.43g

Polyunsaturated Fat: 

2.43g

Carbohydrates: 

87.25g

Fiber: 

0.94g

Sugar: 

71.19g

Protein: 

6.99g

Cholesterol: 

200.23mg

Sodium: 

225.74mg

Calcium: 

107.62mg

Potassium: 

132.81mg

Iron: 

1.49mg

Vitamin A: 

372.89µg

Vitamin C: 

4.28mg