Copycat IHOP Hash Browns Recipe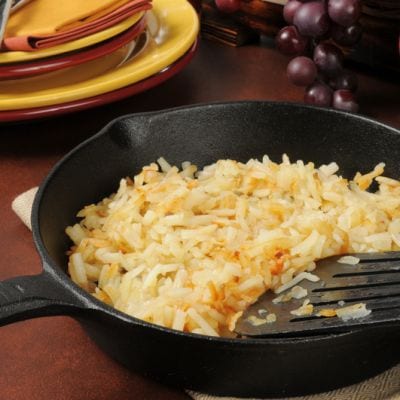 Craving IHOP hash browns for breakfast? Now you can make the famous breakfast side dish at home. Moreover, this copycat hash brown recipe only requires five ingredients and is so simple to make! Go ahead and give this IHOP hash brown recipe a try! In fact, for more IHOP favorites, go ahead and try out our Copycat IHOP French Toast recipe!
These IHOP hash browns are an easy side dish to prepare with ingredients commonly found at home. We bet you can't resist chowing down a crispy buttery crust with tender potatoes in the center maintaining a soft and moist texture. As we've mentioned so many times before, we love home-cooked versions of fast food. Simply because you can get the same delicious taste without the excess oil and fat that often comes with takeout.
Additionally, you can adjust and control the ingredients that go in to your hash brown recipe. Chili flakes for heat, less salt, less oil – whatever it may be, cooking at home allows customization. Serve with crispy bacon, cheesy scrambled egg, and a cup of your favorite brew and you've got a breakfast fit for a king.

Tip: Remember to pre-heat your pan. Insufficient heat would result in a mushy consistency.
How To Make Copycat IHOP Hash Browns
Now you can make the famous breakfast side dish at home. This copycat recipe only requires five ingredients and is so simple!
Ingredients
1

russet potato

medium-size

1/4

tsp

salt

1/8

tsp

pepper

2

tbsp

butter

2

tbsp

oil
Instructions
Peal the potato and start to shred it.

Put the shredded potato in a drainer and run cold water on top to rinse the excess starch off the potato.

Continue rinsing until water starts to run clear.

Ring water from potatoes using a cheese cloth or your hands, by squeezing the water out of the potatoes over the sink.

Place in a bowl and season with salt and pepper.

Heat a pan on medium heat and add both butter and oil once pan is hot.

Add in the shredded potatoes and flatten with a spatula. Cook for about 10 minutes or until the bottom is crisp.

Once the bottom is crispy, divide the hash browns into sections and flip over individually.

Cook for about 10 minutes until brown and crispy on both sides.

Serve with your breakfast favorites!
Nutrition
Calcium:

14mg

Calories:

174kcal

Carbohydrates:

18g

Fat:

10g

Fiber:

1g

Iron:

1mg

Potassium:

254mg

Protein:

2g

Saturated Fat:

5g

Sodium:

296mg

Sugar:

1g

Vitamin C:

6mg
Commonly Asked Questions
What can I use to substitute butter with?
If you want to keep the calories on the lower end of the scale, skip the butter and cook with just the recommended amount of oil. However, the butter does give you an added creaminess that is typical in hash browns. Alternatively, use half the stated amount of butter for a healthier hash brown without compromising on flavor. 
What's the best potato to use for hash browns?
The important part to making the best hash browns is the type of potato used. You want to use potatoes that are waxy if you want your hash browns to stick well together. However, for a crispy hash brown,  use Russet potatoes instead. They are perfectly starchy, which makes them fluffy on the inside while crisp on the outside.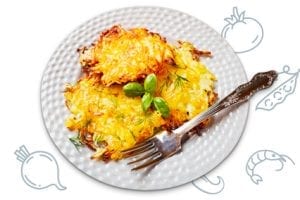 Conclusion
Finally, this breakfast staple is a quick and easy dish to prepare. In fact, it's the perfect companion to a hearty breakfast. Pair it with pancakes and bacon, anyone can bet that that would be enough to get you through the day, or until it's time for lunch, that is.
Related Hash Brown Recipes