If you're dying to make brownie cookies but don't know where to start, you are in the right place. Inspired by Potbelly's Double Chocolate Brownie Cookies, this treat is absolutely delicious. The brownie cookies are chewy and not too sweet, so it is perfect for people looking for a quick fix.
Follow these simple steps to recreate this signature dish from Potbelly and it will surely be a hit with kids and kids-at-heart. Serve this for a snack or picnic and it will definitely be the star of the occasion. The mild sweetness of this double chocolate brownie cookies makes it an undoubtedly addicting treat. 
The double chocolate brownie cookies are best eaten with warm milk, coffee, or tea. Teatime has never been sweeter! With this in mind, go ahead and make a fresh batch of cookies, it will absolutely be worth it.
If you love brownie cookies, we are sure you will love to try another brownie-inspired treat like this Candy Corn Brownie Pizza!
How To Make Potbelly's Indulgent Double Chocolate Brownie Cookies
Potbelly's double chocolate brownie cookies are moist and sweet, and now you can have it anytime. Enjoy these soft and chewy cookies with just the right amount of sweetness.
Ingredients
1

cup

butter

unsalted and softened

3

cups

dark brown sugar

4

large

eggs

room temperature

2

tsp

vanilla extract

1

cup

unsweetened cocoa

3

cups

all-purpose flour

2

tsp

baking soda

1

cup

semi-sweet chocolate chips

2

tsp

salt
Instructions
Preheat oven to 350 degrees F.

In a bowl, sift together, the flour, baking soda, and salt. Set aside.

Using a mixer with the whisk attachment, cream together the butter and sugar. Add the vanilla and cocoa powder, mixing to combine.

Gradually add the eggs, beating with each addition, until smooth.

Fold in sifted flour ingredients into the wet mixture, forming the batter.

Fold in the chocolate chips.

Line cookie sheets with parchment paper, and spoon dough onto the sheets.

Place into oven and bake for 20 to 25 minutes.

Take the cookie sheets out. Let it cool and serve.
Nutrition Facts
Calories:
196
kcal
|
Carbohydrates:
30
g
|
Protein:
3
g
|
Fat:
8
g
|
Saturated Fat:
3
g
|
Cholesterol:
21
mg
|
Sodium:
305
mg
|
Potassium:
111
mg
|
Fiber:
1
g
|
Sugar:
20
g
|
Vitamin A:
258
IU
|
Calcium:
43
mg
|
Iron:
1
mg
Commonly Asked Questions
How long can I store cookies?
Homemade cookies of any type can last up to 5 to7 days as long as it is refrigerated and placed in an airtight container. If you made cookies that are meant to be crisp, it should be placed in a container that is loosely covered for it to maintain its crispness.
How can I make my cookies moist?
We recommend adjusting the ingredients to provide more moisture content to your cookies. For instance, instead of using the usual white sugar, use brown sugar because it has a higher moisture content.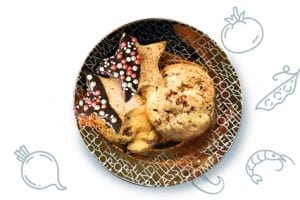 Conclusion
These brownie cookies are perfect for breakfast, afternoon snack, or late-night binge-watching. Serve the cookies to visitors and friends and it will surely be a dish they will never forget!
Eat these delicious cookies in moderation, though! Dessert should be enjoyable and should not cause diseases.