Tender, golden pancakes are seriously the most amazing treat you can have not only in the morning, but all day long. Add to that some scrumptious blueberries and what you've got is some amazing meal. Give this recipe a try and it could very well be your go-to recipe.
So get your griddle pan on and let's start cooking!
How To Make Blueberry Pancakes
Blueberry Pancakes is just one of the many variations of fluffy pancakes. If you ran out of pancake mix ideas, this is one that you should definitely try.
Ingredients
1 ½

cup

whole wheat flour

2

tbsp

butter

melted

3

tbsp

baking powder

¾

tsp

salt

½

cup

brown sugar

2

tsp

lemon zest

grated

1

tsp

vanilla extract

2

medium sized eggs

2

cups

milk

2

cups

blueberries
Instructions
Combine the dry ingredients: 1 ½ cup of whole wheat flour, 2 tablespoon melted butter, 3 tablespoon baking powder, ¾ teaspoon salt and ½ cup brown sugar. Whisk until the ingredients are thoroughly combined.

Afterwards, add 2 teaspoon of grated lemon zest to the mixture. The reason why lemon zest is preferred in making these blueberry pancakes rather than the lemon juice is because lemon juice tends to give a sour flavor to your pancake. Whereas, lemon zest will bring out the sweetness of the syrups.

Then, add the wet ingredients: 1 teaspoon vanilla extract, 2 medium-sized eggs, 2 cups milk and stir it until it is evenly moistened.

You can either use fresh or frozen blueberries. Add 2 cups of blueberries on the batter mixture and whisk it carefully to prevent the berries from being soggy.

Using a scoop or a ladle, pour batter on a pre-heated non-stick frying pan, with a generous slather of butter. Cook each side of the pancake for about 2 minutes. Make sure your stove is set to medium to medium low heat throughout the cooking adjusting when necessary.

Then, serve.
Recipe Notes
Serve these blueberry pancakes with your preferred toppings and syrups. 
Nutrition Facts
Calories:
620
kcal
|
Carbohydrates:
105
g
|
Protein:
18
g
|
Fat:
18
g
|
Saturated Fat:
9
g
|
Cholesterol:
146
mg
|
Sodium:
2045
mg
|
Potassium:
598
mg
|
Fiber:
9
g
|
Sugar:
54
g
|
Vitamin A:
712
IU
|
Vitamin C:
11
mg
|
Calcium:
962
mg
|
Iron:
5
mg
Commonly Asked Questions
What goes well with blueberry pancakes?
What makes Blueberry pancakes a great breakfast is that you can eat it as it is. With the sweet flavor already from adding the blueberries, you don't have to add anything. A basic pancake is served with milk and butter. For blueberry pancakes, you can always add fresh blueberries and some maple syrup. Yogurt, cinnamon, or even fresh fruits are also classic topping options. Some people like to mix and match whipped cream, fruit syrups and melted butter on top. For a high-protein breakfast, eat them with eggs, sausages, and bacon!
Should blueberries be thawed before cooking?
When making pancakes, there's no need to thaw or defrost frozen blueberries. But what you need to remember is to add the blueberries at the last minute. This will prevent the blueberries from "bleeding" its strong blue color into the batter resulting in pancakes with blue spots.
What happens if you overmix batter?
Overmixing flour ingredients will cause the gluten to develop. This results in a tough batter mixture which you don't want with your pancake recipe. With blueberry pancakes, this will also mash the blueberries if you overmix the batter.
How to make blueberry syrup for pancakes?
Easy! Many people like to use blueberry syrup in their pancakes rather than using fresh blueberries. Or they combine the two! Just whisk equal amounts of blueberries, water, and sugar in a saucepan over low heat. Make sure to stir it often until the syrup thickens. The whole process will take about 15-20 minutes. For every cup you use, you can add a teaspoon of lemon juice.
How to tell if blueberries are sweet without tasting?
Generally, you can only tell if blueberries are sweet based on its color. The darker the color, the sweeter it is. If it's close to a darker red blueberry, you know they are sour.
Can you make pancakes ahead of time and freeze them?
If you end up making too many pancakes in advance, or want to make a big batch that you can use every morning, you can make batter ahead of time and freeze them. You don't have to mix ingredients everyday to make your mornings better with pancakes.Just make sure to fully cook them and store them properly. Better if you can find parchment paper, use these to separate each pancake and store them in a Ziploc on top of each other but not touching. You can also store batter but make sure you lay them flat, before storing and freezing. When you're ready to make a new batch, just thaw them with warm water or store in the refrigerator overnight. You can now use the Ziploc bag as a pastry bag to pipe the pancakes directly into the pan.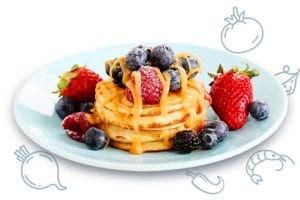 Conclusion
Pancakes dominated the whole breakfast repertoire with its fluffy and soft texture bringing excitement to the people dining in the table paired with their morning cup of joe.
Treat yourself with this breakfast classic. Invite your kids to help whipping up a batch of these goodies. It's the simple things in life that are best shared with loved ones.