Start your day right by having the perfect breakfast with a stack of light, fluffy, and buttery blueberry pancakes! You can never go wrong with plain old classic pancakes like our Absolute Best Pancakes with a smooth texture and perfect taste or Denny's Inspired light and fluffy buttermilk pancakes. However, our Blueberry Pancakes Recipe makes classic buttery pancakes with blueberries all over adding in a healthy and more flavorful twist!
Besides the amazing flavor of blueberries, they are rich in nutrients. Moreover, they contain essential minerals and antioxidants and has Vitamin C! So they're definitely a healthy addition into our classic pancakes. Blueberries give our fluffy pancakes a naturally sweet flavor making them yummier even without powdered sugar or maple syrup! We also added in some lemon zest to bring out the sweet flavor of our pancakes even more. In addition, these blueberry pancakes are so easy to make that you'll love making fresh batches of it whenever.
Although blueberries are not always in season, you can always use frozen ones for this blueberry pancakes recipe. In addition, you can also freeze your blueberry pancakes and reheat them for last-minute breakfasts or busy week mornings. Read on our CAQ section down below to learn more about it! Even more, you have to bond with the kids over this easy blueberry pancakes recipe and enjoy fluffy delicious pancakes. Also, blueberries give our light and soft pancakes a sensational sweet and tangy flavor! So switch up your plain old pancake recipe and serve tender and golden blueberry-filled pancakes that are light, fluffy, and are truly heavenly.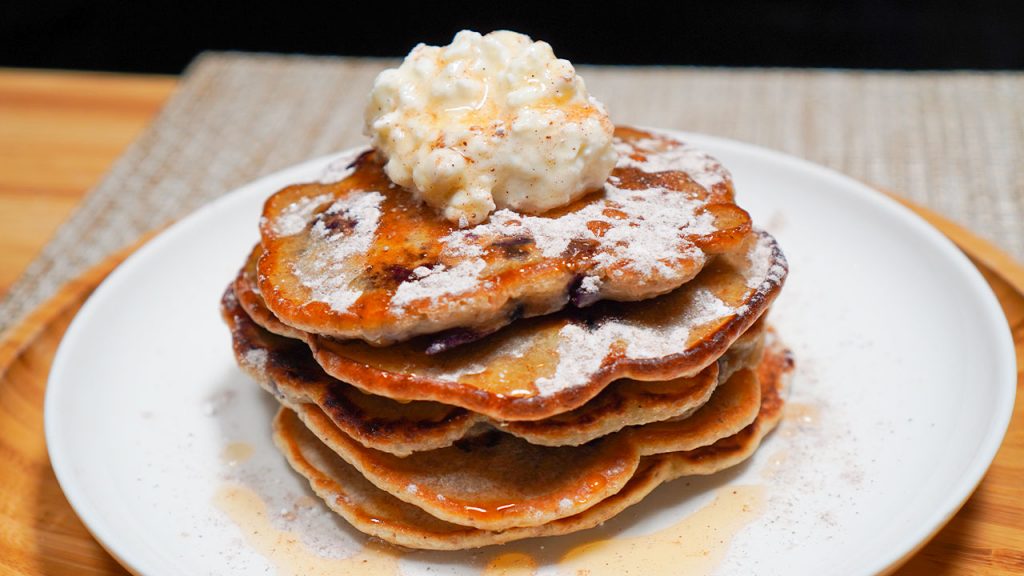 Blueberry Pancakes Recipe
How to Make Blueberry Pancakes Recipe
You'll choose soft, buttery, and delicious blueberry pancakes over the plain and classic ones in this quick and easy Blueberry Pancakes Recipe. Enjoy sweet blueberries in our warm and fluffy pancakes to make your breakfasts extra special!
Ingredients
1 ½

cups

whole wheat flour

4

tbsp

butter,

melted

2

tsp

baking powder

¾

tsp

salt

2

tbsp

brown sugar

2

tsp

lemon zest,

grated

1

tsp

vanilla extract

2

large eggs

2

cups

milk

2

cups

blueberries
Instructions
In a large bowl, mix the flour, sugar, baking powder, and salt. Whisk until your dry ingredients are well combined.

Whisk in the milk, eggs, melted butter, vanilla extract, and grated lemon zest until your mixture is evenly moistened.

Carefully fold in your blueberries to prevent them from being soggy.

Heat a generous slather of butter into your non-stick frying pan under medium to medium-low heat.  Scoop ¼ cup of your pancake batter, pour it over your pan, and cook until you see the edges firming up.

Once you see tiny bubbles forming into the surface of your pancakes, you can already flip them and cook for 1 to 2 minutes until they become fluffy and cooked through

Cook the other side until golden brown. Once you're done cooking your batch of warm and fluffy pancakes, plate or stack them, top with more blueberries or syrup and enjoy!
Recipe Notes
If your batter comes out too thick, you can add in more milk to thin it out.
Let your pancake batter rest for a couple of minutes before frying to make fluffier pancakes.
Top your pancakes with maple syrup reheated in the microwave or with your preferred syrup and toppings before serving to best enjoy your warm and fluffy blueberry pancakes.
Nutrition
Sugar:

13g

:

Calcium:

209mg

Calories:

286kcal

Carbohydrates:

37g

Cholesterol:

63mg

Fat:

12g

Fiber:

4g

Iron:

2mg

Potassium:

274mg

Protein:

9g

Saturated Fat:

4g

Sodium:

599mg

Vitamin A:

571IU

Vitamin C:

6mg
Nutrition Disclaimer
Frequently Asked Questions
Can I use frozen blueberries for this pancake recipe?
Sure! If you can't get your hands on fresh blueberries, frozen blueberries would work. It's important to get rid of the excess liquid in our blueberries to use them in our recipe. Frozen blueberries tend to bleed when tossed in the batter and cooked. This will give our pancakes patches of blue which is not ideal for blueberry pancakes. So what we can do to prevent our blueberries from bleeding would be to thaw them, rinse and pat them dry. Lastly, toss them in a bowl with flour to coat the blueberries, and voila! No more ugly colored patches in your pancakes.
How do I store my blueberry pancakes?
You can freeze your pancakes for up to 4 weeks. Just let them cool to room temperature, lay them flat on a baking sheet, and store them in the freezer for 1 to 2 hours. Once frozen, stack your pancakes and transfer them to a freezer bag. Reheat them by defrosting them for 30 minutes then heating them in a warm oven or toaster. Don't reheat them in the microwave to avoid having rubbery pancakes. However, we suggest just whipping up a fresh batch every time you want to serve them because this blueberry pancake recipe is quick and easy!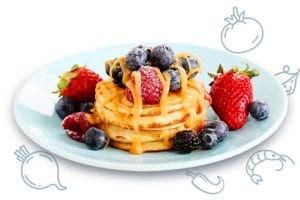 Conclusion
If you're looking for recipe ideas to switch up your classic buttermilk pancakes, blueberry pancakes would definitely be on your list. Blueberries are a great addition to warm and soft pancakes as they easily burst with flavors when warmed up. It gives a sweet and tangy flavor to our buttery pancakes that make them even more irresistible! A plate of towering layers of our blueberry pancakes is perfect for a healthy and tasty breakfast. Get your daily fruit fix with these scrumptious blueberry pancakes that are sweet and tasty all over!
Topics: