Imagine having light, fluffy pancakes for breakfast everyday at Denny's. Now that's a dream. While it may be a tad impossible for most of us to dine in Denny's for breakfast daily, you can easily recreate Denny's yummy buttermilk pancakes with this easy fluffy pancake recipe! Now you can have Denny's fluffy buttermilk pancakes at home everyday!
Have you ever wondered why Denny's pancakes are so much more delicious than ordinary pancakes? The secret is buttermilk. Buttermilk not only makes pancakes more moist and fluffier, it also gives a tinge of tang not found in usual milk. Sweet, savory, and tangy all at once, once you bite into the rich fluffy dream, you just can't stop.
Though the fluffy buttermilk pancakes is good on it own, you can make it even more decadent with an assortment of fruits and a scoop of vanilla ice cream on top. Alternatively, serve with bacon, eggs, and sausages for your very own "Grand Slam"!
And if you love fluffy pancakes, why not try it with an Asian twist by checking out our fluffy Japanese pancake recipe?

Tip: Be mindful of your pan temperature. Don't go over medium heat, and lower the temperature if need be. Ideally check the hot spots after every batch of pancakes to avoid burning your pancakes.
How To Make Denny's Inspired Fluffy Buttermilk Pancakes
Missing the fluffy buttermilk pancakes at Denny's? Why not make some on your own? You will get to eat the light, fluffy dream of a pancake without leaving the comfort of your home!
Ingredients
1

cup

buttermilk

1

cup

all-purpose flour

1

tbsp.

white sugar

1

tsp.

baking powder

1/2

tsp.

baking soda

1/2

tsp.

salt

1

large egg

2

tbsp.

unsalted butter

melted

Cooking spray
Instructions
Combine flour, sugar, baking powder, salt and baking soda in large mixing bowl.

Whisk egg and butter into buttermilk in a different bowl.

Fold flour mixture into buttermilk and whisk.

Place large non-stick pan or griddle over medium heat and coat with cooking spray.

Pour 1/4 cupfuls of batter onto the pan and cook until the bubbles form on the surface and edges.

Flip with spatula and cook until browned on other side.

Serve with maple syrup and butter.
Nutrition Facts
Calories:
180
kcal
|
Carbohydrates:
32
g
|
Protein:
7
g
|
Fat:
6
g
|
Saturated Fat:
3
g
|
Polyunsaturated Fat:
3
g
|
Monounsaturated Fat:
2
g
|
Cholesterol:
45
mg
|
Sodium:
402
mg
|
Potassium:
112
mg
|
Fiber:
1
g
|
Sugar:
7
g
|
Vitamin A:
251
IU
|
Calcium:
152
mg
|
Iron:
2
mg
Commonly Asked Questions
What if I don't have buttermilk?
You can make your own buttermilk easily! For 1 cup of buttermilk, all you have to do is mix 1 cup of milk with 1 tablespoon of vinegar or lemon juice, and allow to sour for 5 minutes. You will know it's ready when the milk has thickened and is slightly curdled.

How do I flip a pancake perfectly?
If you are not a seasoned home chef, the initial flip may be a little daunting. Often, you will end up with a perfect mess instead of a perfect round pancake. Firstly, ensure that the pan you are using is a non-stick pan or griddle. To make the flipping process even smoother, oil up your pan. Also, timing is of most essential in flipping. You have to make sure that you see bubbles all over the batter before you make the flip. Finally, slide the spatula under the pancake and flip the pancake with a quick 180 degree turn of your wrist. Basically, you can't hesitate. Any slight hesitation will mess up the perfectly round circle you are aiming for.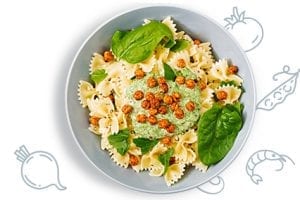 Conclusion
Pancakes are good, but fluffy pancakes are better. And fluffy buttermilk pancakes are the holy grail of breakfast. With this recipe, you will get to enjoy the most perfect fluffy buttermilk pancakes every morning.