Blackberry jam is a classic spread that we all love. Its gorgeous deep color and bright fruity flavor pop every time they are used as a spread for artisan bread slices or as a topping for cinnamon pancakes. When it's summer and blackberries are on sale, or if you have a bunch of frozen berries, be sure to get a bunch of them to make this easy blackberry jam recipe. It takes only around 30 minutes to prepare, and you can even make it without pectin.
Tips on Making Blackberry Jam
Traditional blackberry jam recipes call for equal amounts of fruit and sugar. It helps achieve a bigger yield and preserve the jam longer. But in this low-sugar recipe, we let the fruity flavor really shine through. Meanwhile, we suggest keeping these tips in mind when making this easy berry jam recipe:
If you're using wild blackberries, make sure to soak them in salted cold water for at least 20 minutes

. This helps remove any impurities that might have settled into the crevices of the berries. Use 1 tablespoon of salt for every 4 cups of water. Drain the fruits well before using.
If you want a more chunky jam, soak the fruits in sugar overnight.

Letting the fruit sit in granulated sugar helps draw out most of the juice from the fruit. As a result, the fibers of the berries are more intact and won't easily break down when cooked. To macerate, use the amount of sugar called for in the recipe. No need to add more when cooking.
Use fresh and slightly under-ripe berries

and you will not need to add pectin anymore to thicken your jam because they're already naturally high in pectin. Blackberries lose pectin as they ripen, but they get sweeter. So if you happen to only have overripe berries or

frozen berries

, then we suggest making this

blackberry jam recipe with pectin

.
Lemon juice enhances the fruitiness of this jam.

If you want to explore other flavors, add a dash of cinnamon or a few drops of vanilla or almond extract

to your

blackberry preserves

. You can also add a handful of toasted almond slivers for some crunch!
Have an abundance of blackberries? For other blackberry recipes, you can use them for, check out these delectable blackberry muffins!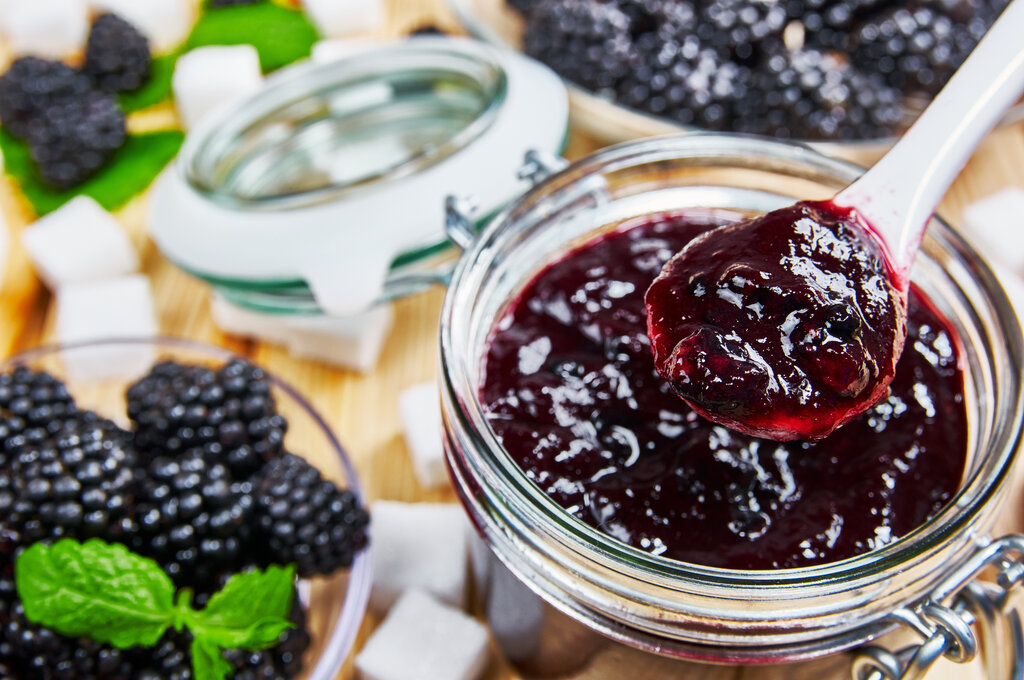 Best Homemade Blackberry Jam Recipe
How to Make Best Homemade Blackberry Jam
Make a fresh batch of sweet and tarty homemade blackberry jam in just 30 minutes. Enjoy it steaming hot with toasts and store the rest in half-pint jars for later.
Ingredients
2

lb

blackberries,

fresh or slightly underripe

1½

cups

granulated sugar

2

tbsp

liquid pectin,

optional, but necessary if using overripe blackberries

1

lemon,

juiced
Instructions
Wash the berries in salted water and drain.

Place the berries and sugar in a medium saucepot. Heat it up to medium until boiling.

Turn the heat to low. Using a fork or potato masher, mash the berries.

Add the pectin at this point, if using.

Allow the berry mixture to simmer continually for about 20 minutes or until thick. An instant-read thermometer should read 220 degrees F.

Once thick, take it off the heat. Pour them into sterilized canning jars or glass containers, or serve immediately. Enjoy!
Recipe Notes
If kept in a sealed container, this blackberry jam will stay good in the fridge for up to 2 weeks and in the freezer for 3 months.
Nutrition
Sugar:

346g

:

Calcium:

294mg

Calories:

1586kcal

Carbohydrates:

398g

Fat:

5g

Fiber:

52g

Iron:

6mg

Monounsaturated Fat:

1g

Polyunsaturated Fat:

3g

Potassium:

1625mg

Protein:

14g

Saturated Fat:

1g

Sodium:

14mg

Vitamin A:

1965IU

Vitamin C:

248mg
Nutrition Disclaimer
Frequently Asked Questions
How do you get seeds out of blackberry jam?
The sour and bitter flavors in blackberries are concentrated in the seeds. To remove the blackberry seeds, mash the berries first, then strain the mixture. Most of the pulp will also be removed leaving you a smooth juice that can be cooked and turned into blackberry jelly.

Will my jam thicken as it cools?
Yes, pectin sets as it cools. It takes about 1 to 2 days for the jam to be fully set. However, there is a way to test the consistency while cooking it. Place a small ceramic saucer in the freezer for 5 minutes or until chilled. Then, take a pea-sized portion of the jam and put it on the chilled plate to quickly cool it down. If it doesn't move when you tilt the plate, it means that the batch will thicken.

How to store blackberry jam through water bath canning method?
The water bath canning method is an effective way of extending the shelf life of fruit jams for up to 18 months. Make sure to sterilize the jars and have them ready to be filled by the time the jam is done. First, have a water bath canner or a big pot of boiling water ready. Sterilize the canning jars, lids, and metal screw bands in another pot of boiling water for at least 15 minutes. Lay the jars and lids in a kitchen towel-lined baking sheet. Fill them with the hot jam, screw the lid, then place them in a canner rack or directly to the pot. They should be submerged in at least 2 inches of water at a rolling boil for at least 5 minutes. Allow them to cool for at least 24 hours before storing them in the pantry.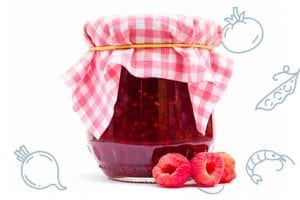 Conclusion
Now you can make your own blackberry jam at home following this easy peasy recipe. Enjoy the taste of summer blackberries even when the season is over!