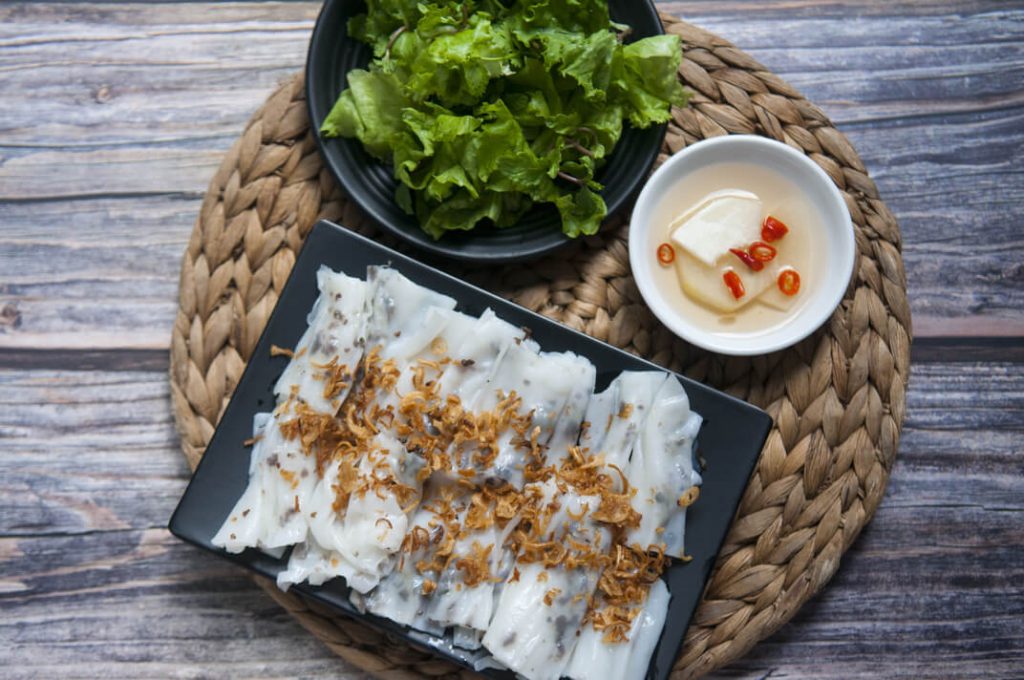 Vietnamese Pork Rice Rolls (Banh Cuon) Recipe
Vietnamese Pork Rice Rolls (Banh Cuon) Recipe
Ingredients
For Batter
bánh cuốn flour ,

(1 pkg), (we get it from the Asian supermarket)

1

l

water

1

tsp.

salt

4

tbsp.

cooking oil

▢cooking oil,

(for greasing the pan)
For Filling
200

g

pork mince

50

g

woodear mushroom,

(finely chopped)

80

g

shiitake mushrooms,

(rehydrated and finely chopped)

150

g

jicama,

(cut into thin strips)

1⁄2

onion,

(finely chopped)

3

spring onion head,

(finely chopped)

3

garlic cloves,

(finely chopped)

3

red shallot,

(finely chopped)
For Filling Seasoning
1

tbsp.

oyster sauce

1

tsp.

fish sauce,

(or to taste)

1

tsp.

sugar,

(or to taste)

1

tsp.

chicken bouillon powder

1

tsp.

pepper

1

tsp.

sesame oil
For Garnish
lettuce

mint

Vietnamese coriander

coriander

bean sprouts

cucumber,

(cut into strips)
For Toppings
fried onion

pickled carrots and daikon

Vietnamese pork meatloaf,

(chả lụa), (cut into thin slices)

Vietnamese cured pork,

(nem chua), (cut into thin slices)

Vietnamese fried prawn cake,

(bánh cống), (cut into large chunks)
Instructions
Start by mixing the Bánh Cuốn flour with the salt, water and oil. Make sure to combine everything well first before adding the oil. Let it rest for at least 15 minutes.

Meanwhile, bring a wok or pan up to a medium heat and add 5 tbsp oil in. Throw in the onions and red shallots to cook for 3 minutes or until almost translucent.

When ready, add the spring onions and garlic in to cook for another minute.

Turn the heat up to high and pour the jicama strips in to cook for 5 minutes or until soft.

Add the mince and woodear and shiitake mushrooms in along with the oyster sauce, fish sauce, sugar, chicken bouillon powder, pepper and sesame oil. Give it a mix until well combined, then set aside to cool.

While the mince is resting, heat up a pan on medium heat and lightly brush on some oil to coat the entire surface.

Coat a large plate with oil as well and leave it aside until later.

Pour a thin layer of the batter in (roughly 1/4-1/3 cup, depending on the size of your pan). Roll the pan around to spread the mixture until it forms a thin layer, then put the lid on.

Let it cook for 15-30 seconds or until semi-translucent. You might also find that the cooked batter will start to pop away from the pan's surface by forming a large bubble.

Flip the pan over so that the cooked batter can land flat on the lightly oiled plate. Add 1-2 tbsp of the mince filling in a straight line along its center, then roll it over using a spatula or until it forms a roll.

Repeat the batter cooking and pork filling steps until all is done.

Serve immediately with fresh herbs, classic toppings and Vietnamese Dipping Sauce (Nước Mắm)!