Pork banh mi, a classic Vietnamese street food, brims with delicious flavors. Pulled pork roast teams up with tasty vegetables, spicy sauce, and crusty bread rolls to make this belly-filling sandwich. Banh mi is filling enough on its own and can be eaten alone. But if you still have enough room for a side dish, serve it alongside a platter of french fries.
What is banh mi, anyway? Bánh mi, which means "bread" in Vietnamese, refers to the Vietnamese baguette that's typically stuffed with meat and pickled veggies. The pork filling, without a doubt, tastes so good. But it's the flavored vegetables and the sweet-savory sauce that really set the deal for us. But don't take our word for it though — follow our easy recipe on how to make banh mi and try this Asian sandwich yourself!
What's in Our Pork Banh Mi Sandwich?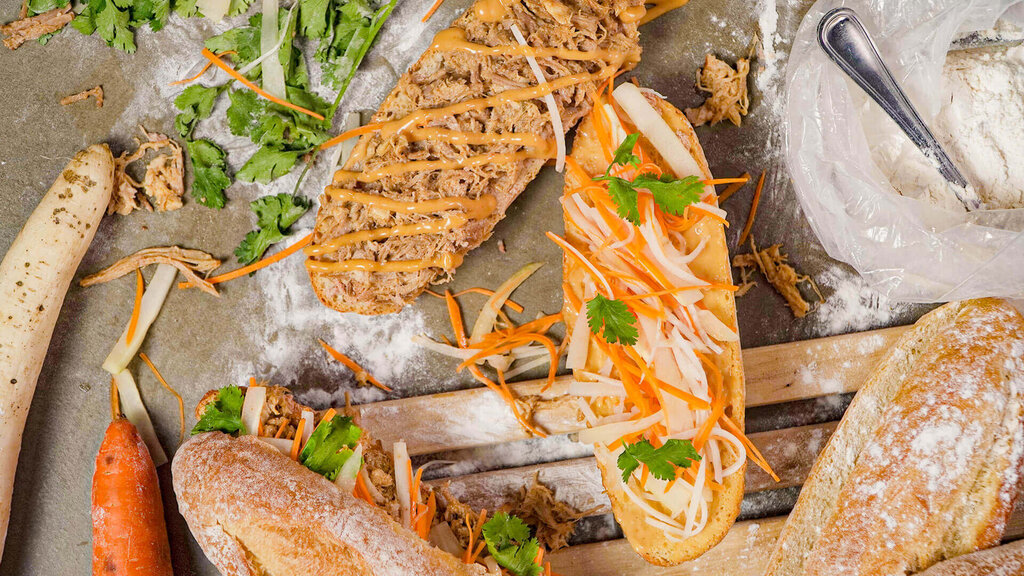 This pork banh mi has a tasty combo of flavors and a texture everyone will love. Even better? Vietnamese banh mi sandwiches are easily customizable! Here are the banh mi ingredients you need for this version:
Pulled pork roast

– For easier preparation, use a pre-cooked pork roast. Or, you can make your favorite pulled pork roast recipe!

Vegetables

– For this pulled

pork banh mi recipe

, we used

radish

,

carrots

, and

cucumber

. 

Rice vinegar

– We used rice vinegar to quick-pickle the crispy veggies. Others, however, prefer white vinegar.

Sauce

–

For the banh mi sauce

, we used a blend of

mayonnaise

,

sriracha hot sauce

, and

hoisin sauce

. 

Pate Spread

– Don't skip the

Vietnamese pate

if you want to mimic the

authentic t

aste of a

banh mi sandwich

. You can use either chicken, duck, or

pork liver pate

.

Herbs and spices

– We used cilantro leaves to stay true to the

traditional banh mi recipe

. Feel free to toss a few slices of jalapeno chili peppers for a slight kick.

Banh mi rolls

– You can also use

French bread

rolls or any crusty bread rolls for this

banh mi sandwich recipe

.
All you have to do? Coat the vegetables with rice vinegar. Then, spread the flavorful sauce on one side of the baguette and the banh mi pate on the other. Layer all the fillings, and bam! You got yourself a fantastic and crispy banh mi sandwich for lunch!
More Vietnamese Banh Mi Variations
Because of its undeniable deliciousness, the banh mi sandwich is well-loved globally. Many banh mi recipes also go beyond the usual pork and vegetable fillings. These Vietnamese sandwiches are perfect for easy lunches and quick dinners!
Tasty grilled pork banh mi (banh mi thit nuong) is probably among the  best banh mi versions in our book! The pork filling is usually marinated in a tasty mixture of lemongrass, soy sauce, and hoisin sauce  before grilling. You can also easily swap the pork for a chicken to make a mouthwatering grilled chicken banh mi. 
There's also the meatball banh mi that's usually flavored with fish sauce, garlic, black pepper, and other spices. Our favorite vegetarian version, meanwhile, features marinated tofu and pickled vegetables. Trust us, the tofu banh mi is just as filling as the meaty variations.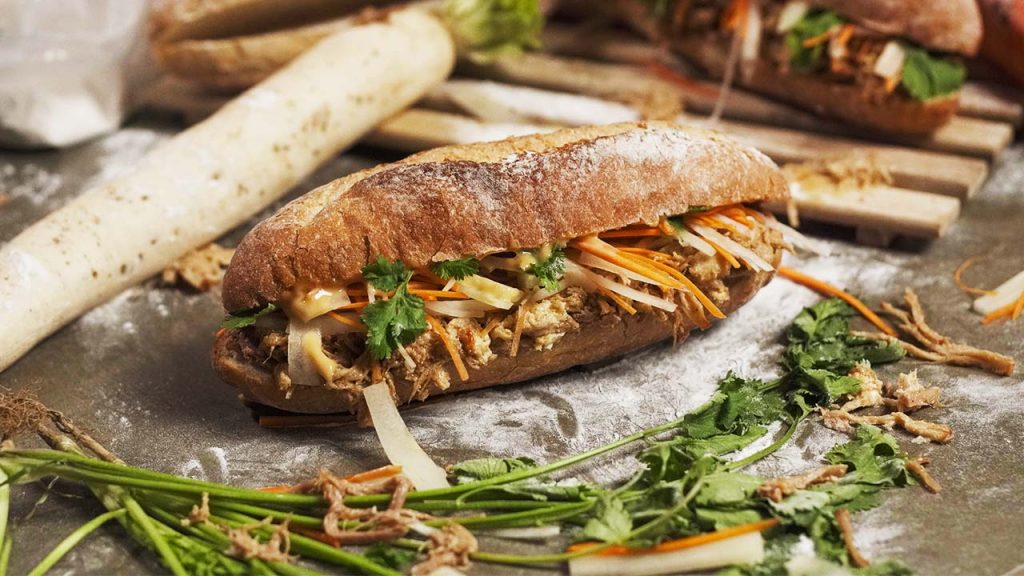 Pork Banh Mi Sandwich Recipe
How To Make Pork Banh Mi Sandwich
Up your sandwich game with this Vietnamese pork banh mi recipe. Simply stuff the baguette with pulled pork, pickled veggies, and flavorful condiments. Enjoy!
Ingredients
⅓

cup

carrots,

julienned

⅓

cup

radish,

julienned

1

cucumber,

seeded and julienned

2

tbsp

rice vinegar

⅓

cup

mayonnaise

2

tsp

hoisin sauce

1

tsp

sriracha hot sauce

4

banh mi rolls

5

oz

pate spread

1

lb

pulled pork roast,

cooked to your liking

⅓

cup

cilantro leaves,

packed
Instructions
Preheat the oven to 400 degrees F.

Place the carrot, radish, and cucumber in a bowl.

Add the rice vinegar and coat the veggies. Set it aside and let it sit for 15 minutes.

In another bowl, mix the mayonnaise, hoisin sauce, and sriracha. Mix until well-combined.

Next, cut each banh mi roll in half.

Bake the rolls for 2 to 3 minutes.
To assemble:
Spread pate on one side of the bread and the mayonnaise mixture on the other.

Add the pork roast on top.

Next, add the pickled vegetables. Make sure to drain the liquid if there is any.

Top with cilantro leaves.
Nutrition
Sugar:

7g

:

Calcium:

114mg

Calories:

497kcal

Carbohydrates:

54g

Cholesterol:

62mg

Fat:

17g

Fiber:

5g

Iron:

4mg

Potassium:

945mg

Protein:

30g

Saturated Fat:

3g

Sodium:

614mg

Vitamin A:

1382IU

Vitamin C:

14mg
Nutrition Disclaimer
Frequently Asked Questions
What kind of meat is in the banh mi sandwich?
The traditional banh mi sandwich often starts with marinated, and grilled pork tenderloin is the most common meat filling. Others, on the other hand, put a pork roast and glazed pork belly in their banh mi sandwich. You can also stuff this Vietnamese sandwich with cold cuts, such as sausage, deli ham, and pulled pork. Chicken and beef also make for delicious fillings for banh mi sandwiches.
Is banh mi healthy?
Not only is banh mi ultra delicious, but it's actually a healthy food, too! This Vietnamese pork roll contains around 50 grams to 70 grams of carbs and is considered a high calorie dish. However, it's also a good source of protein. On the whole, this Vietnamese bread roll works for people who are lean and very active.
What do you serve with banh mi?
To pull off a Vietnamese-inspired meal, serve banh mi alongside a steaming bowl of beef tripe pho. This Vietnamese pork sandwich and mango salad (or any refreshing salad) also go oh-so-well together. We definitely love the contrast of savory and sweet-tangy flavors! French fries and chips make for a great accompaniment for your homemade banh mi, too.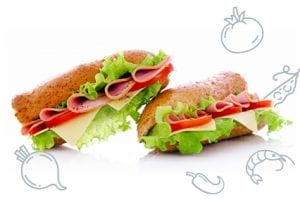 Conclusion
Have a taste of Vietnamese food with this easy pork banh mi recipe. This Asian sandwich features flavorful pulled pork, pickled veggies, and tasty condiment stuffed in a crusty baguette. Serve with your favorite side dish for a complete meal!