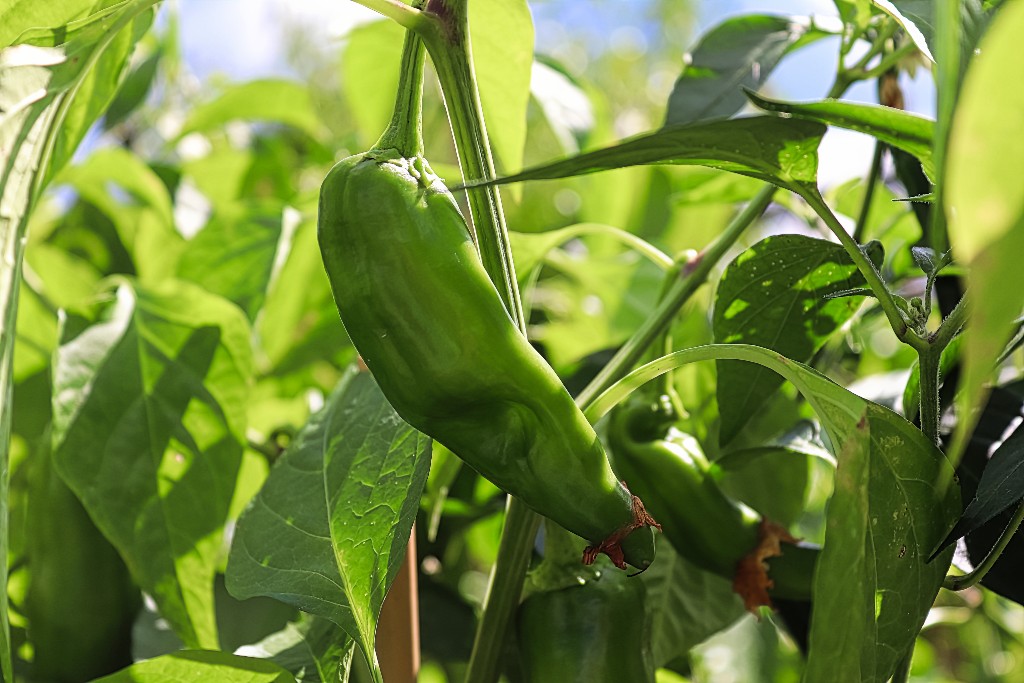 Anaheim Pepper: All You Need to Know and Recipes to Try
When we think of the best chili peppers in the world, popular varieties along the lines of habanero peppers might come to mind. But, there's one gem that you might not know of just yet: the homegrown Anaheim pepper. First popularized in the state of California, this mildly-hot variety is a common ingredient in both American and Mexican food. Now, you can try your hand at it, too! So read on to learn more about this specific American chile. 
What Is an Anaheim Pepper?
The Anaheim pepper or chile is a green-colored variety that's mostly available in the United States. It has an average length of six to ten inches, which means it's medium-sized when compared to other kinds of pepper. We love it simply because it brings a unique flavor and level of heat to certain dishes! Besides this, it's also packed with good nutrients like vitamin C, A, and potassium to help keep your body healthy.
As its name suggests, this variety does have something to do with the city of Anaheim in Southern California. The fruit was popularized in the said area by Emilio Ortego, the first one to bring seeds of Anaheim chiles to the country. However, it was in Mexico where the pepper plants first popped up. That is the reason why you'd also find different versions of this ingredient in a handful of classic Mexican dishes.
Are Anaheim Peppers Hot?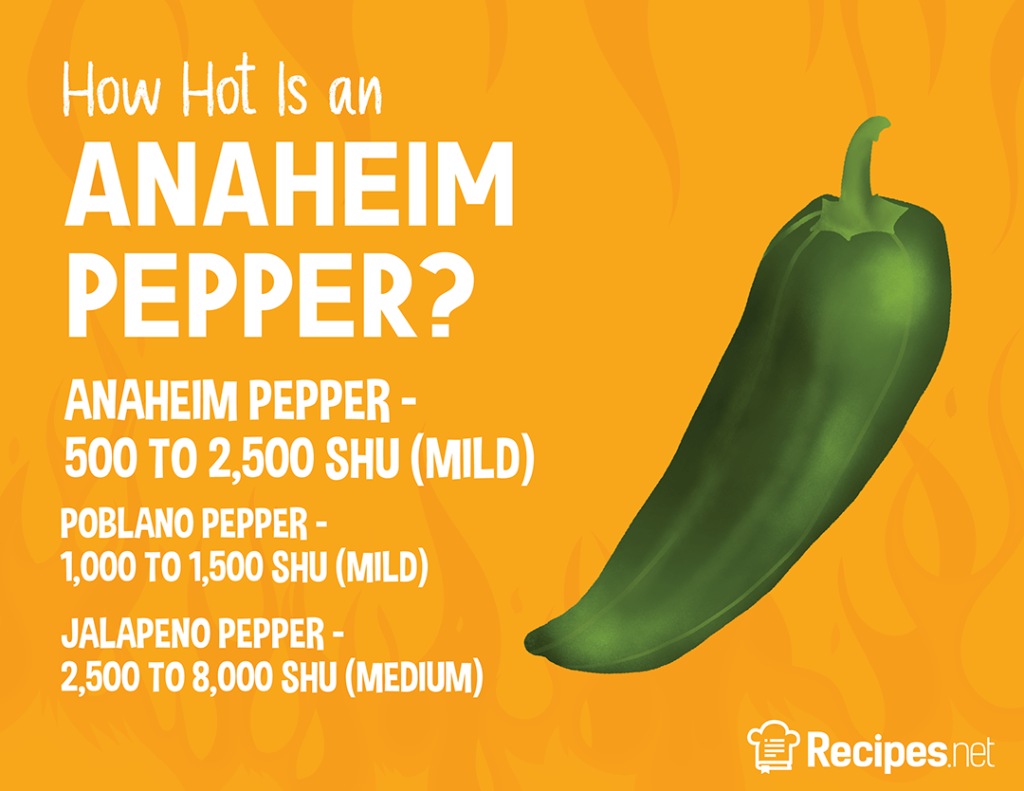 To put it simply, Anaheim peppers are only mildly spicy. If you're wondering how hot an Anaheim pepper is in terms of the Scoville scale, you should know that it's on the lower end of the spectrum. With the heat that measures around 500 to 2500 Scoville Heat Units (SHU), it's a good family-friendly option for different dishes. At its hottest, it's only equivalent to the milder varieties of the jalapeno pepper which stand at around 2500 SHU. 
When the chile Anaheim is used raw, brightness backs its subtle heat. But, you're also welcome to roast it beforehand to achieve a sweet and smoky flavor. 
Varieties of Anaheim Peppers
The Anaheim pepper is widely known as a kind of green chili variety. This is the most ubiquitous kind in the United States, after all. However, you can also encounter other types of this Californian pepper in the market. 
When in Mexico, the Anaheim pepper is known as the "New Mexico chili pepper." And if it's specifically harvested from the region of Hatch, it is then called "Hatch chile". Although these are technically just different names that refer to the same ingredient, many believe that these Mexican varieties are actually spicier than the ones from California due to special environmental factors.  
You can also find dried versions of the Anaheim pepper. Dried green chiles are known as the "seco del norte", "verde del norte," or "chile de la tierra." Meanwhile, ripened Anaheim peppers that are red in color are called "chili colorado," or "California red chili" when dried.
READ ALSO: Serrano Pepper: How Hot Is It and How to Use It in Cooking
How to Use an Anaheim Pepper for Cooking
Anaheim chiles are great for dishes that only need a subtle spiciness. The fresh kind is an excellent hot pepper choice for roasting, stuffing, and canning, because of its thick skin. To cook, remove the peel and pepper seeds beforehand. Canned Anaheim peppers, on the other hand, are ideal for making salsa and a host of other sauces. You can also use this Californian variety as a milder alternative to hotter pepper varieties in certain recipes.
Best Anaheim Pepper Recipes to Try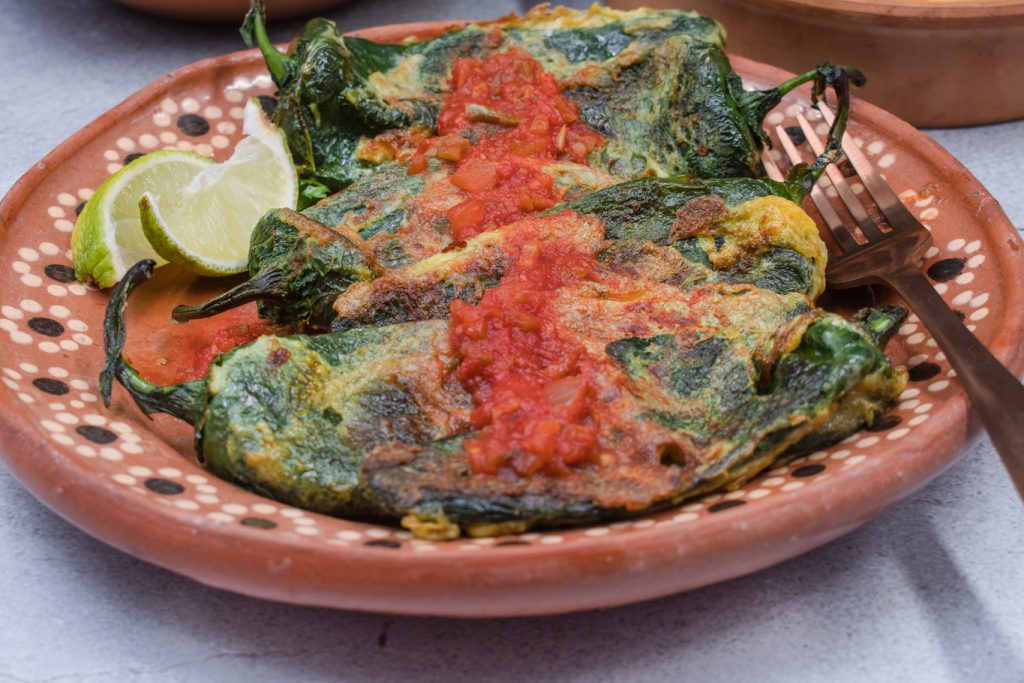 Now that you know the most common ways of preparing the Anaheim chili pepper, it's time for cooking! Here, you'll find the best dishes that you can make with this ingredient. Take your pick from any of the recipes below.
Stuffed Anaheim Peppers –

The thick-skinned California pepper serves as the vessel for this Mexican-inspired dish. It's a lot less spicy here though, as its core and seeds are removed to make way for the beef and cheese stuffing.

Authentic Mexican Chili Relleno –

Also known as

chiles rellenos

, this dish is a Mexican staple that features

Anaheim pepper

as the main ingredient. It's broiled, skinned, stuffed with cheese, dredged in egg and flour, and then deep-fried.

Tortilla Soup (Crockpot or Stovetop) –

  Anaheim pepper is combined with jalapenos for this easy tortilla soup recipe. As a result, the dish gains just the right amount of heat from these two pepper varieties. 

Grilled Chile Relish – For yet another Anaheim and poblano pepper combo, t

hese smoky and spicy chiles work together with condiments to form a must-try relish.

Smoky Roasted Salsa –

Mild-tasting Anaheim chili peppers balance out the heat of jalapenos for this recipe. Roast them

along with a bunch of other vegetables over mesquite wood chips, then chopped together to make smoky salsa.

Green Chile Enchiladas –

The Californian green chile is the prime pepper choice for this dish. Roasted and wrapped in tortillas along with cheese, it provides a kick of smoky heat to the rich combination of ingredients.
How to Store Anaheim Peppers
Bought too many Anaheim chili peppers? Worry not because they can stay good for up to two weeks when refrigerated. Beyond that, you can try a few preservation methods. First up is canning the fresh chiles with salt in hot water. Canned Anaheim peppers are excellent toppings for your favorite Mexican meals. Freezing is another one, although we recommend roasting the peppers first before proceeding. Then there's the drying method that produces flavorful chile seco. Finally, you can turn the chili peppers into hot sauce.   
Anaheim Pepper Substitute
With all that's been said, it is clear that the Anaheim pepper is one of a kind. The only catch is that it can be hard to find sometimes. Despite being available all year round, only select supermarkets and grocery stores sell this specific pepper variety. So if you really want to try out certain recipes that call for it, give these Anaheim pepper alternatives a shot: 
Bell Pepper –

This is the best A

naheim pepper

substitute for most recipes. It's mild-tasting and easy to find. You do have to note that

bell peppers

do not contain capsaicin at all. This may not be the best option if you're looking for the slight heat that Anaheim brings.  

Cubanelle Pepper –

This is another good alternative for Anaheim pepper in a lot of recipes.

Cubanelle peppers

have some sweetness and a tinge of heat, albeit not as strong as the one we're trying to replicate. 

Poblano Pepper – For making stuffed peppers, Mexican

poblano peppers

are worth a try. Off the bat, they look similar to Anaheim peppers. Their flavor profile is somewhat similar as well, with

poblanos

being mildly sweet and mellow.