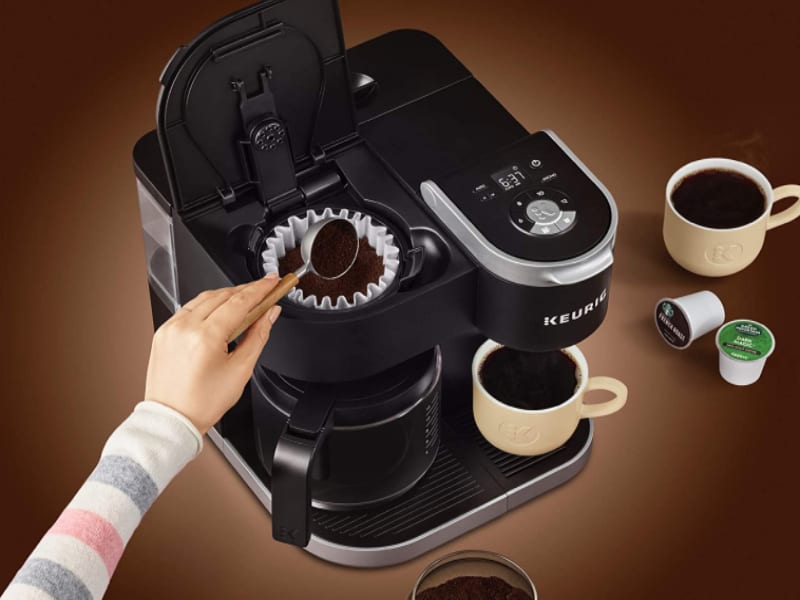 Keurig K Duo Review: The Dual Coffee Maker
It's important to have a quality coffee maker to brew the best cups of coffee. The selection process, however, can be daunting. Some coffee makers can only yield a few cups of coffee. Others can only make you a pot of coffee with their carafes. But what if we told you there's a brilliant coffee machine that can do both with a push of a button?
The Keurig K-Duo coffee maker is one of the quality kitchen appliances to whip up both cups and pots of coffee. It trumps the usual one-cup coffee maker with its innovative features. There are many Keurig coffee makers on the market, but none quite like this model.
It is a dual coffee maker that can yield both single cups and up to 12 cups of coffee in a glass carafe. Its side-by-side design allows you to make single cups or brew unique drinks in the pot like this orange and honey coffee. It's easy to use as well for its unique programmable carafe auto-brew. You can even brew a whole pot of coffee up to 24 hours in advance for an immediate cup of joe in the morning! So, if you're a coffee lover that adores the flexibility that the Keurig provides, then this coffee machine is the way to go.
In this in-depth review, we will be discussing the Keurig K Duo's features, performance, and more. Keep reading to learn more about our thoughts on this easy-to-use and multi-functional dual coffee maker!
Learn how to amp up your coffee with this article on 15 Ways To Take Your Morning Coffee To The Next Level.
Keurig K Duo Coffee Maker (at a Glance)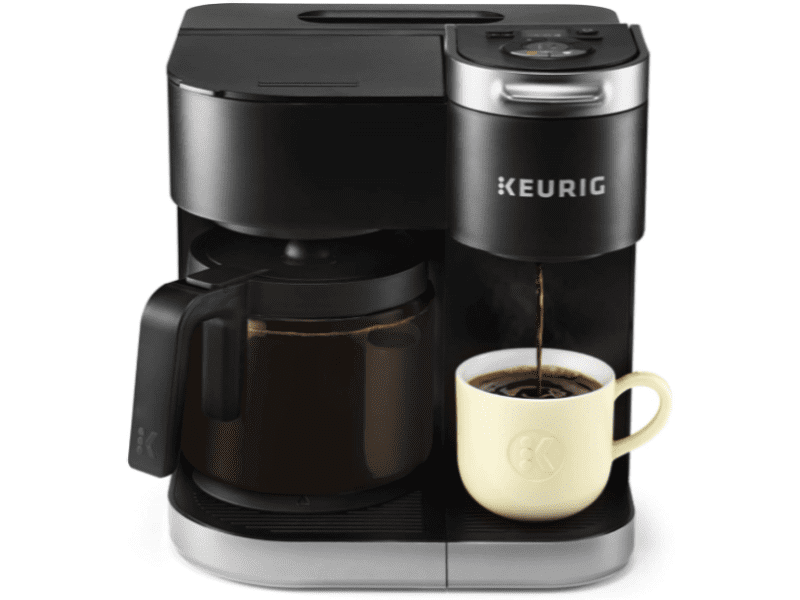 Product Specs
12-cup Glass Carafe

4 Brew Sizes for Single Cup: 6, 8, 10, and 12 cups

60-ounce single water reservoir

Dimensions: 12.92 height, 10.94 width and 12.76 depth

Includes glass carafe, heating plate, and drip tray
What We Like
Multi-functional coffee maker that can brew a single-serve coffee and fill a carafe

Can brew coffee grounds and coffee pods

Programmable carafe auto-brew

Large water reservoir

Fits up to a 7-inch travel mug
What We Don't Like
Cannot froth milk

No temperature control

Parts are not dishwasher safe
Overall Verdict:
An everyday, quality dual coffee maker for the single cup or full pot coffee drinker.
Get the Keurig K Duo Coffee Maker on Amazon for your everyday brew!
Keurig K Duo Review (an in-Depth Look)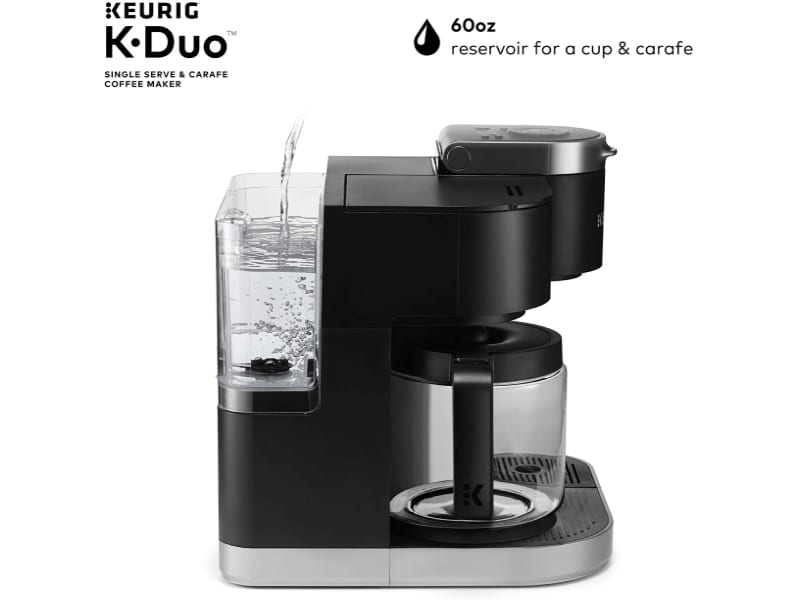 Features
The Keurig K Duo coffee maker is a 120-volt machine made of plastic with a sleek black design. It stands at 13 inches in height, 11 inches in width, and 13 inches in depth. It weighs a hefty eight pounds and may be a bit bulky in consuming some space on the counter. But with its many functions and features, giving it its own home in your kitchen may just be worth it.
Each coffee maker comes with a heating plate to keep your coffee nice and warm. You won't have to worry about cold coffee, as it keeps your pot of coffee heated even if you forget to turn off the machine. The Keurig coffee pot over the heating plate is a glass carafe that can hold up to 12 cups of coffee. Other accessories include a drip tray that can hold up to eight ounces of overflow, a filter basket, and a funnel.
To yield big servings of coffee, the machine comes with a 60-ounce single water reservoir affixed in the back of the machine and used between the single-serve and carafe brewing. With such a large water tank, the machine can prepare 12 cups of coffee before it needs to be refilled. The water reservoir is easily removable for fuss-free refilling.
Furthermore, its brewing control panel features six buttons. Two of them are for choosing between a single cup or carafe. Meanwhile, four of the buttons are for choosing the sizes between six, eight, ten, or 12 ounces. You will also have a digital timer on top of the buttons to show you how long before the coffee is done.
Multiple Functions
This 12 cup coffee maker comes with nifty functions for various brewing. Whipping up this Cinnabon-inspired mochalatta chill can be done in a jiffy with its multiple functions. Some of the most admirable ones are the Smart Start, Auto-Off, and Pause-and-Pour. Each function can save you energy or time with its innovative purpose.
Heating up water won't take too long either with the Keurig K Duo. Its Smart Start function warms the water up and brews the coffee simultaneously. So as soon as you choose your desired serving size, it brews the coffee at once.
But what about when you forget to turn off the coffee maker? Don't worry, the Auto-Off function is here for both the brewer and your heating plate. When you're brewing a single cup, the brewer turns off five minutes after the last single-cup brew. It also turns your heating plate off two hours after the last carafe brew.
The Pause-and-Pour function is also handy to have when you're in a rush to go to work. This automatically pauses the Keurig coffee maker mid-brew for 20 seconds, giving you time to pour a quick cup from the carafe.
Performance
Now you may be wondering: how fast is the Keurig K Duo? Well, one of the best features of the Keurig K-Duo coffee maker is how quickly it can brew a single cup or full carafe. Pop in your ground coffee and let the machine do its magic. For a single cup, you only need two to three minutes for a deliciously warm coffee. As for the Keurig carafe, watch as the machine fills it up in ten fast minutes! That's a pretty quick way to get a tasteful cup of caramel iced coffee going.
Most coffee makers can easily whip you up some creamy lattes or a quick cappuccino too. This is because they come with a milk frother spout to give your drinks warm milk any time. While the Keurig K Duo may not have a milk frother, you can still whip up quality black coffee in two different ways!
When you're whipping up coffee in batches, Keurig K Duo is sure to provide on those mass-brewing needs. Brew a six, eight, ten, or 12-cup carafe or a six, eight, ten, or 12-ounce cup in under 30 minutes! Now you can't brew a cuppa without a good coffee filter. Though sold separately, Keurig sells a universal reusable coffee filter. Having one would be handy, as you can pop it back in any time and don't have to spend much on a single-use coffee filter.
To add, Keurig only provides the best flavor for your coffee. Each machine comes with a "Strong Brew" button to release the richest and boldest coffee taste. Brewing your freshly ground coffee beans or getting a strong brew for this chilly espresso granita can be done in a pinch. When you're using coffee pods, you can enjoy robust flavors with the Keurig K Cup Pods. But don't worry, the pod holder is compatible with other coffee pods as well, so you can pop in other brands of your choice.
Maintenance
It's important to keep your Keurig coffee machine clean for a long-lasting kitchen appliance. Some of Keurig's washable materials include the water reservoir and its lid, drip tray, glass carafe, and its lid, filter basket, and heating plate. They are not dishwasher safe, but it does not take much to clean up these parts. A simple clean with a damp, soapy, lint-free, non-abrasive cloth should do the trick. Rinsing with warm water for some parts also helps to keep these parts spotless.
Keurig also recommends descaling your coffee machine every three months. This process cleans the internal parts of the machine through the water reservoir. The descaling procedure requires a Keurig® Descaling Solution, a large ceramic mug, fresh water, and access to a sink. Each machine comes with a handy manual where it instructs how to descale the Keurig K Duo. It may involve a couple of steps, but doing this will ensure the longevity of your machine.
Why You Should Have the Keurig K Duo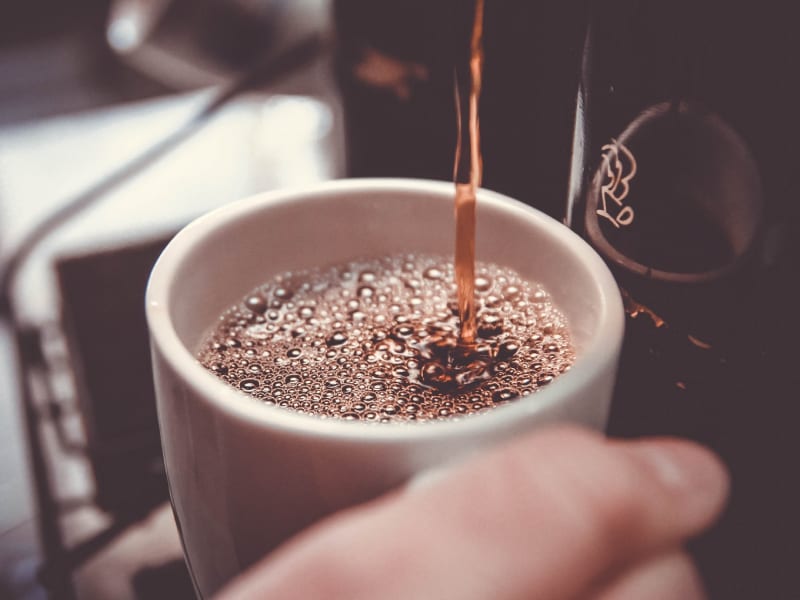 Multiple Brew Size
As previously stated, the Keurig with carafe is capable of yielding six, eight, ten, and up to 12 cups in their carafe. Alongside, you can also brew six, eight, ten, and 12-ounce cups of coffee. This is beneficial if you have family and friends over, or if you're simply a big coffee lover that enjoys having more than one cup of joe a day.
But what if you just want a coffee to carry around while on the go or on your way to work? No sweat! This coffee maker can also fit up to seven-inches tall travel mugs under the single-cup area. If you're already whipping up a whole batch in the coffee pot, the Pause-and-Pour feature will do wonders for filling your travel mug.
Dual Coffee Maker
The most multi-functional part of the Keurig K Duo is how you can whip up a single-serve cup or a full carafe of coffee. Brew a cup of decaffeinated caramel coffee or pots of coffee in a jiffy! Keurig also offers a starter kit to go with each coffee maker, and it includes three bags of ground coffee in varying flavors. It may seem just a tad bit more pricey, but if it's your first time whipping up your own homemade coffee, this kit makes an excellent add-on.
Brewing those ground coffee beans can be done with a snap as well. Just fill that coffee pot with fresh coffee, sprinkle the ground coffee beans in the filter basket, choose the desired amount, and let the machine do its magic. For single cups, simply pop in your coffee pods in the pod holder. The pod holder doesn't detect any unlicensed coffee pods, so you can pop in other brands like Starbucks, Dunkin', and more to make your favorite coffee drinks.
Interested in a coffee machine that also comes with a grinder? Check out our 12 Best Coffee Makers With Grinder for Coffeeholics
Easy to Operate
We love how the Keurig K-duo coffee maker has great functions for seamless brewing. You can heat up water and brew your coffee at once with its Smart Start function. Keurig also helps you conserve electricity with its Auto-Off that stops the brewing process and turns off the heating plate. And if you're in a rush for a cup, the Pause-and-Pour function gives you 20 seconds to pour coffee before heating back up. Lastly, nothing says easy like a fast brew the way the Keurig K Duo does. It whips up your coffee in just a few minutes, with two to three minutes for a single cup, and ten fast minutes to fill a whole carafe.
Keurig K Duo vs K Duo Plus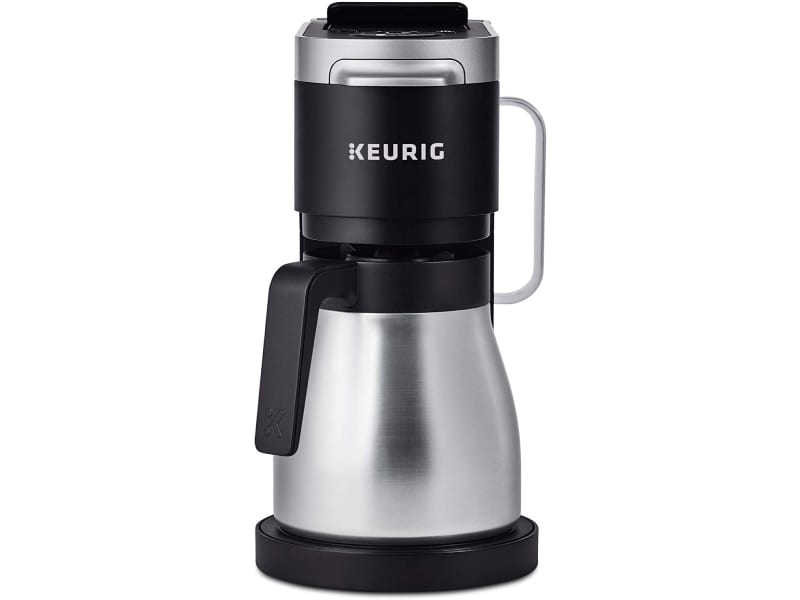 One product that's always compared side by side with this Keurig model is the Keurig K Duo Plus coffee maker. The Keurig Duo Plus is a coffee maker that saves up more space on the counter. It has the same functions as the Keurig K-Duo but has a vastly different design.
Both coffee makers can yield the same amount of six, eight, ten, and 12-ounce or cups of coffee. You're able to use both freshly ground coffee beans or coffee pods for your daily cup. They have the same Pause-and Pour, Smart Start, and Auto-Off functions for fuss-free brewing.
But the Keurig Duo Plus has a multiposition water reservoir that's adjustable to optimize counter space. Whereas the Keurig K Duo's water reservoir is permanent in the back of the machine. You'll also find that the Keurig Duo Plus does not have the same side-by-side design as the other. And thus, are unable to brew a carafe and cup at the same time.
If you had to make us choose, Keurig K Duo has it all. From great functions up to simultaneous brewing; it makes a truly versatile coffee machine. So what are you waiting for? Grab one up and whip up a cup, this coffee cider recipe, or pots upon pots of coffee with it today!