Whenever you hear the word "Applebee's", you can instantly smell that good old neighborhood grill. Additionally, the casual dining favorite has always been consistent in providing Americans with delicious meals at great value. Also, they offer comfort food with the warm ambiance of a home. From the overall experience to how the food is cooked, they all go into creating something that is one of a kind. 
Today we will be looking at a copycat Applebee's Southwest Steak recipe. This juicy piece of flank steak slices easily, almost like butter. Its moist, meaty texture makes every bite delectable, every single time. Therefore, it truly makes you feel comfort at its finest. As if you're having it right at your local Applebee's!
By making in the comfort of your own kitchen, you get to enhance your cooking skills. This is because steak is no easy meat to cook. Especially if you're trying to perfect how it is cooked.
Plus, learning to cook one this copycat Applebee's favorite can get you excited to perfect it or make it even better than the original one. Therefore, have a go at this delicious meat dish and let us know what you think.
How To Make Copycat Applebee's Southwest Steak
A good piece of flank meat made to turn into a delicious and cheesy savory steak dish that speaks comfort in every bite.
Ingredients
11

oz,

sirloin steaks,

or your favorite cut

4

shakes blackened steak seasoning

1/2

cup

red peppers

julienne cut

1/2

cup

green peppers

julienne cut

1

cup

yellow onion

julienne cut

Butter

as needed

Salt

to taste

Pepper

to taste

Garlic

granulated, to taste

1

slice

cheddar cheese

1

slice

monterey jack cheese - sliced
Instructions
Preheat skillet over medium heat.

Shake blackened steak seasoning on to one side of meat and grill to desired doneness. Let the steak cook for 4 minutes on each side. Also do this to when flipping the other side of the steak.

While steak is cooking, cut onions and peppers.

Melt butter and sauté onions and peppers together with the meat.

Season with salt, pepper and garlic.

Reduce heat to low and hold until steak is cooked.

For final minute of steak cooking, top with cheese slices.
Nutrition Facts
Calories:
354
kcal
|
Carbohydrates:
13
g
|
Protein:
41
g
|
Fat:
15
g
|
Saturated Fat:
7
g
|
Cholesterol:
117
mg
|
Sodium:
223
mg
|
Potassium:
794
mg
|
Fiber:
3
g
|
Sugar:
6
g
|
Vitamin A:
1550
IU
|
Vitamin C:
83
mg
|
Calcium:
248
mg
|
Iron:
4
mg
Commonly Asked Questions
What difference do different cuts of steak make?
Different cuts of steak are used for a variety of reasons. We suggested sirloin as it is what is originally used when you order this dish at Applebee's. Additionally, it is a leaner cut of meat. However, if you're looking for something with more flavor, you can opt for a rib-eye. Alternatively, if you want to splurge a little go for a filet mignon but take note it is not an easy cut to perfect! 
Can I add some heat to this dish?
Absolutely! Depending on how much heat to use, we suggest using paprika powder for a milder bite, crushed chilli flakes for something in between, and chopped bird's eye chilli if you love fiery flavors.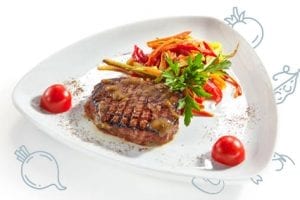 Conclusion
When it comes to copycat recipes, we love how it gives you full reign on how much salt, oil, and fat to add. You get to enjoy the same great flavors without needing to even leave the house and you get to make the recipe work for you. Let us know how your copycat Applebee's Southwest Steak turned out!