This recipe is a different take on the classic quesadilla. For this recipe, substitute tortillas with pita bread and add chicken, cheese, and spinach.
How To Make Pita Bread Quesadillas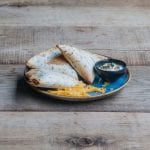 6 Pita Breads
2-5 oz Chicken Breasts (Cooked and Chopped)
1 cup Mexican Cheese
1 cup Spinach
Olive Oil
To serve:
Either or any combination of salsa, sour cream, guacamole, & grated cheese
Chopped cilantro
In a skillet heat a little oil on medium heat.
Add a slice of pita bread. Add in meat, cheese, and spinach.
Place another piece of pita bread on top.
Brown both sides and let cheese melt.
Serve with sauces of your choice & chopped cilantro.
How To Make Pita Bread Quesadillas
Advertisement
Continue Reading Below
Ingredients
4

pcs

pita breads

18

oz

chicken breast fillet,

sliced thin

3

cups

oaxaca ,

or monterey jack

1

cup

spinach

2

tbsp

cilantro,

finely chopped

2

tbsp

olive oil

½

tsp

smoked paprika

1

tsp

salt

½

tsp

ground black pepper

1

pc

lime,

make 4 wedges
Instructions
In a bowl, season your chicken with salt, pepper and paprika.

Sauté chicken in a skillet over medium heat. Cook for about 8 minutes, then add your spinach and continue cooking for 2 minutes. When they are done, set them aside on a plate.

Slice your pita breads in half, making 2 pita pockets with each piece.

Fill each pita with your sautéed chicken, cheese and cilantro.

Heat up a cast iron griddle over medium heat with olive oil.

Start cooking your quesadillas by pressing them lightly over the griddle for about 2 minutes, or just until the cheese melts and crust is lightly golden and crisp, then flip over and apply the same procedure until you finish the rest of the batch.

Serve quesadillas warm on a plate with slice of lime. Enjoy!
Recipe Notes
There are so many ways to enjoy a quesadilla, for this recipe, it is best prepared with sour cream, guacamole and salsa. 
You can also try making this recipe with Jalapenos, to add more spice and elevate the flavors as you serve them with your favorite dip. 
A quick, simple and delicious meal to enjoy with the family.
Advertisement
Continue Reading Below
Advertisement
Continue Reading Below
Advertisement
Continue Reading Below
Topics:
Advertisement
Continue Reading Below
Related Quesadillas Recipes
Advertisement
Continue Reading Below