Chili's chips and salsa are among the best Tex-Mex appetizers. So, we really can't blame you if you keep coming back to Chili's restaurant just to experience the crunchy bite of their crispy chips douched in a tasty salsa. Thankfully, with our easy tortilla chips recipe, you can now easily recreate this crowd-favorite snack in the comfort of your own home. Serve this appetizer combo with these yummy Chili's chicken quesadillas during backyard parties or family dinners, and it's guaranteed to be a hit among your guests.
There is a plethora of mouthwatering Mexican food on the Chili's menu. But right now, we are obsessed with their tortilla chips – and salsa, of course. When dunked in a flavorful dip, the chips taste even more appetizing! Though you can get these chips for free as a member of the My Chili's Rewards program, there's no denying the charm of a more homemade rendition. So, make sure to include a delicious and fresh salsa in your party platter to accompany your Chili's-style crunchy snacks.
Tips for Making Crunchy Tortilla Chips
Chili's extra-thin corn tostada chips are beloved by many diners. Sure, you can easily visit Chili's to get your crunchy-salty snack fix with their chips and salsa. But, making your own homemade tortilla chips takes the whole eating experience to the next level. Fear not, as this finger food is so effortless to make. Plus, you can never go wrong with a dish that only calls for four easy-to-find ingredients.
Here are some helpful tips for making these crowd-pleasing Chili's appetizers with that satisfying crispy crunch that we all love:
Pat the chips dry using a kitchen towel before popping them in the oven. If you want the crispest tortilla chips, it's best to dry them first before baking.
Use a pizza cutter to slice your tortilla stacks into triangles. Cutting the tortillas with a pizza slicer ensures uniform slices of chips.
Grease the baking sheet with oil. When baking tortilla chips, lightly coat or spray the baking sheet with oil to keep the chips from sticking to it.
Keep from coating the tortillas with too much oil. If covered with excessive oil, the tortillas might turn out soggy. A thin layer can already suffice to make your chips crispy and crunchy.
Don't overlap the chips when placed onto the baking sheet. This step ensures that all your chips turn satisfyingly crispy.
Check your tortilla chips from time to time while baking. To prevent charred edges and soggy texture, always keep an eye on your chips amidst baking. Keep in mind that the chips will cook faster if you use dark-colored baking sheets.
Learning how to make chips out of tortillas has perks. You can tweak the recipe a bit and add flavorings of your choice! Besides being a delightful movie night snack, you can also whip up a comforting bowl of Mexican tortilla soup with your homemade tortilla chips.
Upgrade Your Chili's Chips With The Best Salsas and Dips
What's a big bowl of tortilla chips without an appetizing dip next to it, right? Truly, salsa and chips are the perfect way to kick off your meal. Luckily, we've got a suite of options for you! Check out these equally easy and delicious dips and salsas to jazz up your crunchy snacks:
Chili's salsa

– Chili's salsa recipe is deliciously smooth and provides a subtle kick to your palate. It's essentially made of diced tomatoes, diced jalapeños, and spices.

Tostitos salsa con queso

– Just like the original version from Tostitos, this salsa brims with an explosion of flavors. It's cheesy and tangy with a bit of punch!

Fresh corn salsa

– The blend of crunchy corn, spicy jalapenos, and creamy avocado produces delightful salsa for chips. Just add more diced jalapeños if you like your dipping sauce extra hot.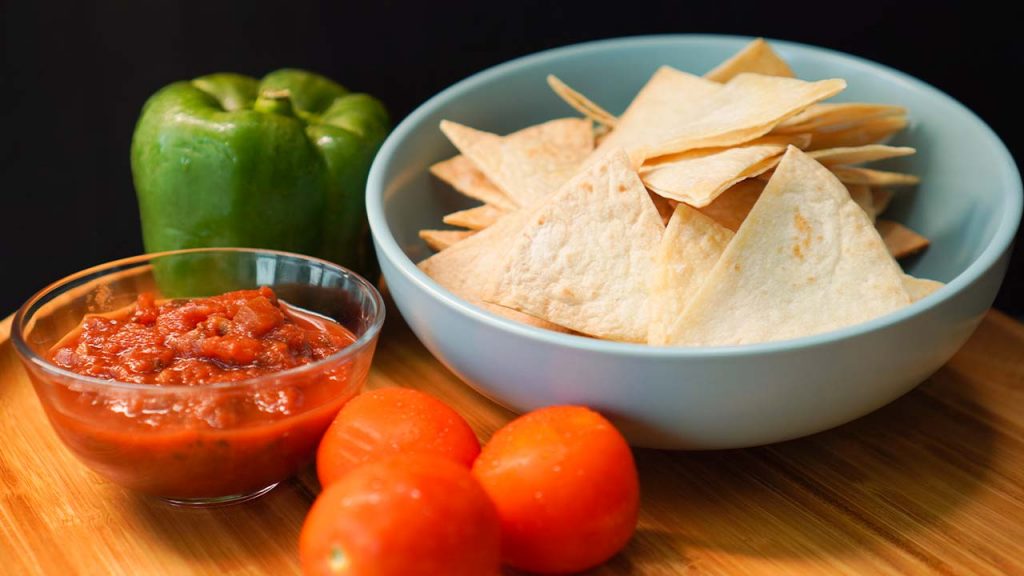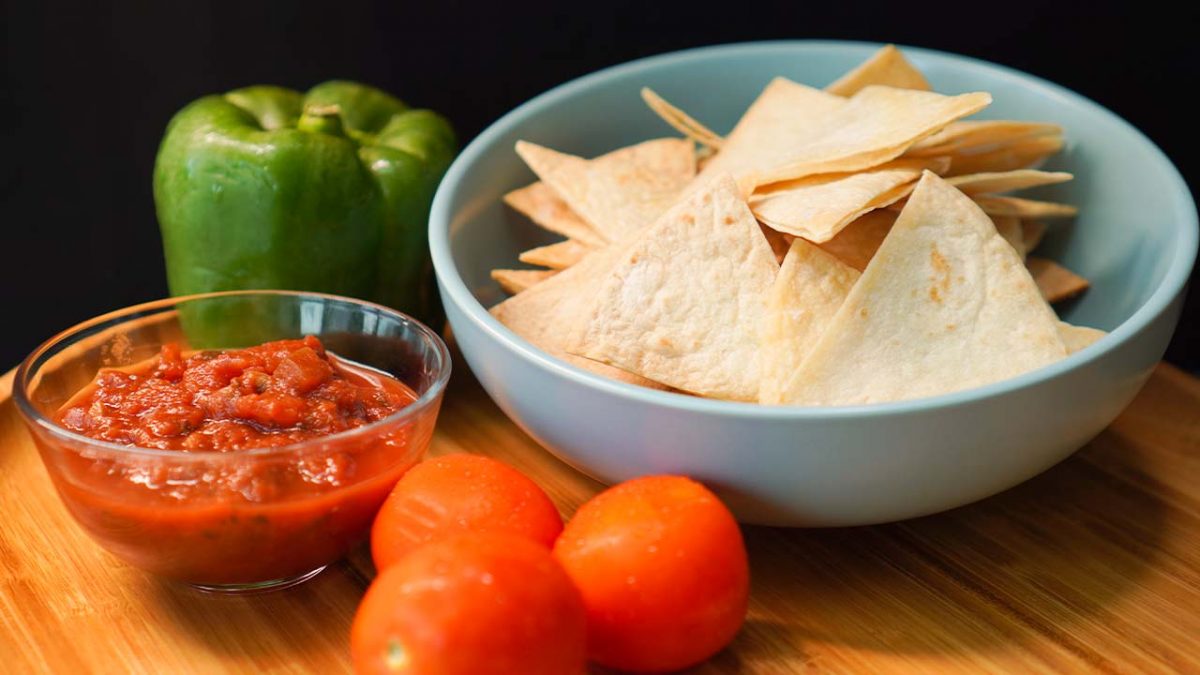 Chili's Tortilla Chips (Copycat) Recipe
How To Make Tortilla Chips (Chili's Copycat)
Salty with a satisfying crunch with each bite, these baked tortilla chips are the perfect munchies for entertaining a crowd. Serve them with a flavorsome salsa and dip to jazz up your snack game.
Ingredients
1

pack

flour tortillas,

(about 1½-1¾ lb)

3

tbsp

vegetable oil

pinch

sea salt,

to taste

⅓

cup

salsa,

of choice
Instructions
Lightly brush the baking sheet with vegetable oil.

Then, coat one side of each flour tortilla with oil and sprinkle with a dash of sea salt. Stack the tortillas on top of each other. Repeat the process until all tortillas are covered with oil and salt.

Using a knife, cut your tortillas into eighths. Spread them out in a single layer onto your baking sheet.

Bake for about 10 minutes, or until the edges of the chips turn lightly golden brown.

Serve your freshly-baked crunchy tortilla chips immediately with your favorite salsa on the side!
Nutrition
Sugar:

2g

:

Calcium:

29mg

Calories:

143kcal

Carbohydrates:

13g

Fat:

10g

Fiber:

1g

Iron:

1mg

Potassium:

84mg

Protein:

2g

Saturated Fat:

7g

Sodium:

278mg

Vitamin A:

83IU

Vitamin C:

1mg
Nutrition Disclaimer
Frequently Asked Questions
What kind of tortilla should I use to make chips?
Flour tortillas and corn tortillas are both great options when making homemade chips. However, note that flour tortillas tend to be soft and have a neutral sweet palate, whereas corn tortillas boast a strong toasted corn flavor. Pick out whichever you prefer and make sure they're of good quality.
How to make homemade Chili's chips and salsa taste better?
Simply season your tortilla chips with spices and seasonings to elevate their flavor. You can sprinkle them with chili powder and onion powder to provide a serious punch to your chips. Or, once they're all baked, try dusting them with slivers of lime zest to give them a hint of citrusy taste and a more delicious visual look. For the Chili's salsa, try spritzing them with lime juice to deliver a slight tangy kick.
Are baked tortilla chips healthier than the fried version?
When you bake tortilla chips in the oven, they contain little to no oil at all, making them a healthier option than fried chips.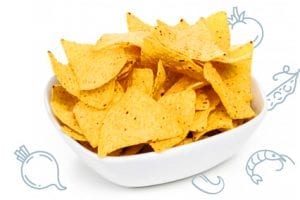 Conclusion
Amplify your next Mexican-inspired dinner party with Chili's chips and salsa! You can even tweak things a bit and coat your crunchy tortilla chips with your go-to flavorings. Serve them straight out of the oven and dunk them in a flavorsome homemade salsa.