Taco Tuesdays are not the same without some of your favorite Mexican styled meals. Howevever, your lunch or dinner plans don't have to be complicated. They just have to be tasty. If you're looking for a quick snack to celebrate with guests or have a quiet movie time by yourself, then we've got you covered with our Copycat Chili's Tortilla Chips.
Our recipe is inspired from Chili's signature tortilla chips. Recreate this famous snack from the comforts of your own home. It's a simple yet appetizing snacks that will make you crave for more. It's an addicting snack whose flavors change with every dip. Chili's has been bringing delicious Tex-Mex dishes since 1975. Their tortilla chips are accompanied with a red salsa dip that goes well with the crunchiness of the chip. 
For your homemade tortilla chips, our recipe will surely give you that crisp satisfaction and the authentic Tex-Mex experience. Munch on these chips anytime and anywhere you want with this recipe's easy steps that are perfect for when you're on the go. Make these tasty and crunchy Chili's tortilla chips.
Tortilla Chips As the Perfect All-Around Snack And Ingredient
Tortilla chips can be your go-to snack for every occasion. The fun thing about it is you can also pair it with a variety of salsas and dips. In general, tortillas are a versatile dish that can be added to any meal. Although these are already addicting as they are, you can try making these dishes with your homemade tortillas:
Mexican Tortilla Soup

– It's another traditional Mexican dish perfect for those chilly seasons. This comforting soup combines the rich taste of the slightly spicy broth, chicken, and your crunchy tortilla strips. Making it a perfect addition for your afternoon lunch ideas.

Cheesy Nachos –

 Some cheesy nachos with tortilla chips is a classic duo that never fails to satisfy your palette and perfect for munching as well.

Mild and Spicy Nachos

– Looking for something spicy? Then, try adding some jalapeños into the mix to get that extra strong taste for your nachos. 
It's a whole Mexican cuisine for you to taste, enjoy, and experience. In this recipe, we're going for a healthier cooking alternative by baking our soft flour tortillas.

Tip: Make sure that you wrapped your flour tortillas in damp paper towels to keep them moist before baking them. It's to prevent it from drying and breaking easily after baking.
The firm and crispiness of the chip is the ideal result for our baked homemade tortilla chips and that's what we want to create that Tex-Mex feel and texture of the chips. After this process, you're ready to pick your favorite salsa!

Tip: Achieving the perfect golden brown color and crispiness of the chips varies depending on the baking time. Constantly check each batch for any burnt tortilla chip.
The Best Salsas and Dips for Your Tortilla Chips
Now that you have your tortilla chips in mind, choosing the salsa or dip can be a daunting task with having so many options to choose from. You can go with canned or prepared salsas or your easily prep one to pair with your these chips.
If you're a beginner, however, our guide can help you. Prepared or not, you can enjoy your chips with these delicious classic starter salsas and dips:
Red salsa sauce

– A famous salsa which is essentially made from tomatoes, and other herbs and spices. You can try making your own

homemade marinara sauce

. It's the delicious go-to dip for first timers to get that rich and fresh taste with the chips.

Tostitos salsa con queso

– It's the classic dip that goes best with your tortilla chips. You can never go wrong with some cheesy goodness. 
Fresh corn salsa

– It's a colorful, tasty, and healthy salsa perfect for your tortilla chips. It contains corn, tomatoes, lime juice, and cayenne pepper. Unlike your creamy dips, the chunky ingredients of this salsa adds more flavor and crunchiness with every bite. 
Every kind of salsa and dips mentioned is a whole experience for your tortilla chip snacks. The more salsas and dips, the merrier it will be for your future party gatherings. Taste to impress!
Copycat Chili's Tortilla Chips Recipe Video
How To Make Copycat Chili's Tortilla Chips
Delicious, easy, and simple to make! It's an addicting snack that makes you fall in love with its crunchiness and multiple tasty dipping sauces. A perfect appetizer for your guests.
Ingredients
4

oz.

flour tortillas,

1 package

3

tbsp.

vegetable oil

pinch

of sea salt

your favorite salsa
Instructions
Grease a baking sheet with vegetable oil to prevent your tortillas from sticking to it.

Then, lightly coat one side of each flour tortilla with oil and some sea salt and stack them all on top of each other. Repeat this step as necessary.

Cut your tortillas into eighths and spread them out onto your baking sheet.

Bake at 350 degrees F for about 10 minutes. Be sure to watch your chips because they can go from the perfect colored brown to a dull distasteful black in minutes.

Serve your tortilla chips immediately lightly salted or with your favorite salsa.
Recipe Notes
Serve these tortilla chips lightly salted so as to enjoy them with a multitude of dips and salsa. Go for a regular salsa, or if you want a little something different, try out this Tostitos salsa con queso recipe for some cheesy goodness.
Nutrition
Calcium:

24mg

Calories:

145kcal

Carbohydrates:

12g

Fat:

10g

Fiber:

1g

Iron:

1mg

Potassium:

35mg

Protein:

2g

Saturated Fat:

8g

Sodium:

156mg

Sugar:

1g
Nutrition Disclaimer
Commonly Asked Questions
How to make tortilla chips taste better?
You can sprinkle a small amount of chilli powder to spice up the possible mellow taste. You can also add a squeeze of lime after taking it out of the oven to give it some tangy kick.

What can I do with leftover tortilla chip crumbs?
Remember to not waste those crumbs. You can use them as an alternative or a substitute for breadcrumbs. Save those tortilla chip crumbs for when you need it for recipes that require breading. Using your food processor, you can simply pulse to get nice and fine crumbs.
How do you refresh tortilla chips?
Reheating those stale tortilla chips is the best way to refresh and restore their crunchy texture. Lay your tortilla chips on a baking sheet and pop them in the oven at 400℉ for about 3 to 5 minutes until they're good and ready to be consumed again. Remember that tortilla chips are best enjoyed when they're warm and crispy.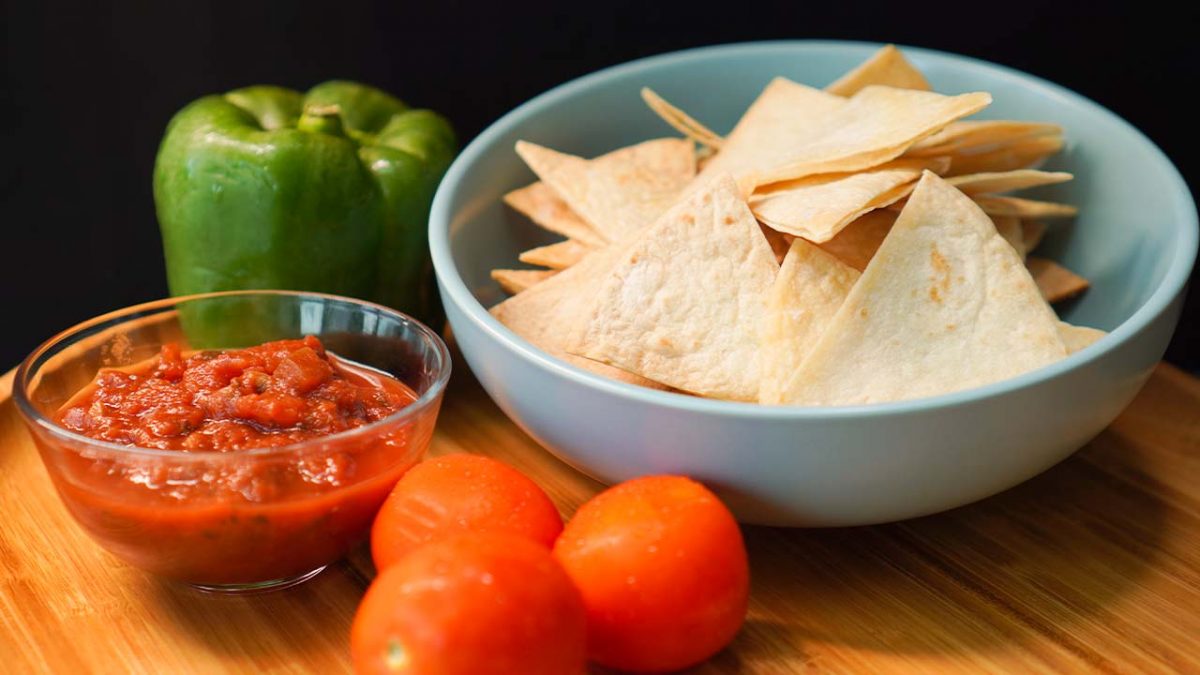 Conclusion
Tortilla chips are a great dish to have on hand because they're easy to make and can be enjoyed with multitude of dipping sauces. It's a fun snack or appetizer with flavors that can change in every dip. Without a doubt, no party is truly complete without a bowl of crunchy tortilla chips for everyone to munch on. So go ahead and try them out!