If you love the salsa from Chipotle, but would love to make the recipe at home, we've got the answer. This recipe for Chipotle's pico de gallo is delicious, and can be served with some freshly fried chips or spooned into a homemade burrito.
How To Make Copycat Chipotle Mild Salsa (Pico de Gallo)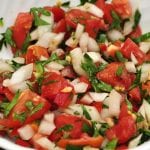 1 1/2 cup tomatoes (Roma, chopped)
2 1/2 tbsp. jalapeno pepper (diced (remove seeds))
1/2 cup cilantro (chopped)
1/2 tbsp. Kosher salt
2 lime juice
1/2 red onion (diced)
Combine all the ingredients in a bowl and allow to chill before serving.
How To Make Copycat Chipotle Mild Salsa (Pico de Gallo)
Advertisement
Continue Reading Below
Ingredients
1½

cup

fresh tomatoes,

preferably Roma's, chopped

¼

cup

green or yellow bell peppers,

deseeded & diced

½

cup

cilantro,

chopped

¼

cup

red onions diced

Juice from 2 limes

½

tsp

cayenne pepper

Salt & ground black pepper to season
To serve:
Instructions
Combine all the ingredients in a bowl and allow to chill for at least an hour

Before serving, season to taste with salt & pepper. Adjust accordingly

Serve with tortilla chips
Advertisement
Continue Reading Below
Advertisement
Continue Reading Below
Advertisement
Continue Reading Below
Topics:
Advertisement
Continue Reading Below
Related Dip, Sauce & Condiment Recipes
Advertisement
Continue Reading Below