A hearty meal wouldn't be complete without a side of tasty garlic mashed potatoes. This recipe for garlic mashed potatoes tastes just like how Applebee's makes theirs! A creamy bowl of these smashed spuds is just what you need to complete any meal of your choice. You can skip the line at Applebee's to get a side of these and simply recreate them at home!
Mashed potatoes is a simple, but delectable side dish that goes well with just about anything. They're usually finished off after one big meal because they're just that good. But if you happen to have some leftover mashed potatoes, they can be repurposed for another dish! Just take a look at this Copycat Arby's Potato Cakes Recipe to see how useful those leftovers can be.
There are more than a dozen mashed potatoes recipes out there. But this recipe for garlic mashed red potatoes is simple and delightful. They also taste just as good as Applebee's very own garlic mashed potatoes side dish!
The Secret To Applebee's Tasty Mashed Potatoes
We can't imagine an Applebee's menu without a side of their garlic mashed potatoes. You can often find them paired with their lip-smacking House Sirloin Steak for a fuller meal. But what makes them so special from how other restaurants make their mashed potatoes? They keep the potato skin on, of course. You heard that right! Not only does keeping the potato skin on add more nutrients to your meal, it also adds flavor and texture. It's simply one of those no-waste meals that we can definitely get behind!
The touch of garlic flavor from their mashed potatoes is also a key factor for deliciousness. It blends amazingly well with the chunky texture of the potatoes and their skin. Not to mention, loading it with delicious butter gives this dish that umami flavor that makes it just the perfect bowl.
Interested yet? Then stick around as we show you to make the best garlic mashed potatoes. It takes less than an hour to make!
How To Make Garlic Mashed Potatoes
Just like Applebee's, our homemade garlic mashed potatoes use skin-on potatoes. We also used red potatoes, just like the original bowl does, to give the dish some color. Keeping the skin on will give additional fiber to your meal, making it more nutritious. Plus, if you're more of a chunky mashed potatoes kind of person, the added texture from the skin also adds some desired flavor.
Most copycat recipes like this might ask you to roast your garlic. But we love making things easy for you, so sauteing your garlic in a skillet works just as well and tastes just as good. With bits of potato skin and garlic bits, you're bound to get the best savory side dish.
Our garlic mashed potatoes recipe can go both ways: smooth or chunky. Applebee's has a more chunky texture, which makes it a bit more fun to bite from the usual smooth potatoes. It's very easy to keep a more lumpy texture by not over-mashing the potatoes. But we love giving our readers creative freedom with their food. So feel free to change up the texture to your liking!
Tips for Making The Best Mashed Potatoes
We also have some suggested tips to making your mashed potatoes taste perfectly creamy and flavorful! First off, we recommend boiling your red potatoes whole. They're creamy and starchy like Russets and are best boiled whole to get the most flavor and starch.
Second, for a silkier mashed potato, try using softened butter instead. They mix well with the potatoes and help add a remarkably creamy texture. If you want a smoother bowl of mashed potatoes, then we suggest using a potato ricer. This will yield a creamier texture compared to using a masher. Although using a masher is just as effective, it may take longer. It's also a little bit more arm work-out to get that velvety mashed potato texture. But the end result will totally be worth it after a few mashing.
Lastly, to keep your potatoes warm, and to absorb all that dairy, use hot milk instead of cold milk. Cold milk will cool your potatoes down very easily and won't taste good at all, so make sure to heat your milk in a saucepan before pouring.
What To Serve With Garlicky Mashed Potatoes
You never have to worry about finding the perfect side dish with our best garlic mashed potatoes recipe! These also make the perfect traditional sides for your Thanksgiving and Christmas meals.
Pair them off with a plate of Honey Mustard Pork Chops for your next holiday meal. These mashed potatoes also work brilliantly with seafood. So, try it out with some Grilled Shrimp Fajitas at your next grill party! You will surely impress your guests with how amazingly similar it is to Applebee's. So what are you waiting for? Grab a pot, a few spuds, and start mashing!
For a similar restaurant-inspired recipe, check out our flavorful Outback Garlicky Mashed Potatoes.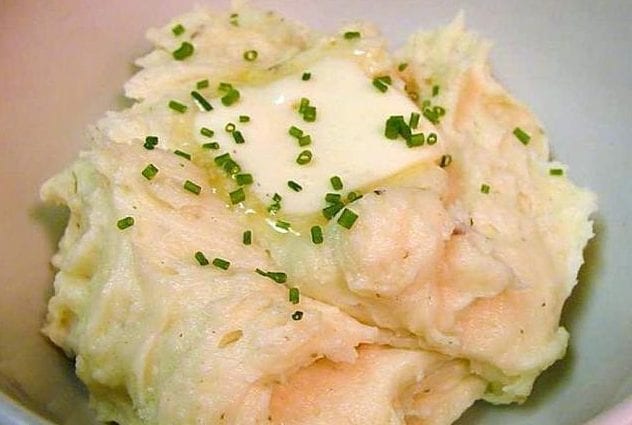 Copycat Applebee's Garlic Mashed Potatoes Recipe
How To Make Copycat Applebee's Garlic Mashed Potatoes
This garlicky bowl of mashed potatoes is just what you need for the perfect side dish! It has bits of potato skin and garlic for a crunchier and more nutritious bowl.
Ingredients
2¼

lbs

red potatoes,

rinsed and brushed

½

cup

whole milk

¼

cup

heavy cream

3

tbsp

salted sweet cream butter

¼

cup

garlic,

minced

Salt,

to taste

Pepper,

to taste
Instructions
Saute the garlic in a skillet until it's just fragrant.

In a large pot of water, boil the red potatoes for 20 minutes.

Remove from heat once cooked, then drain.

Add the butter, heavy cream, milk, and toasted garlic into the pot of cooked potatoes.

Using a potato masher, mash all the ingredients together.

Season with salt and pepper.

Serve and enjoy your Applebee's-inspired garlic mashed potatoes!
Recipe Notes
Feel free to add additional toppings to make

your dish look

more pleasing! Top it off with some chopped chives for extra flavor. You can even set aside a bit of the minced garlic you sauteed to sprinkle on top.
Nutrition
Sugar:

2g

:

Calcium:

44mg

Calories:

169kcal

Carbohydrates:

23g

Cholesterol:

23mg

Fat:

8g

Fiber:

2g

Iron:

1mg

Potassium:

623mg

Protein:

3g

Saturated Fat:

5g

Sodium:

71mg

Vitamin A:

276IU

Vitamin C:

12mg
Nutrition Disclaimer
Commonly Asked Questions
What kind of potatoes should I use for this recipe?
We recommend using red potatoes to get that classic, Applebee's garlic mashed potatoes look. But feel free to use other thin-skinned potatoes like Yukon Gold or even baby potatoes. Using these will yield creamy mashed potatoes. For a fluffier bowl of mashed potatoes, use starchy potatoes like Russet or Idaho.
Can I remove the skin off the potatoes?
Keeping the skin on is optional, but we highly recommend they stay on! The skin contains a lot of fiber, giving your bowl added nutrition. And if you use red potatoes, the anthocyanin pigments that give it its red color are just as nutritious! They're rich in antioxidants and also come with anti-inflammatory properties. These will help to give you a well-balanced bowl of mashed potatoes
How do I store my garlic mashed potatoes?
Make sure any leftover mashed potatoes are stored after two hours of cooking. To do this, place your mashed potatoes in an air-tight container or a Ziploc bag. You may refrigerate them and they will last for up to 3 to 5 days.
How do I reheat mashed potatoes?
To maintain its creamy and smooth texture, we recommend you reheat the mashed potatoes in the oven or stove. If you're using the oven, reheat the mashed potatoes covered with a foil or oven-safe lid at 375 degrees F for around 30 to 40 minutes. You may also heat them on the stove. Bring a pot of water to a simmer over low heat, then place the mashed potatoes in a Ziploc bag. Carefully place the Ziploc bag in the simmering water until it's heated through.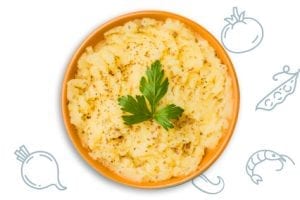 Conclusion
Recreate this mouthwatering bowl of garlic mashed potatoes in the comfort of your home! They taste just like how Applebee's makes theirs. Make them ahead of time for your Thanksgiving gathering, or serve them up a big Christmas meal. Top with chives and a bit more butter, then serve and enjoy!