Before anything else, this needs to be said: potato cakes are different from potato latkes. Despite being close in appearance, they differ in cooking and texture. Potato cakes can either be shredded or mashed or molded into a round flat disc. They take less time to cook which is why they are crisp on the outside yet soft on the inside. With latkes, you can immediately notice the grated potatoes sticking out of its form. They take longer to cook, although, they have a crunchier texture. Latkes are also served during the Jewish holiday called Hannukah. Potato cakes, on the other hand, are enjoyed all year-round. So, for this recipe, we're making a classic take on the deliciously comforting potato cakes with our Copycat Arby's Potato Cakes Recipe.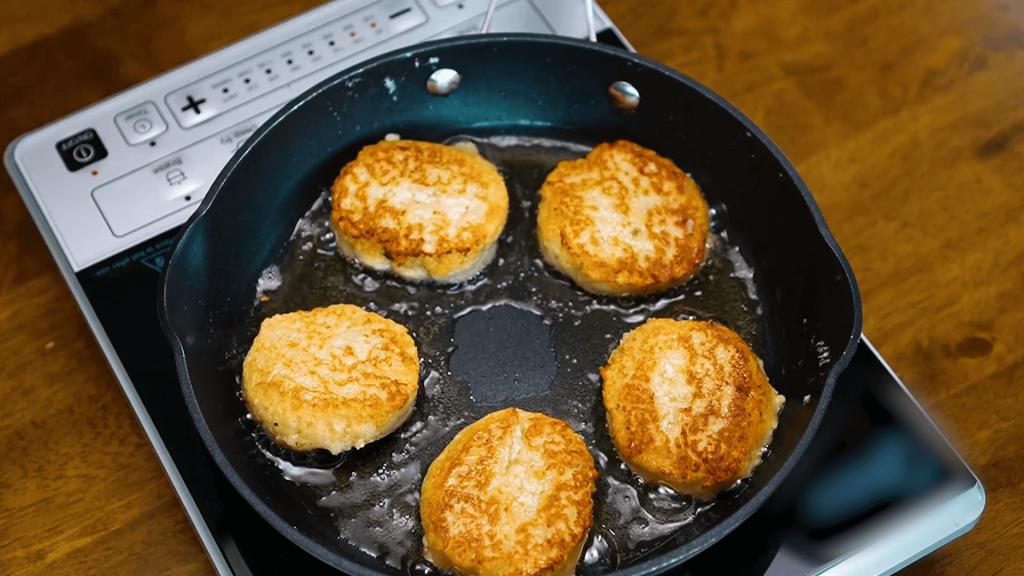 Though we'll be making a copycat dish, this recipe is perfect for any leftover mashed potatoes you have on hand. Make sure to season them as you like for a flavorful punch. Also, refrigerate your mashed potatoes beforehand to achieve a thicker consistency, making them easier to handle during preparation. You'll be left with fluffy-like cakes with a golden brown exterior once cooked. This recipe truly makes a wonderful appetizer with a side of sour cream. Since we want you to enjoy this dish to the fullest, we're giving you a couple more suggestions.
Check out our Barbecue Chicken Salad for a healthy pair to your starch-packed dish. Always pair your potatoes with a fresh plate of greens. Of course, this recipe can be adjusted to your liking. You can throw in some spring onions or garlic powder if need be. But we guarantee you won't regret sticking to this authentic Arby's classic!
Copycat Arby's Potato Cakes Recipe
How To Make Copycat Arby's Potato Cakes
Whip up a piping hot plate of these delicious Copycat Arby's potato cakes. It's a quick and easy recipe to make!
Ingredients
3

cups

mashed potatoes,

cold or leftovers

1

cup

all-purpose flour

2

eggs,

beaten

salt and ground black pepper,

to taste

2

tbsp

olive oil,

add more as needed

parsley,

for garnish

½

cup

ketchup,

to serve
Instructions
In a bowl, mix the eggs with the mashed potatoes until well-blended.

Add in the flour and blend it well. Add a dash of salt and pepper.

Form the mixture into small potato cakes onto a baking tray lined with greaseproof paper, preferably using your choice of mold to shape, roughly 3½ ounces per potato cake.

Seal with cling film. Chill the potato cake at least an hour prior to frying, to prevent from disintegrating during cooking.

Heat up the olive oil thoroughly in a skillet over medium heat.

Fry your potato cakes for about two minutes for each side or until they become golden brown.

Press each side gently with the back of your spatula to make sure it's cooked all the way through.

Once they're cooked, place your potato cakes onto a plate lined with a paper towel to soak up any extra oil.

Serve and enjoy some piping hot potato cakes!
Recipe Notes
You can use your preferred molds to shape the potato cake. 

Don't forget to chill

the potato cake

for at least an hour to prevent

it from disintegrating during cooking

.

Adding potato cakes to an unheated pan will cause them to come out greasy.
Nutrition
Sugar:

3g

:

Calcium:

58mg

Calories:

733kcal

Carbohydrates:

121g

Cholesterol:

164mg

Fat:

19g

Fiber:

8g

Iron:

5mg

Potassium:

1116mg

Protein:

19g

Saturated Fat:

4g

Sodium:

158mg

Vitamin A:

238IU

Vitamin C:

73mg
Nutrition Disclaimer
Commonly Asked Questions
Can I store my leftovers in the freezer?
Yes! You can freeze your potato cakes by placing it in a zip lock bag to maintain its form. To reheat, you can thaw them in the microwave for 2 minutes and bake them in a preheated oven at 400 degrees F for 5 minutes. Or, you can throw them in the oven frozen and bake them for 10 minutes.
What can I serve with potato cakes? 
Dishes that are usually paired with potato cakes vary from applesauce, turkey, braised leeks, and even mouth-watering smoked salmon. But we recommend some juicy beef brisket. Check out our Copycat Mom's Brisket by Michelle Berstein to complete your meal.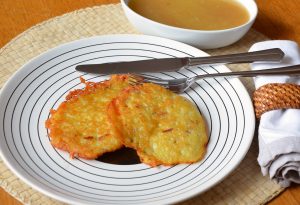 Conclusion
With this recipe, you get to indulge in fluffy potato cakes. As you bite into that golden crisp exterior, you'll meet a surge of soft and light texture. This recipe doesn't just turn your leftovers to a whole new dish. Our potato cakes bring a classic from Arby's menu into the comforts of your own home. Savor this piping hot dish with the family and we guarantee you, there will be no leftovers!