Thinking of a way to have a fancy dinner right in the comforts of your home? No need to worry! We've got the best Tuna Steak with Wasabi Ginger Glaze that you can easily whip up. Try your hand at making this star quality dish with just 5 simple ingredients.
This grilled tuna steak mimics a fine dining experience that's great to serve for lunch and dinner. Its savory flavor added with wasabi paste and ginger marmalade marry to bring an unforgettable sharp and hot bite to the juicy steak.
Steak and potatoes have always been a classic and favorite combo. Pair your tuna steak with our Crispy Greek Lemon Mashed Potatoes. The crunchy outside of the potatoes and fresh lemon zest will complement well but not overpower the grilled tuna. For more glazed recipes check out our Top 10 Fruit Glazed Chicken Recipes.
How To Cook Tuna Steak
In most fancy restaurants, steak will always be present. The most common is beef but what others do not know is that when cooked, tuna steak tastes like a regular beef steak. Although, between the two, tuna is healthier and heart-friendly. It contains less calories and saturated fat compared to beef.
Remember that the best way to cook tuna steak is rare to medium rare. This is to ensure that you get its light and melt in your mouth texture. Overcooking tuna will only result in a dry and chewy tuna steak.
You can use any type of tuna for this recipe. You just simply need to cut them or have them cut with the right thickness. There are many varieties of tuna but the most common ones are these three.
Yellowfin Tuna

– Although it can be eaten raw, this tuna is great when seared or grilled. It is light pink in color and cheaper than a bluefin tuna but the taste is almost the same.

Bluefin Tuna

– Often used for sashimi, this tuna  has a silky texture and contains more fat than the rest. It is known for its red to almost purple color and is usually really expensive.

Albacore Tuna

– Having the mildest flavor and containing the least fat, this tuna is often canned and is light in color.
Tuna can be served as kebabs, patties or paired with pasta. For an all out seafood experience, try out  this Bay Scallop, Shrimp and Ahi Tuna Ceviche in Tortilla Cups recipe inspired by Wolfgang Puck.
Wasabi Ginger Glaze
The wasabi and ginger combo is common in Japanese cuisine and are often served with sushi and sashimi. 
Wasabi is a condiment that has a pungent smell and a spicy herbal taste that quickly fades away. It is made to elevate the taste of the raw fish and but not steal its spotlight. Other than giving spice, this green condiment also has antioxidants that are good for the body.
Some believe that the reason wasabi is essential in Japanese cuisine is because it has antimicrobial effects that's beneficial when eating raw fish. Ginger, on the other hand helps cleanse the palate.
In this recipe, we will be using these two ingredients to make a delicious glaze. It will complement the juicy meat of the tuna while giving it a slight spicy kick. You can also use this as a wasabi ginger sauce with salmon, chicken thighs, or pork.
Enjoyed the taste of wasabi? Try out this Wasabi Smashed Potatoes to give your mashed potatoes a new twist.
How To Make Tuna Steak with Wasabi Ginger Glaze
Tuna steak topped with wasabi and ginger glaze makes a great main dish for dinner. Have this dish with rice or potatoes for a tasty and filling dinner.
Advertisement
Continue Reading Below
Ingredients
2

tbsp

low-sodium soy sauce

4

6 oz. tuna steaks,

should be 1-inch thick

2

tbsp

ginger marmalade,

e.g. Dundee

2

tsp

wasabi paste

cooking spray

2

tbsp

fresh cilantro,

chopped
Instructions
Spoon 1 tablespoon soy sauce over the tuna steaks. Let them stand for 5 minutes. 

Using a whisk, combine the remaining 1 tablespoon soy sauce, ginger marmalade, and 2 teaspoons wasabi paste in a small bowl.

Heat a grill pan over medium-high heat and coat the pan with cooking spray. 

Add the tuna steaks to the pan and cook each side for 2 minutes.

Spoon the marmalade mixture over the tuna steaks. Cook them for 1 minute until they turn medium-rare or until they reach your desired degree of doneness.

Once your tuna steaks are finished cooking, sprinkle them with cilantro and serve. 
Advertisement
Continue Reading Below
Advertisement
Continue Reading Below
Commonly Asked Questions
How to buy fresh tuna?
To make sure you use fresh tuna for this recipe, you have to carefully examine them before buying. Fresh tuna should smell like the ocean, not fishy. Take a lot at the color too. You want it shiny and almost translucent. Avoid tuna that has been oxidized which has a dull and brown color. It is an indication that it is no longer fresh and has been out for a long time.
What is an alternative for wasabi?
Fresh and pure wasabi is hard to find, hard to grow, and is usually only served in Japanese restaurants. Since the taste of wasabi only lasts for 15 to 20 minutes, it is grated on the spot. Although labeled as wasabi, the ones we find in the market are not real. Instead, it is replaced with horseradish which has a similar spicy taste to wasabi and the flavor lasts longer. It's a great alternative since it is readily available and not as expensive as the real wasabi.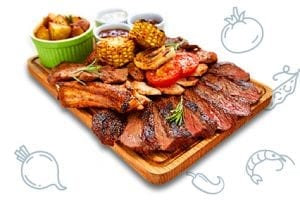 Conclusion
Replicating restaurant quality dishes is easy and simple especially with the right ingredients. Just carefully follow the tips and tricks on how to work with your steak and wasabi and you will achieve a delicious meal for dinner. Give this tuna steak recipe a try and wow your family and friends!
Advertisement
Continue Reading Below
Topics:
Advertisement
Continue Reading Below
Advertisement
Continue Reading Below