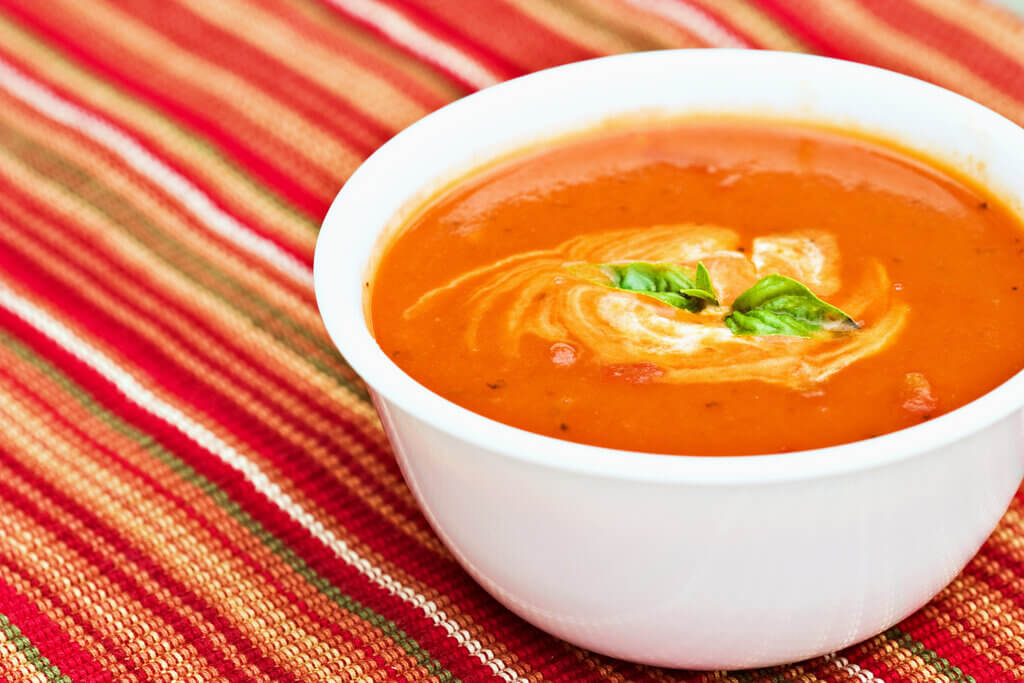 Easy Tomato Bisque Recipe
When it's chilly outside, all I want to do is curl up on the sofa with my favorite comfort food. Well, I actually have a very long list of comfort foods. I love beef stew and beef soup as much as I love clam chowder. On winter nights, I also enjoy the company of roasted tomato basil soup and any creamy tomato soup recipe. Although I must say, I have a soft spot for tomato bisque. It's much, much creamier than the tomato soup recipes I've tried before!
At first, I was confused between tomato bisque and soup. Apparently, these two tasty dishes are different. The classic tomato soup recipe uses chicken stock and tends to have a thin consistency, bordering on watery even. Tomato bisque, on the other hand, is just super creamy! And it's all thanks to its secret ingredient: heavy cream. Nonetheless, whenever I need a pal for my gooey grilled cheese sandwich, I just whip up either of the two.
Now, going back to my love affair with tomato bisque. I have tried so many bisque recipes my whole life, but nothing prepared me for the deliciousness of this oh-so-creamy tomato bisque recipe. Instead of the usual seafood in a bisque recipe, this one relies on canned crushed tomatoes. But if I've got time to spare, I use fresh garden tomatoes. I'm telling you, tomato bisque with fresh tomatoes just hits differently! May I suggest San Marzano tomatoes? They're incredibly sweet and pulpy, trust me. But if you want sweet-tasting tomatoes, I'd recommend diced fire-roasted tomatoes.
What made me love this tomato bisque recipe was its creaminess. I went for heavy cream to give my tomato bisque a velvety texture. Some variations, however, take a different approach and add a bit of tomato paste or flour and milk. I suggest you go for the ingredients that will satisfy your palate. If you want a healthier option, say, a vegan tomato bisque, just use coconut milk instead of heavy cream. The result is just as creamy, I promise!
Let's not forget about the seasoning. Enter my secret weapons for bringing bright flavors onto my soup recipes: cayenne pepper, ground black pepper, and dried basil. You can also use fresh basil leaves, bay leaf, and red pepper flakes. As a finishing touch, I also sprinkled some chopped parsley on top. Grated parmesan cheese as a topping sounds good as well. But, I think the fun part of whipping up this homemade tomato bisque is making the cream swirls! With a little help from a toothpick, I got to make cute patterns on top of my soup!
Whether I get a common cold or I simply need the company of my comfort food, I make an effort to make some tomato bisque for myself. It's creamy, delicious, and a breeze to throw together just like any easy tomato soup recipe. Knowing how to make tomato bisque really saves me a trip to the restaurants serving delicious tomato soup near me. Try your hand at this recipe ASAP, and you'll understand what I'm talking about.
How To Make Easy Tomato Bisque

Cozy up with this comforting bowl of tomato bisque on a cold night. Made with crushed tomatoes and heavy cream, it's deliciously creamy and provides a good balance of sweet and sour.
Ingredients
2

tbsp

olive oil

1

yellow onion,

diced

2

stalks

celery,

diced

½

tsp

kosher salt

⅛

tsp

coarse ground black pepper

1

pinch

cayenne

1

tsp

dried basil

3

cloves

garlic,

minced

4

cups

chicken broth

28

oz

crushed tomatoes

1

tsp

white sugar

1

cup

heavy cream
Instructions
Heat a large pot over medium heat and add olive oil.

Then, add the chopped onions, celery, salt, pepper, cayenne, and basil. Saute for about 5 to 6 minutes, stirring constantly.

When the onions are tender and golden brown, toss in the garlic. Cook for an additional 45 seconds.

Add the chicken broth, tomatoes, and sugar. Cover and let it simmer for 30 to 40 minutes. Then, remove the pot with tomato mixture from heat.

Using an immersion blender, puree the soup until it reaches a smooth consistency. Then, carefully return the pot to heat.

Slowly add in the heavy cream. Stir occasionally or until your tomato bisque achieves a thick consistency.

Serve the tomato bisque with swirls of heavy cream and fresh parsley on top.
Recipe Notes
You can also use a regular blender or a food processor to blend the tomato mixture.

Add a creamy roux mixture if your bisque still lacks a thick, creamy texture. You just cook the flour in butter until it gets a paste-like viscosity. Then, pour the mixture into your homemade bisque.

If you have any tomato bisque leftovers, keep them in an airtight container and store them in the fridge for three to five days.
Nutrition
Calories: 

146.21kcal

Fat: 

10.76g

Saturated Fat: 

5.17g

Monounsaturated Fat: 

4.26g

Polyunsaturated Fat: 

0.76g

Carbohydrates: 

10.02g

Fiber: 

1.59g

Sugar: 

5.62g

Protein: 

3.73g

Cholesterol: 

29.57mg

Sodium: 

329.34mg

Calcium: 

45.70mg

Potassium: 

330.32mg

Iron: 

1.15mg

Vitamin A: 

91.28µg

Vitamin C: 

7.58mg