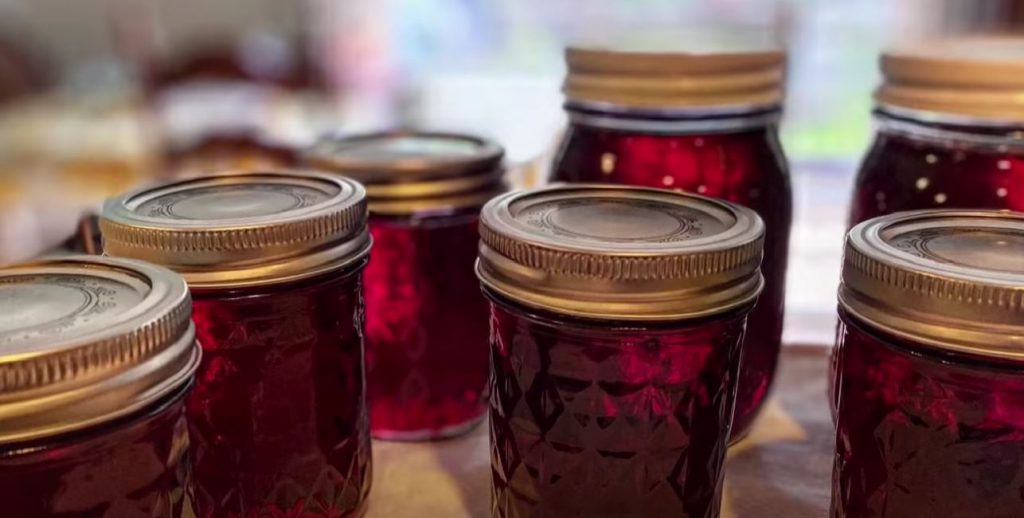 Muscadine Jelly Recipe
How To Make Muscadine Jelly
Amp up your favorite bread with this tart muscadine jelly! Its made with grape-like muscadines for a delightful spread.
Total:
1

days
1

hr
10

mins
Ingredients
5

cups

fresh muscadines juice,

(about 5 pounds)

6

cups

sugar

1¾

fl oz

pectin,

(1 package)
Instructions
Wash muscadines, place in a stockpot and add just enough water to cover the muscadines.

Place over medium heat and bring to a full boil. As muscadines begin to heat, start mashing them with a potato masher.

Reduce heat to simmer and cook for 15 minutes, continuing to mash muscadines.

Remove from heat and pour mixture through a strainer into a large stockpot.

Place stockpot over medium heat and bring to a full rolling boil that does not stop bubbling when stirred, about 5 minutes. Reduce to simmer.

When mixture is at simmer level, add pectin to the juice and stir until well dissolved. Bring to full rolling boil and boil for 1 minute.

Add sugar, stirring until dissolved. Bring to a full rolling boil and boil for 1 minute, stirring constantly.

Test to determine if juice has "jellied" according to pectin packaging instructions. If not, add more pectin from spare box, as directed on instructions.

Pour jelly into hot sterilized jars. Skim foam off the top of the jelly. Screw the lids on jars and place them into a prepared water bath canner with enough simmering water to cover 1 to 2-inch above jars. Add boiling water to canner if needed to cover jars.

Bring to a boil and boil for 5 to 15 minutes according to pectin package instructions.

Remove from water. Place on a towel, leaving about 1-inch between jars. Do not move the jars for at least 24 hours. Check that each jar has sealed before storing.

Store in pantry, unopened, for up to 1 year. Once opened, store in the refrigerator for up to 3 weeks.