Once you've had a taste of Portillo's Chicago-style hot dog, you'll never have hot dogs the same way ever again. That's why in this recipe, we recreate their classic hot dog dish. Chicagoans are very proud of this local delicacy, and with good reason. It's unlike any hot dog on bun served anywhere. For one, there's a specific way of arranging its toppings. Two, they don't use ketchup since it overpowers the other ingredients' flavors. Three, there's a whole culture surrounding this very dish! Terms like 'depression dog' and 'dragged through the garden' are all related to this delicacy.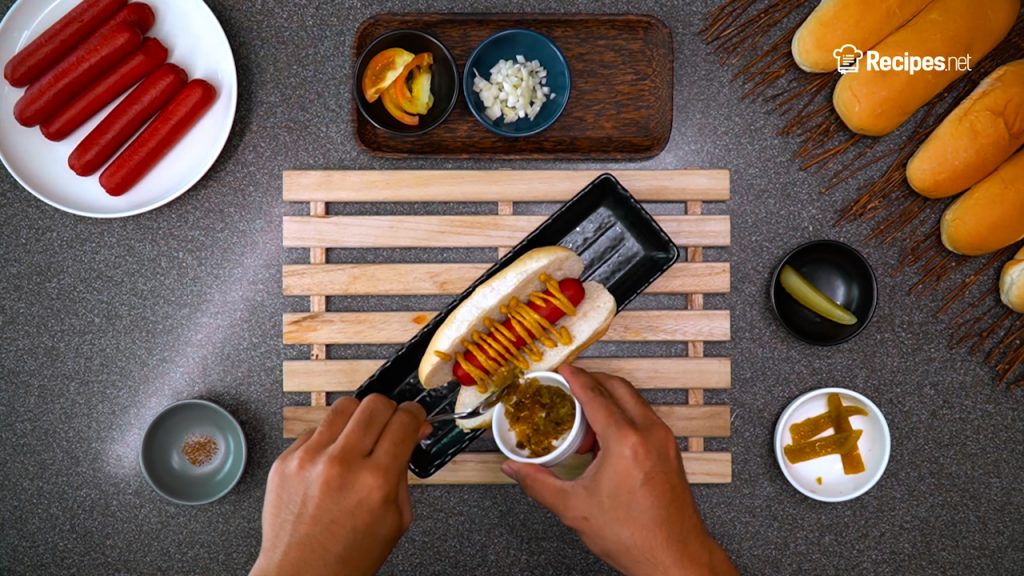 So, it's no wonder that it also has a very long history. Food historians can't seem to pinpoint the first creator of this dish. Although, many claim that its roots go all the way back to German immigrants, known for their sausage-making skills, and Jewish immigrants, who produced the all-beef hot dog used for this dish. All-beef hot dogs are famed for their "snap". It's the resistance you experience when you bite into the hot dog and the casing doesn't give in immediately. All-beef hot dogs are as essential to this dish as the other ingredients are. Even the order of adding the ingredients is also important. Because when done right, each bite will let you taste every topping: Its flavors, and how they all blend together in the best way possible.
What first started in hot dog stands has now found a home in popular restaurants all across the U.S., including Portillo's. So with our recipe, you won't have to fly all the way to Chicago or visit a Portillo's just to eat this iconic food. And while you're at it, have yourself some Corn on the Cob with Garlic-Chives Butter, a classic companion to Chicago-style hot dog.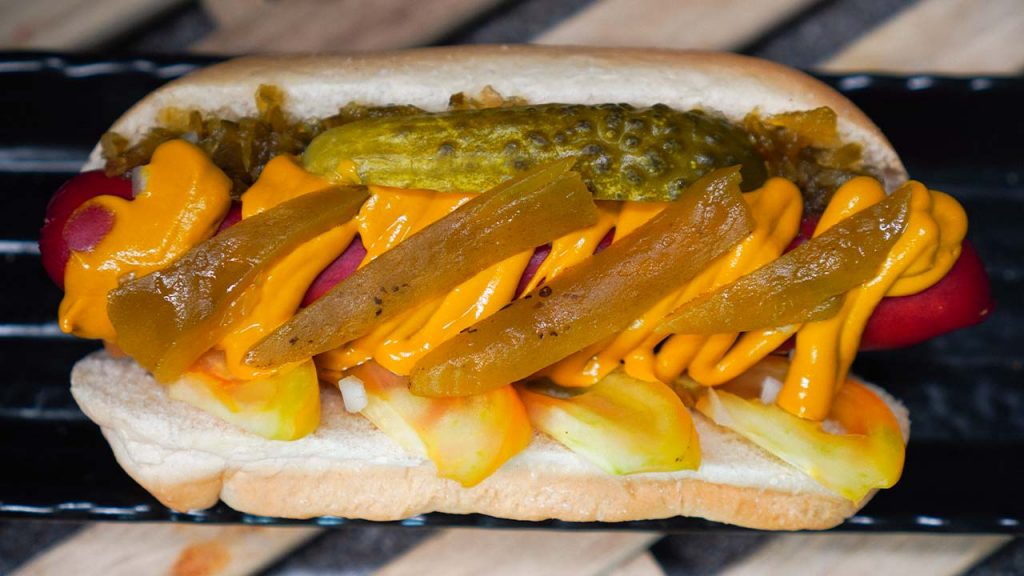 Portillo's Chicago-Style Hot Dog Recipe
How To Make Portillo's Chicago-Style Hot Dog
Firm all-beef hotdog and various toppings give this hot dog an explosion of intricate flavors. Portillo's Chicago-style Hot Dog is a classic local food that's made in a special way, with equally special ingredients. Follow our recipe and you'll understand why this dish became such a classic in Chicago.
Ingredients
1

all-beef hot dog

1

hot dog bun

1

tbsp

sweet pickle relish

1

tbsp

sweet onion,

chopped

4

tomato wedges

1

dill pickle spear

2

piquillo peppers

⅛

tbsp

celery salt

yellow mustard,

for serving
Instructions
Fill a pot with water, then bring it to a boil.

Do not cook the hot dog in boiling water. Lower the heat to low first, then transfer the hot dog into water.

Cook for about 5 minutes. Remove hot dog from pot then set aside.

Place a steamer basket inside the pot. Put hot dog bun inside the steamer basket.

Steam for 2 minutes.

Place hot dog inside of the warm hot dog bun.

Add toppings in this order: mustard, relish, onion, tomatoes, pickle, peppers, and celery salt.

Tomatoes should be between the hot dog and bun on one side, while pickles should be on the other side.

Serve and enjoy!
Recipe Notes
Portillo's uses sports peppers for its original Chicago-style hot dogs recipe. However, in this recipe we used piquillo peppers, which are milder in spiciness and sweeter in taste.
Nutrition
Sugar:

13g

:

Calcium:

112mg

Calories:

330kcal

Carbohydrates:

37g

Cholesterol:

25mg

Fat:

16g

Fiber:

3g

Iron:

3mg

Potassium:

428mg

Protein:

11g

Saturated Fat:

6g

Sodium:

2352mg

Vitamin A:

1601IU

Vitamin C:

39mg
Nutrition Disclaimer
Commonly Asked Questions
Why shouldn't I put ketchup on a hot dog?
A lot of people say that ketchup's strong, sweet taste will overwhelm the balance of other toppings' intricate flavors. On the other hand, mustard was specifically made for sausages. They're not too sweet, not too spicy, and just tangy enough to give taste buds the right amount of excitement. However, it's worth mentioning that hot dog stands selling this dish still give ketchup when customers ask for it. We recommend you first try this recipe without the condiment to stay truthful to Portillo's version. But if you find that ketchup will give you a better eating experience, then you should go ahead and experiment!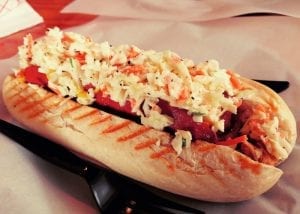 Conclusion
You won't have to fly all the way to Chicago to enjoy this Portillo's classic. It's quick and easy to make, and absolutely delicious to have for lunch or even dinner. It's also a great way to have hot dogs when you're tired of having them the same way over and over again. Your cravings for a classic Portillo's hot dog will surely be satisfied with our wonderful recipe.
Topics: