Chicken Roulade with Creamy Tomato Sauce Recipe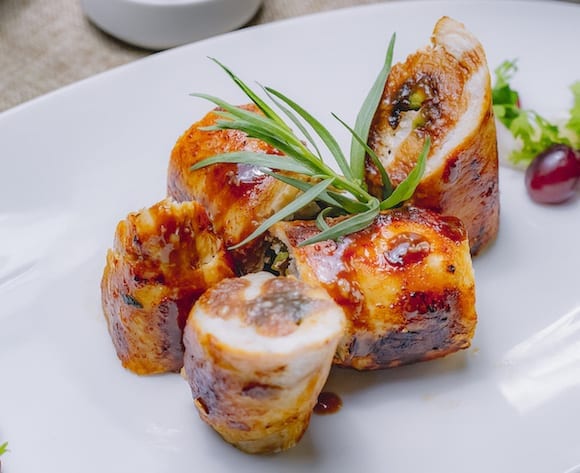 Chicken breast is an amazingly versatile meat to work with. Additionally, if you're working towards being healthier and eating better, you've picked the right meat. In other words, it's lower in calories and fat, chicken breast is a popular option amongst many. Try our take on chicken roulade, and you'll sure find yourself wondering why haven't you tried it earlier.
Admittedly, on its own, chicken breast is rather bland. But it doesn't have to be. A well-seasoned meat is all it takes. Add to that a good recipe that ensures you a juicy morsel. For example, brining is a good way to ensure flavors seep well deep into the meat, and helping it retain its moisture when cooking. In addition, chicken breast is a good canvas of meat to paint a world full of flavors and seasonings. However, if you've been on your health journey for awhile now, you're probably getting a little bored of chicken breast. With this chicken roulade with a creamy tomato sauce, we think you might just fall in love again.
So, if you've loved this recipe and would like to learn more chicken recipes, you can continue on with our Chicken Breast with Fennel and Tomatoes recipe.
How to Make Chicken Roulade with Creamy Tomato Sauce
This easy chicken roulade recipe ensures you that dry chicken breasts is a thing of the past. Paired with a delectable creamy tomato sauce for a simple healthy meal.
Ingredients
Chicken Roulade
2

chicken breast

trimmed

1

pound

asparagus

fresh, ends trimmed

4

pieces

ham

cured, thin-sliced

Salt and pepper

Italian seasoning
Creamy Tomato Sauce
½

cup

tomato sauce

½

cup

pumpkin spice

½

cup

coconut milk

canned

1

tbsp

Italian Seasoning

1

tsp

garlic

minced
Instructions
The breast is the part of the chicken that has the least amount of fat. That's what we want for our roulade. If you have a readily cut fillet, look for any white fat, blood spots, and tendons to remove.

Cut the fillet into 2-inches wide and ¼-inch thick. Using a plastic wrap and a meat tenderizer, then pound it thin. Season with salt, pepper, and cajun seasoning. For this recipe, we're pieces of asparagus spears placed on top of the ham. Roll and secure the roll with a toothpick.

You can cook chicken roulade in different ways. Since we're using fresh asparagus, place the roulade in a dish bowl. Cover with foil. Bake this in the oven for 20 minutes.

You can also sous vide, which is the most common way of making roulade. Makeshift with sealing the roulade in plastic wrap, securing tightly with kitchen twine. Submerge the roulade in a hot water bath. The water temperature range should not go lower than 69°C.

If that seems like a tedious amount of work, pan-searing is another method. Heat oil in a saute pan, over medium-low heat. Cook until sides are golden brown. To elevate this step, transfer to a small roasting pan. Bake in 160-degrees for 5-7 minutes. Et, Voila!

Combine the sauce ingredient in a small saucepan. Set to cook over medium-high heat, stirring occasionally.

If you're not a fan of tomato sauce, you can still enjoy roulade on its own while drinking a bottle of champagne.

Pair the chicken roulade with a serving of vegetables, or a cup of rice.
Nutrition
Calcium:

139mg

Calories:

260kcal

Carbohydrates:

16g

Cholesterol:

73mg

Fat:

11g

Fiber:

5g

Iron:

7mg

Potassium:

901mg

Protein:

28g

Saturated Fat:

7g

Sodium:

316mg

Sugar:

4g

Vitamin A:

1074IU

Vitamin C:

13mg
Commonly Asked Questions
Can I use regular milk in place of coconut milk?
If you don't have coconut milk, you can use any other type of milk you have at home. From almond to cow's milk. However, coconut milk does give this dish a certain depth of flavor that you will be missing if you substitute it. Alternatively, you can even choose to use Greek yogurt which gives this dish an extra thickness. If the sauce becomes too thick, add a little water until you get the desired consistency.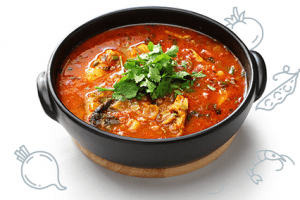 Conclusion
More than your regular chicken roulade, this recipe lends plenty of flavor. With the coconut milk and pumpkin spice, we guarantee that this will become your new favorite recipe for when you're looking to impress.
Let us know how it turned out for you, we love hearing from you guys in the comments.