This Kiwi bubble tea is one thing you shouldn't miss! Quick and easy to make, this drink is a must-have for those who haven't tried kiwi-flavored bubble tea before. We highly recommend having a sip while enjoying some baked potato wedges on the side. The sweetness of the beverage is perfect with the crispy and cheesy dish. Or, pair your drink with some mini desserts! 
Everyone's hooked on the bubble tea craze nowadays. Although this drink originated in Asia, it's been making rounds around the globe due to popular demand. You can buy some at a nearby boba shop, or you can make your own thanks to this kiwi bubble tea recipe! This fruity drink will surely give you a refreshing experience. 
Tips for Making Kiwi Bubble Tea
This boba drink is very easy to make! Ready to excite your taste buds with different flavor varieties? Tea, milk, sweetener, ice, and tapioca pearls are all you need.
Here are some tips on how to make kiwi bubble tea:
Store your kiwi fruits in the fridge to keep them fresh.

That is, if you won't be making the kiwi bubble tea recipe any time soon. Otherwise, you may store them on a

fruit bowl

at room temperature, away from direct sunlight. 

Cook the tapioca pearls beforehand. First, y

ou would need to boil the pearls for at least 3 minutes in boiling water, or until they float to the surface. Then, keep boiling for about 2 to 3 minutes more after that. 

Cook your tapioca pearls with brown sugar to make them sweeter. 

After boiling the pearls, drain them, and cook them with sugar. You can't go wrong with brown sugar boba! Keep an eye on the pearls though, you don't want them to be overcooked. 

Steep the tea in a glass of cold water to extract the flavor easily.

This cold brew technique is an alternative to steeping the drink in hot water. These methods pull out the full-bodied flavor from the black tea leaves. Also, use black tea produced by your favorite

tea brands

for the best result! 

For a colder drink, combine the milk, tea, and ice cubes in a cocktail shaker.

Grab your shaker from your

bar cart

and use it to make bubble tea! Once everything is combined, shake well and pour the concoction into a glass with the boba and ice. This will give you an extra cold kiwi bubble tea.

Use milk substitutes to make a dairy-free kiwi fruit tea.

Soy milk, oat milk, and coconut milk are good alternatives to real milk.

You can even try to make a vegan-friendly alternative to condensed milk from scratch!

 
Kiwi bubble tea is best enjoyed immediately, so have a sip as soon as it is made. It will taste different if kept in the fridge for more than a day. That said, let's begin making the drink!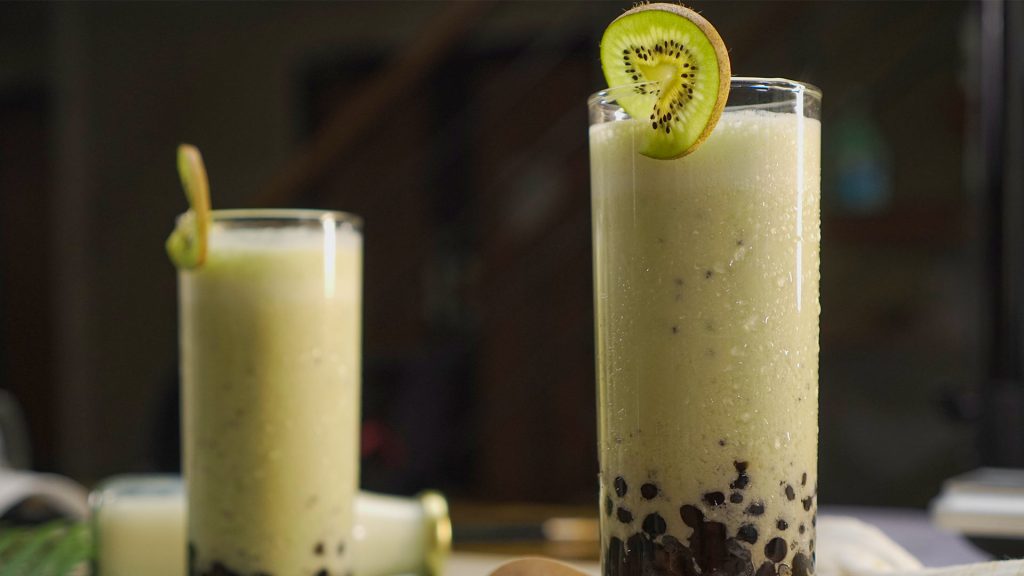 Fresh Kiwifruit Bubble Tea Recipe
How To Make Fresh Kiwifruit Bubble Tea
Ingredients
For the Black Tea:
4

cups

water

6

bags

black tea
To Assemble:
2

cups

ice cubes

¾

cup

tapioca pearls,

large, cooked

¾

cup

milk

½

cup

condensed milk

4

cups

prepared black tea

5

pcs

kiwifruits,

green or gold, peeled and sliced
To Serve:
5

pcs

kiwifruit,

green or gold, peeled and sliced
Instructions
Place water in a medium saucepan over high heat. Bring to a boil.

Add tea bags, boil for 3 minutes and turn off the heat.

Divide prepared pearls evenly between tall glasses, preferably 12 ounces.

Combine ice, milk, and condensed milk and tea into a blender. Pulse until smooth.

Add kiwifruit and pulse until just blended. Do not crush the kiwifruit seeds.

Pour drink over tapioca pearls. Garnish with sliced kiwi and serve immediately.
Nutrition
Sugar:

48g

:

Calcium:

364mg

Calories:

507kcal

Carbohydrates:

97g

Cholesterol:

37mg

Fat:

10g

Fiber:

1g

Iron:

1mg

Monounsaturated Fat:

2g

Polyunsaturated Fat:

1g

Potassium:

438mg

Protein:

9g

Saturated Fat:

6g

Sodium:

168mg

Vitamin A:

357IU

Vitamin C:

6mg
Nutrition Disclaimer
Frequently Asked Questions
Can kids drink boba?
Yes, kids can definitely drink boba. With fresh fruits included in the drink, it is something the kids can enjoy! Although, it's best to be cautious when giving it to kids younger than four years old since they might choke on the tapioca pearls.

Is boba good for weight loss?
The simple answer is no. That's why you shouldn't drink too much boba. Consuming a lot of boba over time will make you gain weight, so it's best to drink in moderation and be committed to your fitness routine, if you have one.
Are you supposed to chew boba?
Yes, of course. You can't consume boba without chewing it to bits and pieces. You might choke on the tapioca pearls if you don't chew them.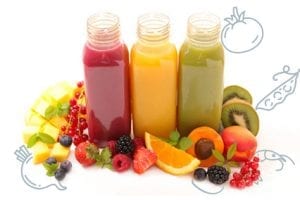 Conclusion
Quench your thirst with this sweet and refreshing kiwi bubble tea. You won't need to scour your nearby boba shops if you can make your own drink. Definitely give this kiwi fruit tea a try if you haven't tasted kiwi in a drink yet!