Stay cool for the summer with a luscious glass of smoothie. Take out your straw and mini umbrellas, for we're about to show you how to make the best apple smoothie. But wait, this smoothie isn't just any ordinary drink. Our recipe is going to replicate the best-selling Jamba Juice Apple 'N Greens Smoothie. You heard that right. We're recreating one of the most iconic smoothies at Jamba Juice.
But it doesn't just stop with an apple smoothie. We've also got other amazing drinks from Jamba Juice made easy for you! You can also check out our healthy Acai Super Antioxidant Smoothie, along with our Orange Carrot Karma Smoothie. They're so simple to make, you won't have to make a fuss about lining up to get your favorite drinks.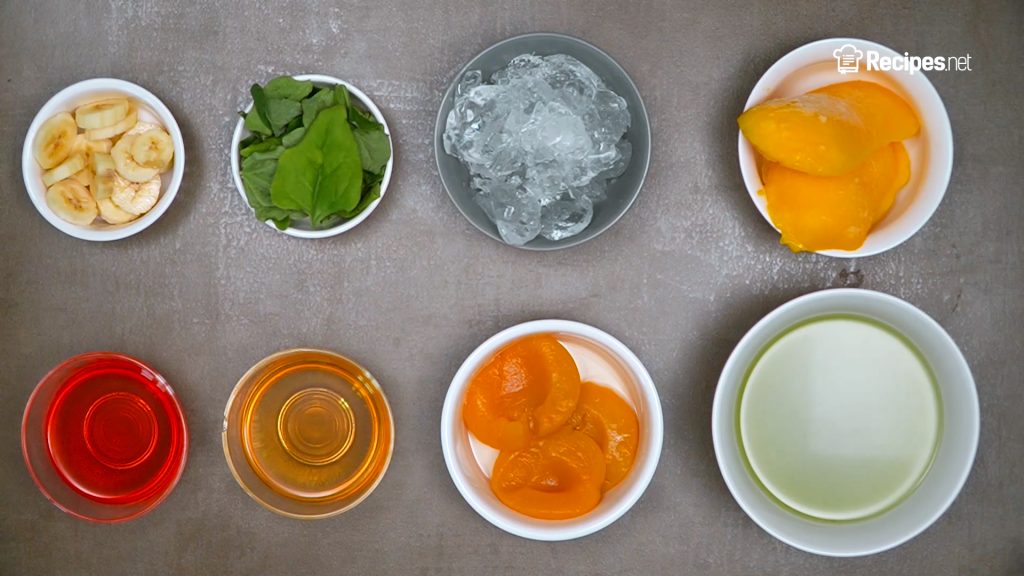 A Healthy Plant-Based Smoothie
This apple smoothie recipe doesn't only have apples in it. The Apple 'N Greens Smoothie is found under the Jamba Juice menu for plant-based smoothies. You'll find that it's deliciously mixed with hearty greens too. It's one of their healthiest smoothies with only 320 calories for a medium cup. But not only is it amazingly tasteful, it's also filling and comes with a ton of nutritional benefits!
Although, what exactly is inside this Jamba Juice smoothie? The basic ingredients are an apple-pear strawberry juice blend, kale, mangoes, bananas, and peaches. That's right, there is no sugar added to this delightful glass. The fruits, particularly the mangoes and bananas will do the sweetening for you. It's an apple smoothie that's great for anyone watching their sugar intake and calorie count. In short, it's a diabetic-friendly and low-calorie smoothie! We call that a guilt-free drink without sacrificing flavor.
But now that you know what inspired our recipe, let us show you how to make a smoothie just like Jamba Juice's!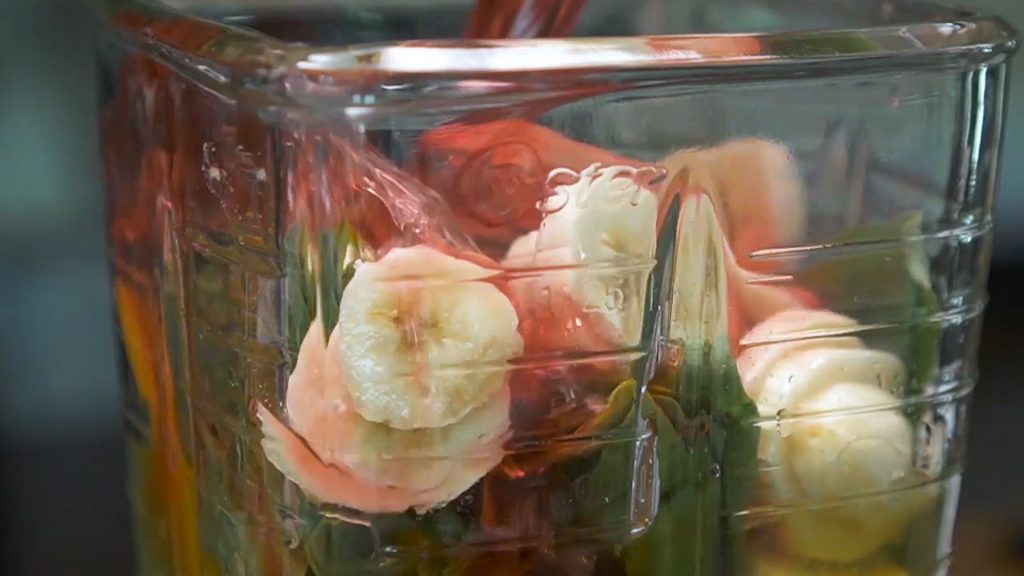 Our Take On The Favorite Jamba Juice Smoothie
Instead of using kale for our recipe, we used a healthy mix of spinach and green vegetable juice. So you'll still get that bright green color from a cup of Jamba Juice Apple 'N Greens Smoothie. And what's an apple smoothie without some apples? We've also incorporated a healthy amount of apple juice into this glass. It's then followed by some peaches, strawberries, bananas, and mangoes. They'll be the key sweeteners to making your drink taste superb. Finally, what's a cool summer drink without some ice? We've blended the drink with a cup of ice to make your smoothie thicker and creamier.
But feel free to fill up your glass with some of your favorite toppings and add-ons as well. Our smoothie also works brilliantly with some chia seeds and almond butter. Or if you're looking to add extra creaminess, try adding some yogurt or your favorite sherbert. There are no rules for making your own apple smoothie drink.
Beat the heat with our Jamba Juice apple smoothie recipe this summer! Make enough smoothie to serve to your friends and family at your next summer getaway. Or simply make one at any time of the day for a smooth, refreshing drink to boost you up!
For more lip-smacking smoothie content, hop right over to the rest of our smoothie recipes.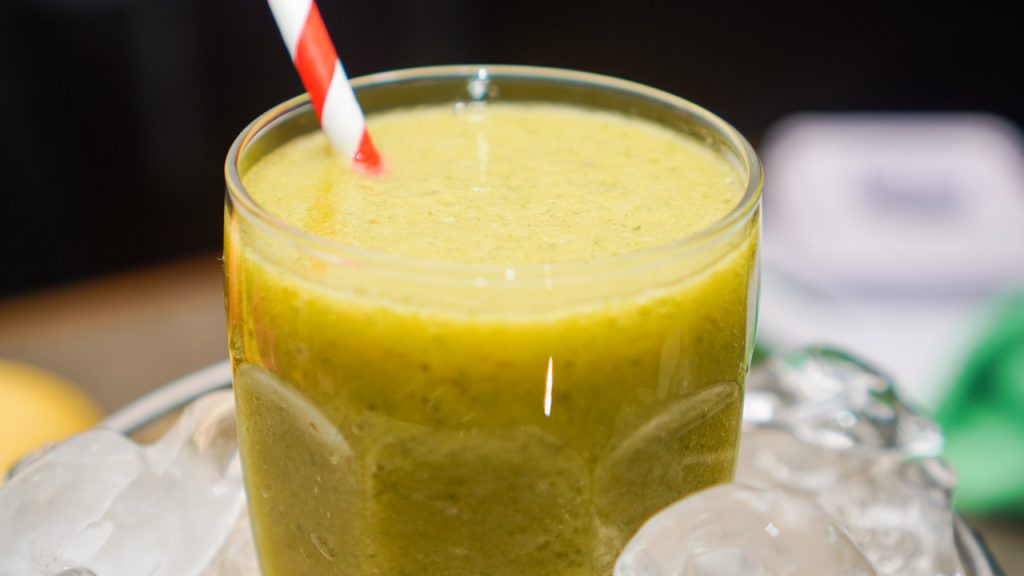 Copycat Jamba Juice Apple 'N Greens Smoothie Recipe
How To Make Copycat Jamba Juice Apple 'N Greens Smoothie
Our apple smoothie has the perfect balance of sweet and tart, with earthy flavors from the vegetables. This cold, velvety smoothie is the perfect glass to have on a hot summer day. You never have to worry about lining up at the store for this drink that's just like the iconic Jamba Juice Apple 'N Greens Smoothie!
Ingredients
1

cup

ice

¼

cup

apple juice

¼

cup

strawberry juice

1

cup

green vegetable juice

½

cup

fresh spinach

½

banana,

sliced

½

cup

peaches,

(1 tin), drained

½

cup

frozen mangoes
Instructions
In a blender, toss in the apple juice, strawberry juice, green vegetable juice, spinach, bananas, peaches, mangos, and ice.

Blend all the ingredients together until you reach your desired consistency.

Top with some crunchy pumpkin seeds, add in a straw, and enjoy!
Recipe Notes
A fun way to experiment with your apple smoothie is to freeze them in popsicle molds overnight. A tasty apple smoothie popsicle is great to try out when you have kids around.
Serve your apple smoothie with some chia seeds, almond butter, and pumpkin seeds to make them extra filling!
Nutrition
Sugar:

11g

:

Calcium:

5mg

Calories:

61kcal

Carbohydrates:

15g

Fat:

1g

Fiber:

2g

Iron:

1mg

Potassium:

255mg

Protein:

1g

Saturated Fat:

1g

Sodium:

13mg

Vitamin A:

1002IU

Vitamin C:

25mg
Nutrition Disclaimer
Frequently Asked Questions
What kind of green vegetable juice blend should I get?
Green vegetable juice blend varies depending on the brand and can be found in most supermarkets. It mainly contains kale, Swiss chard, celery, wheatgrass, cucumber, spinach, parsley, and mint. But there are some brands that add in more ingredients like fruit for sweetness, so feel free to choose a blend that's to your liking.

What other greens can I add to my apple smoothie?
Apart from the vegetables in this recipe, try adding in some kale, beet greens, and romaine lettuce. They also work as a wonderful substitute if you don't have spinach and green vegetable juice on hand.

Can I make my apple smoothie ahead of time?
You definitely can! To store, simply place the drink in the refrigerator and they will keep for 1 to 2 days. If you want them to last longer, place your apple smoothie in a covered mason jar and freeze them for up to 3 months. To thaw the frozen smoothie, just take them out of the freezer and let them thaw in the fridge overnight.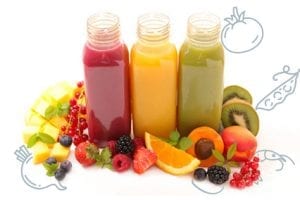 Conclusion
Satisfy your Jamba Juice cravings with an apple smoothie that tastes just like their Apple 'N Greens Smoothie. It's healthy, creamy, and absolutely filling! We're giving you the best apple smoothie recipe to try out in the comfort of your home. Make these for breakfast to jumpstart your day or make it the star of your cold drinks this summer.