Looking for the perfect snack for the next game day? Treat yourself with all-you-can-eat wings without the trouble of making a mess! Coated with tangy and spicy marinade, this Copycat Pizza Hut Buffalo Wings Recipe will have you craving for days! This recipe is not just a brilliant copycat of the Pizza Hut buffalo wings but it'll also save you the trip and the money.
Take this hot-and-spicy buffalo wings Pizza Hut inspired chicken wings to the next level by dipping it to our cheesy #1 Buffalo Chicken Dip. The creamy cheese dip balances the tangy and spicy pizza hut wings, you wouldn't notice you've finished a whole batch!
Why Are They Called Buffalo Wings?
As we all know, buffalos are the last species we'd expect to sprout wings. So, how on earth was buffalo wings invented? While the true original buffalo wings recipe remains a mystery, a popular legend goes that back in 1964, a bar owner, by the name of Teressa Bellissimo, had a genius idea when she didn't want leftovers to go to waste.
When there were leftover chicken wings, she decided to cook them in hot sauce for her kids as a late-night snack. Lo and behold, the savory classic buffalo wings were born!
If you are wondering where the name came from, the name actually came from its place of origin, Buffalo, New York City. Although the wings came from Buffalo, after putting it up in their menu, the chicken wings in a delicious sticky sauce became a popular dish all across the States.
Ever since then, fast food joints such as Pizza Hut came up with their own version of the buffalo wings. So, for this recipe, we'll be teaching you the sought-after Copycat Pizza Hut Buffalo Wings. 
Treating yourself with comfort food isn't complete without a slice of pizza. To make the most out of the Pizza Hut famous dishes, pair your spicy buffalo wings with our sweet and savory Copycat Pizza Hut Hawaiian Supreme Recipe! Just the thought of scrumptious Hawaiian pizza and spicy buffalo wings makes our mouth water.
Our Version Of Pizza Hut's Buffalo Wings
The famous Pizza chain started its venture on chicken wings back in 1995. Until they began the deep fried buffalo wings recipe in 2014, for several years Pizza Hut's Buffalo Wings were baked in their conveyor belt. 
In this keto buffalo wings recipe, we're baking our buffalo wings to achieve that crispy deliciousness and golden brown skin. Even more, we're using Frank's Red Hot original cayenne pepper sauce to bring out a hot yet spicy kick of buffalo wings.
Instead of the usual salt, we're seasoning our buffalo wings with garlic salt for an added aroma and a hint of garlicky taste to our chicken. If you're worried you don't have garlic salt, you can make one on your own! Read it in our CAQ section below.
So, what's the difference between chicken wings and buffalo wings? The difference between the two comes in their size. Chicken wings use the entire wing from the joint to the tip of the wings while buffalo wings are smaller parts of the chicken wing (flat or drumette).
In this recipe, you'll be getting a bucketful of these mouth-watering buffalo wings all to yourself or to share with the family. It's a classic dish to have for game days or movie nights with your friends. 
This buffalo wing dish is quick and easy to make. A way to make this even better is by pairing it with our scrumptious Beer Battered Onion Wings Recipe. You can lean back on the couch and play your sports show on both your hands just like in your favorite sports bar! Now, let's complete your day with some delicious buffalo wings.
More Must-Try Buffalo Wings Recipes
Today, the pizza chain's chicken wings are deep-fried and tossed in different sauces! Whether you're a fan of spicy wings or not, pizza hut offers a variety of wings flavors. Aside from the Spicy Buffalo flavored wings, they offer buttery and tangy lemon pepper flavored wings. These zesty buffalo wings go perfectly with a creamy Pizza hut pasta such as our Copycat Pizza Hut Chicken Alfredo Pesto Recipe. 
Also, one of Pizza Hut's best selling wings is the Honey BBQ Chicken wings recipe. The originally spiced deep fried chicken wings are glazed with sweet honey and tangy BBQ sauce to add depth to their savory chicken wings. Looking for a healthy take on this honey buffalo wings recipe? Our Dr. Pepper glazed Sweet and Tangy Baked Wings might be the perfect match for you as this is also oven-baked!
Aside from teriyaki flavored wings, Pizza Hut also released other Asian flavored wings with a fruity and tangy kick. A sure crowd-pleaser, the orange chicken inspired chicken wings were added to the Pizza hut menu. These tropical-flavored chicken wings could be your next favorite chicken meal when paired with our Copycat Panda Express Steamed Rice Recipe. Pairing these two makes the perfect balance of Asian and American Cuisine!
Who would forget Pizza Hut's juicy boneless buffalo wings recipe? Tender boneless chicken deep-fried to perfection then tossed with hot and spicy sauce. Just the thought of that made us crave! Good thing we have a Boneless Buffalo Wings Recipe to satisfy more of our Pizza Hut chicken wings cravings.
You can also pair these spicy wings with our Loaded Garlic French Fries Recipe if you're having a mini-party. This pair makes the perfect party snacks, your guests will probably stay a little longer because of your scrumptious wings and fries combo!
How To Make Copycat Pizza Hut Buffalo Wings
These hot buffalo wings with just the right spice level are just the perfect companion for staying in. A quick and easy recipe that will have you thinking twice about ordering take out!
Advertisement
Continue Reading Below
Ingredients
¼

cup

hot sauce,

preferably Frank's Red Hot original cayenne pepper sauce

¼

cup

unsalted butter,

melted

2

tsp

dark brown sugar

¼

cup

water

1½

tsp

smoked paprika

1

tsp

white vinegar

⅛

tsp

garlic salt

3

lbs

chicken wings,

thawed and patted dry

spring onions,

for garnish
Instructions
Preheat the oven at 375 degrees F.

Combine the water, hot sauce, butter, brown sugar, paprika, vinegar, and garlic salt in a large bowl. Mix well.

Add the chicken wings into the bowl and toss to coat evenly.

Prepare a foil-lined roasting tray and arrange the coated chicken wings evenly. You can also use a non-stick tray for roasting.

Roast for 20 to 30 minutes or until crispy and juices run clear.

Garnish with spring onions and enjoy!
Advertisement
Continue Reading Below
Advertisement
Continue Reading Below
Commonly Asked Questions
How do I make my own garlic salt?
Garlic salt is easy to make since you already have the needed ingredients in your kitchen. Use 3 parts of salt to 1 part garlic powder. So if you use 1 tablespoon of kosher salt, you will be using 1 teaspoon of garlic powder to combine. Simply store it in an air-tight container and your homemade garlic salt will be able to last for about a year.
Can I deep-fry this buffalo wings recipe?
Of course! Heat your pot to 375 degrees F and use at least 4 cups of oil to submerge the wings. Deep-fry them for 10 to 15 minutes or until it reaches your desired crispiness. Baking buffalo wings caramelize the skin and render fat for a moist result while deep-frying them helps you achieve a crisp texture.
How long can I store buffalo wings in the fridge?
Your buffalo wings can stay in the fridge for no longer than 1 to 2 days if stored in an airtight container. Your wings can also be stored in your freezer for a month.
How to reheat buffalo wings?
The best way to reheat buffalo wings is by using an oven. It maintains the crisp exterior and juicy meat. If your chicken wings are frozen, thaw it in your fridge for 24 to 48 hours until fully thawed. Line the wings in a baking sheet and set your oven to 350 degrees F. Bake the wings for six minutes on each side and voila! You're left with a warm plate of delicious buffalo wings.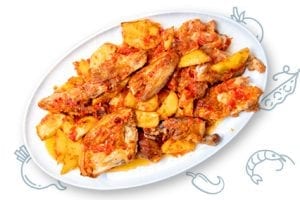 Conclusion
What's even better than buffalo wings? All you can eat buffalo wings! Make this easy Copycat Pizza Hut Buffalo Wings Recipe at the comfort of your home and have a whole batch by yourself. Not only will it save you from lining up but prevents you from taking out money from your wallet. Make these buffalo wings along with your favorite dips and sides.
Advertisement
Continue Reading Below
Topics:
Advertisement
Continue Reading Below
Advertisement
Continue Reading Below