This Pizza Hut copycat hot wing recipe will have you thinking twice about ordering take out. Enjoy these binge-worthy wings with just a few simple steps. Try these mild hot wings today!

Tip: Remember to pre-heat the oven for at least 15 mins. before placing the chicken wings.
Copycat Pizza Hut Buffalo Wings Recipe
Ingredients
1/4

cup

water

1/4

cup

Frank's Red Hot original cayenne pepper sauce

1/4

cup

margarine

2

tsp.

dark brown sugar

1 1/2

tsp.

paprika

1

tsp.

white vinegar

1/8

tsp.

garlic powder

6

lb.

Chicken Wings

thawed and patted dry
Instructions
Prepare chicken.

Mix water, hot sauce, margarine, brown sugar, paprika, vinegar, and garlic powder in a bowl.

Mix well.

Place chicken wings in a casserole dish or foil lined pan.

Pour sauce over wings and bake at 375 degrees for 20 to 30 minutes or until crispy and juices run clear.
Commonly Asked Questions
How do I keep buffalo wings warm?
When you have made a batch and planning to consume it later, set your oven to the lowest setting and heat the chicken wings for about ten minutes. Leave it there to heat up and cool gradually. This leaves you with warm wings without drying them out.
Are buffalo wings better fried or baked?
Chicken wings has a higher fat to meat ratio, thanks to the surface area of the skin. While deep frying would get you a crispier texture, baking the wings roasts the meat and caramelizes the skin with or without the sauce. In addition, it renders the fat which keeps the meat moist, developing a more complex flavor.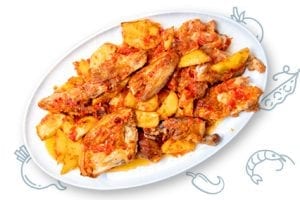 Conclusion
Give this recipe a try and reward yourself with an all-you-can-eat wings today without the trouble of keeping things tidy in the restaurant.