Not sure what to do with those zucchinis in the fridge? Make bread out of them by giving our Honey Zucchini Bread recipe a try! It's packed with mouthwatering flavors from the zucchini, honey, and a bit of cinnamon. We've made it with some walnuts to give your bread an excellent crunch in the middle of that soft, bread goodness. A unique twist from the usual loaves of bread brought into gatherings, it is sure to wow a crowd looking for something a little more different. 
The best part is, the zucchini that'll be the star of this bread is rich in many nutrients and high in antioxidants. Zucchini also promotes healthy digestion thanks to its high fiber content. The sweet accompaniment to this bread, honey, is not without its fun benefits as well. It also contains antioxidants that help reduce heart disease. On its own, it's a natural sweetener, but mixed with baking, it amps up the flavor to a new level. 
We love the key texture of succulence from the zucchini when it comes to this bread. The moisture from the zucchini keeps the bread flavorsome even after refrigerating. And we know it can also be a bit intimidating to use this summer squash, as it comes with a lot of liquid. For this, we suggest lightly blotting your shredded zucchini with some paper towels. This little trick will keep extra liquids from turning your bread mushy while still keeping the needed moisture to make the bread soft and luscious.
Many will find the combination of zucchini and bread to be odd. But we guarantee you that it is something you'll be wanting seconds for. And don't be afraid to add your own personal touch to it, as this zucchini bread recipe can be versatile. Many tend to sprinkle some chocolate chips on top or mixed into the bread itself for added sweetness. Now wouldn't that be delightful? This bread is perfect to devour with some tea or our Harvest Coffee Cider for more robust flavors. Try this zucchini bread recipe out for your next bake sale, or simply enjoy it with friends and family!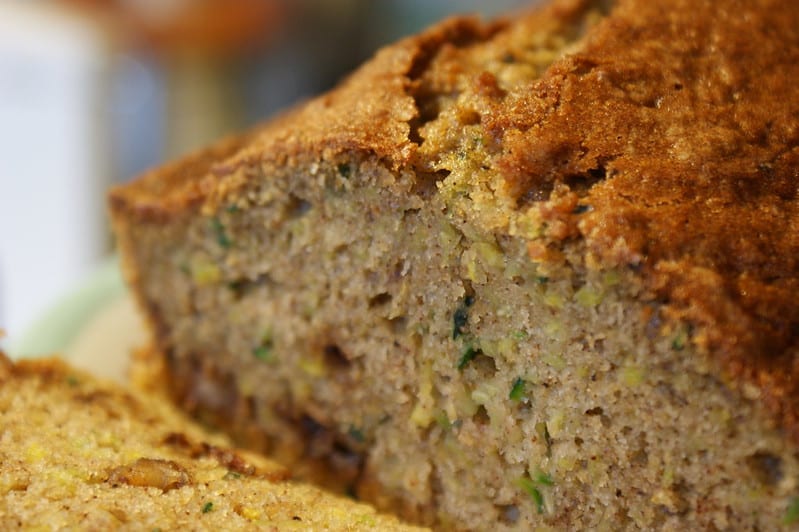 Nikol Lohr | Flickr
How To Make Honey Zucchini Bread
A rich and moist bread recipe with remarkable flavor. It comes with shredded zucchini, a gentle touch of cinnamon, walnuts, and a sweet accompaniment of honey.
Ingredients
1

cup

vegetable oil

1

tbsp

cinnamon

1

tsp

baking powder

1

tsp

baking soda

1

tsp

salt

½

cup

walnuts

2

cups

zucchini,

shredded

¾

cup

white sugar

2

tsp

vanilla

3

cups

flour

3

eggs,

beaten

¾

cup

honey,

preferable Sue Bee
Instructions
Mix all the wet ingredients and the sugar together. 

Sift the dry ingredients together and stir them into the wet mixture until fully incorporated.

Pour the mixture into a greased and floured 9x13-inch loaf pan or two smaller loaf pans.

Bake the mixture in the oven for 60 to 75 minutes at 350 degrees F.

Once your honey zucchini bread is done baking, serve it warm with some sugar glaze on top and enjoy!
Recipe Notes
Top your honey zucchini bread with some sugar glaze for additional flavor! Just combine 1 ½ cups of powdered sugar, 3 tbsp of milk or water, and 2 tsp of vanilla. Just glaze the mixture over the bread with a spoon, and you've got a more appetizing ensemble!
Nutrition
Sugar:

68g

:

Calcium:

96mg

Calories:

627kcal

Carbohydrates:

119g

Cholesterol:

82mg

Fat:

13g

Fiber:

3g

Iron:

4mg

Potassium:

248mg

Protein:

11g

Saturated Fat:

4g

Sodium:

716mg

Vitamin A:

201IU

Vitamin C:

7mg
Nutrition Disclaimer
Frequently Asked Questions
How do I ensure my zucchini bread is done?
You can use the classic toothpick test method. 50 minutes into baking, take a toothpick, and stick it in the center of your bread. If it comes out wet, that means it will need to bake a little longer. But if it comes out dry, your bread should be good to take out of the oven.
Do I need to peel my zucchinis for this bread?
Peeling the zucchini is not necessary. In fact, we recommend having them skin-on as they add additional fiber and flavor to your bread. You won't even realize it's there once it's all baked.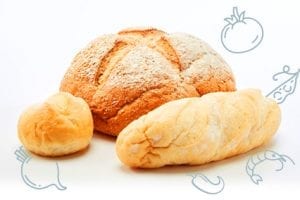 Conclusion
Enjoy a new twist in your usual loaves of bread with our honey zucchini bread recipe! The rich and healthy flavor of zucchini is perfectly combined with the sweetness of honey. Present it at your next bake sale or enjoy serving to friends and family.
Topics: