Try our special Mongolian BBQ Recipe and bring excitement to your table! If you're looking for a change in your everyday meals, this recipe is perfect for you. Mongolian BBQ oozes with all kinds of different flavors that are sure to jumpstart your taste buds! And not only is it tasty, but it's also healthy too. That's because Mongolian BBQ is not just meat. Contrary to its name, this dish is not Mongolian nor is it a type of barbeque. It's actually a combination of Chinese stir fry and Japanese teppanyaki that uses meat and all kinds of vegetables.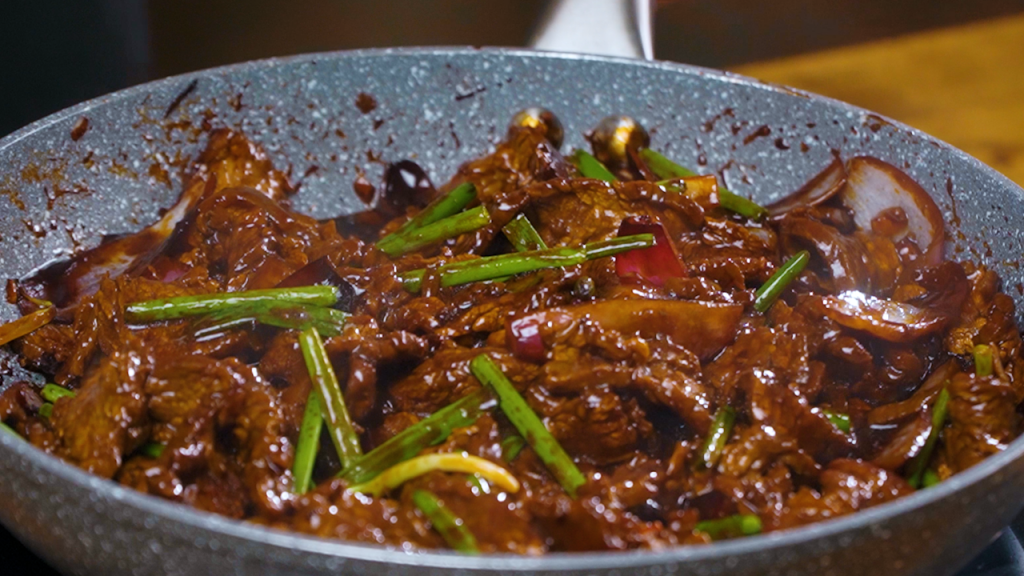 Mongolian BBQ is also incredibly fun to eat! Usually, Mongolian BBQ is served at restaurants in an all-you-can-eat buffet style. People can pick a type of meat, and what vegetables they want to eat. The stir fry is cooked in front of you, and there are endless rows of ingredients to choose from to make your own custom bowl. In our Mongolian BBQ Recipe, we show you how to make stir fry good for 4 people. Even though you can make this in the comforts of your own kitchen, you can make it more fun by cooking the meal on a grill in front of your loved ones. You can also let them pick what vegetables they want.
Although it started from a food stall in Taipei, Mongolian BBQ has become popular and enjoyed all over the world. It's a very simple dish that's easy and affordable to make. Follow our recipe and enjoy the taste of Asian cuisine! Try our other Asian recipes too.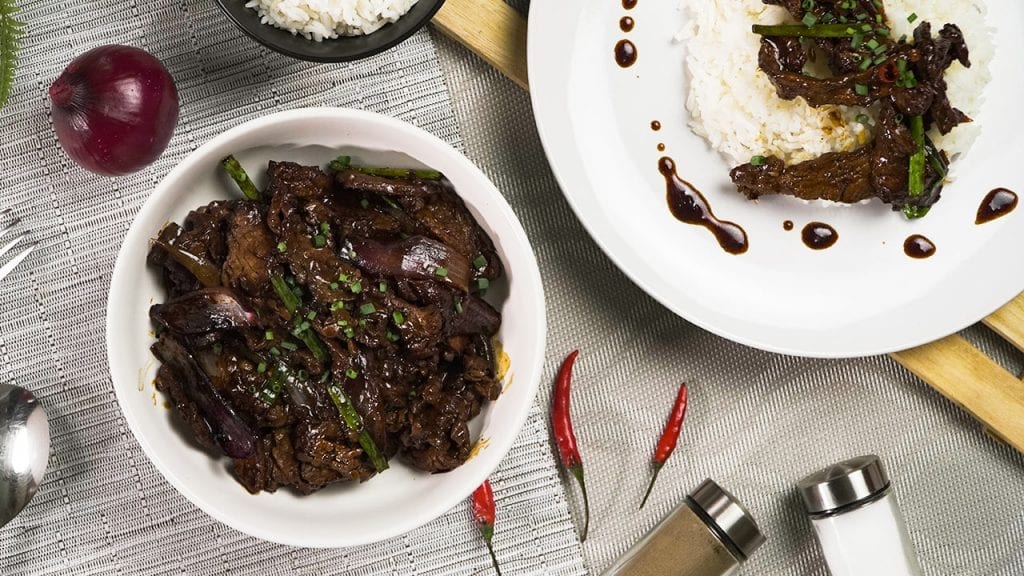 Mongolian BBQ Recipe
How To Make Mongolian BBQ
Excite your taste buds with this delicious stir fry, topped with beef, vegetables, and various spices. Our Mongolian BBQ Recipe is easy to cook and has flavors that definitely pack a punch. Enjoy the best of what Asian cuisine has to offer!
Ingredients
14

oz

beef flank,

cut into thin strips

3

tbsp

vegetable oil

5½

red onion,

cut into wedges

4

cm

ginger,

finely chopped

2

garlic cloves,

roughly chopped

2

tsp

red chilies,

roughly chopped

1

tbsp

cornstarch,

dissolved in 1 tbsp water

4

spring onions,

roughly 1 oz total, cut into batons
For Marinade:
1

tbsp

soy sauce

1

tbsp

rice wine, sake, or Chinese Shaoxing wine

½

tsp

baking soda

1

tbsp

cornstarch
For Stir-Fry
¼

cup

soy sauce

¼

cup

chicken stock

3

tbsp

brown sugar

2

tbsp

rice wine, sake, or Chinese Shaoxing wine
To serve:
1

cup

steamed rice or egg noodle

¼

tsp

spring onions,

minced
Instructions
Start with the marinade by combining the beef with rice wine, sake, or Chinese Shaoxing wine, baking soda and cornstarch. Mix well.

For the stir-fry sauce, combine soy sauce, chicken stock, brown sugar and rice wine, sake, or Chinese Shaoxing wine.

Then, heat the oil in a wok or deep skillet over high heat. Add the beef and saute for about 2 minutes or until just cooked. Set aside.

Return the same pan to the heat (no need to clean it). You can also add a little more oil if there isn't any left in the pand. Then, add in the onion garlic, ginger, and chillies. Saute fo half a minute.

Then add the stir-fry sauce. Allow it to simmer for half a minute, then add the cornflour mixture and simmer until thickened.

Add the beef back into the sauce along with the spring onion and toss until well combined. Adjust seasoning as desired.

Serve immediately, either with rice, or poured over egg noodles. Garnish with ¼ minced spring onions
Recipe Notes
Make cooking this meal more interactive by using a portable gas stove. Cook Mongolian BBQ in front of loved ones like in all-you-can-eat buffets.
Nutrition
Sugar:

19g

:

Calcium:

96mg

Calories:

598kcal

Carbohydrates:

61g

Cholesterol:

94mg

Fat:

18g

Fiber:

7g

Iron:

5mg

Potassium:

1042mg

Protein:

50g

Saturated Fat:

8g

Sodium:

1925mg

Vitamin A:

3066IU

Vitamin C:

75mg
Nutrition Disclaimer
Commonly Asked Questions
What's the difference between Mongolian BBQ and Korean BBQ?
Korean BBQ is an actual type of barbeque, while Mongolian BBQ is a stir-fry. Korean BBQ uses marinated meat that's then barbecued. On the other hand, Mongolian BBQ is a stir fry that uses meat, vegetables, and noodles.
What kinds of noodles can you use for Mongolian BBQ?
This recipe uses Udon noodles, but you can also use other kinds if it's not available. The easiest alternative would be thin spaghetti noodles. Other options include rice noodles, sweet potato noodles, zucchini noodles, and even ramen noodles.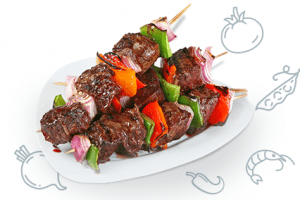 Conclusion
Our Mongolian BBQ Recipe will surely bring the flavors of Asia to the dining table. It's also a good meal to try if you're looking for some variety to your everyday meals. Don't be afraid to experiment since you can add different kinds of vegetables, and use other kinds of noodles.
Comments
DCE contractant général

Comment is awaiting moderation.