There are so many pasta recipes that I want to share, but this delicious asiago tortelloni alfredo with grilled chicken Olive Garden inspired recipe is definitely the best. I recently ate this tasty Italian food from Olive Garden, and I wanted to try recreating it. So, if you want to recreate some Olive Garden recipes, then here's my own interpretation of their flavor-packed chicken pasta. It has tender grilled chicken breasts, cheese-stuffed tortellini pasta, three kinds of cheese, and breadcrumb toppings. All these ingredients come together to make a great tasting baked tortellini pasta recipe. 
The ingredients were easy to find in my local grocery store, except for the asiago tortelloni Olive Garden uses. It may be a bit difficult to find this kind of tortelloni pasta, so I went ahead and bought tortellini pasta instead.  Tortelloni pasta is bigger than tortellini. So naturally, it can hold a lot more cheese stuffing. Olive Garden uses asiago cheese filled tortelloni, but it's okay to buy a regular cheese tortellini since there's not much of a difference in terms of flavor. Although, if you can find one, then all the better! 
After I bought cheese tortellini, it was time to get cooking. I made my own alfredo sauce using butter, minced garlic, heavy cream, and parmesan cheese with added romano cheese. It was extra creamy and cheesy which was absolutely divine. By this time, the chicken, alfredo sauce, and tortellini pasta were ready. I assembled them on a greased baking dish, sprinkled the shredded mozzarella cheese and panko breadcrumbs on top, and then broiled them for about 3 to 5 minutes to achieve that slightly browned and bubbly topping. 
I enjoyed eating this copycat Olive Garden asiago tortelloni alfredo with grilled chicken with garlic bread on the side. It paired perfectly with the creamy, cheesy, and rich flavor of the asiago tortelloni alfredo pasta.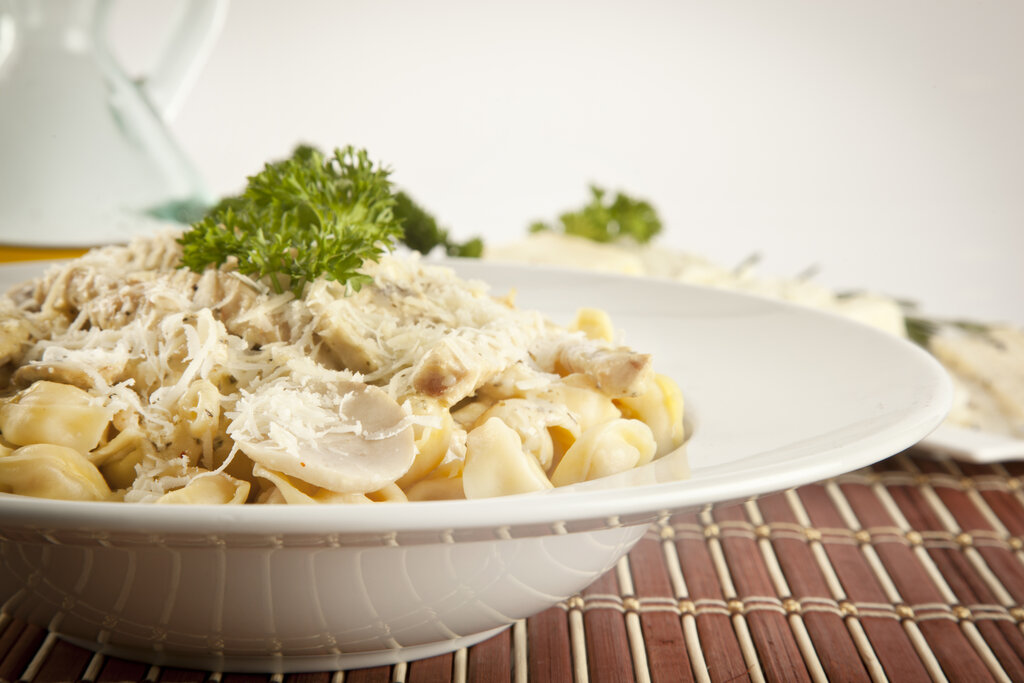 Asiago Tortelloni Alfredo With Grilled Chicken Recipe (Olive Garden Copycat)
How To Make Asiago Tortelloni Alfredo With Grilled Chicken Recipe (Olive Garden Copycat)
Creamy and rich, this asiago tortelloni alfredo with grilled chicken is filled with 3 kinds of cheese topped with chicken and panko breadcrumbs.
Ingredients
2

chicken breasts

2

cups

herb and garlic marinade

8

oz

dried cheese tortellini

6

tbsp

butter

1

tbsp

garlic,

minced

2

tbsp

flour

1½

cups

milk

1½

cups

heavy cream

½

cup

parmesan cheese,

grated

½

cup

romano cheese,

grated

¼

cup

panko breadcrumbs

½

cup

mozzarella cheese,

shredded
Instructions
Preheat oven to 350 degrees F. Pound chicken breasts to an even thickness. Pour the marinade over the chicken. Bake the chicken for 25 minutes.

Prepare tortellini according to package directions.

When the pasta has about 4 to 5 minutes left, saute the butter and garlic in a saucepan on medium heat. Cook for 1 minute, stirring occasionally.

Add the ingredients from the flour to the romano to the saucepan and stir frequently until the sauce begins to simmer. Remove from heat.

In a large bowl, combine drained pasta with most of the Alfredo and toss lightly. Set aside ½ cup of Alfredo to add after baking.

Slice chicken breast and set aside.

Change the oven to Broil-High. Spray a casserole dish with non-stick spray.

Pour pasta and sauce into a casserole dish. Top with sliced chicken, bread crumbs, and mozzarella.

Broil for 3 to 5 minutes or until cheese starts to brown and bubble.

Serve and enjoy!