It's easy to whip up a batch of crispy yet juicy corn dogs for picnics and parties. With this classic Hot Dog on A Stick corn dog recipe, you no longer have to go out to satisfy your cravings.
Who wouldn't love the deep-fried cornmeal batter and savory hot dog of a homemade corn dog? Top it off with a condiment of your choice and a cold glass of juice or soda, and you're all set. Corn dogs are the perfect companion to home movie marathons and house parties. You can even pair it with baked buffalo wings and crispy waffle fries for the ultimate party indulgence. 
The Secret to Hot Dog On A Stick Corn Dog Batter
One of the many faces of American food is a corn dog. No food crawl in the land of the free is complete without a bite of the tender and sweet corn dogs. And just like the brand itself, Hot Dog On A Stick prefers to serve nostalgia on a skewer. Their toasty version reminds you of the fun county fairs and carnivals of your childhood.
That's why we can't blame the fast-food gem for being secretive on what's in their Hot Dog On A Stick batter recipe. Their cornbread clings well to their hot dogs which gives you a balance of savory and luscious flavors. The best part is they serve it fresh from the fryer so you get to enjoy the juicy meat snuggled with the warm coating. 
Aside from the well-loved corn dogs, the Hot Dog On A Stick menu offers a variety of scrumptious snacks. Yes, they sell more than just hot dogs and offer classic carnival dishes perfect for a quick cheap eat. But to save you from the trip and calling for delivery, we'll be showing you how to make succulent and sweet corn dogs anytime at your kitchen.
Tips On How To Make Corn Dogs 
The original Hot Dog On A Stick Corn Dogs put the restaurant on the map. But this recipe goes beyond the savory hot dog. The secret is in the light and crispy cornbread. Similar to the restaurant version, this dish also has its own tricks hidden on its batter. In this recipe, we're adding soda water into our corn dog batter to make it fluffier. This carbonated drink actually helps the batter have a better rise.
If you're looking for a fuss-free corn dog recipe then you now have a match. With these easy steps, you can have a flavorful and filling snack at the comfort of your home. To complete the carnival and fast-food-filled delight make it with a refreshing honey limeade for a perfect summer drink.
To make the most out of your corn dog cooking experience, we've got some useful tips for you in making this copycat recipe:
Use Frankfurter or Kielbasa hot dogs.

 You can also try Hungarian sausages if you want a mildly spicy flavor for your corn dogs. 

Skew your hotdogs with flat corn dog sticks.

They are sturdy and prevent your hot dogs from slipping. 

Chill your batter for a couple of hours

. This is

to prevent it from "melting away" when you coat your hot dogs. It will help cover your meat easily with its thickness and makes it easier to firm up when you fry the corn dogs.
What Sauce And Relish Go With Corn Dogs?
Although the all-American favorite is scrumptious as it is, you can still take it to another level by pairing it with some tasty condiments. Serving it with dips or sauces add another blanket of flavors covering your delicious snacks. And we have a few suggestions you might want to try:
Ketchup-

It's the go-to corn dog dip. The classic ketchup and hot dog combo will remind you of the after school snack you enjoy during your childhood.

Mustard-

No matter what flavor it is, mustard transports your dish to a new realm with its sour and strong flavor. Enjoy your corn dogs with the classic honey mustard dip or make your own by mixing in your preferred seasonings and ingredients for flavors that you'll surely love. 

Relish-

Topping off your tender corn dogs with

pear relish

surprises your taste buds with its fruity flavor and crunchy bite.
If you're looking for a variety of flavors, spicing up your dish with a simple condiment makes it even better. But if you're on the lookout for a more thrilling punch, try making it with some other ingredient variations.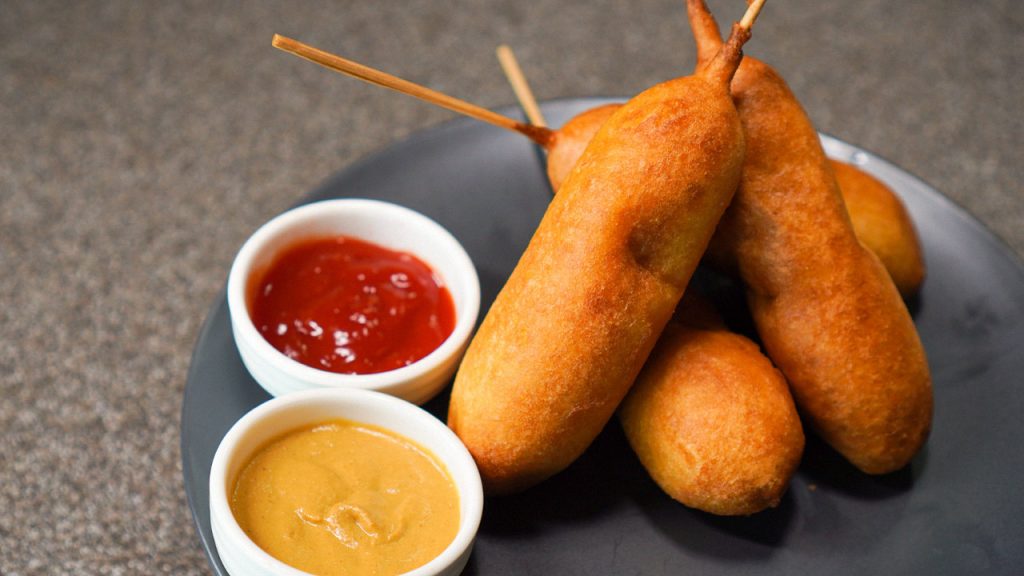 Copycat Hot Dog On A Stick Corn Dogs Recipe
How To Make Copycat Hot Dog On A Stick Corn Dogs
This recipe guarantees a satisfied tummy in every crunch with its light cornbread and juicy hot dog. Make it with this simple and no-fuss version of Hot Dog On A Stick Corn Dogs.
Ingredients
3

cups

pancake mix

1

cup

yellow cornmeal

1

whole egg,

beaten

10

oz

soda water,

cold

4

pcs

hot dogs,

jumbo size

canola oil,

for frying, with extra if needed
For Serving:
tomato ketchup and mustard sauces
Instructions
Combine the flour and cornmeal into your large mixing bowl. Stir to combine.

Gradually add your beaten eggs and water, until it forms a smooth batter.

Transfer the batter to a chilled area, covered, and allow it to rest for at least an hour.

Heat about three inches of canola oil in a deep saucepan to about 375 degrees F.

While your oil is warming to frying temperature, begin skewering your hot dogs with skewer sticks. Insert sticks about ⅔ of the way into each hotdog.

Get a tall glass and pour in your batter. This makes it easier to coat your hot dogs.

Dunk each hot dog into the batter and then carefully drop each into the hot oil. Allow the batter to coat the entire hotdogs and drip any excess batter.

Let them cook for about two to three minutes or until the outside is a deep golden brown color.

Repeat this process for the remaining hot dogs.

Use your tongs to get your hot dogs off the deep saucepan. Make sure to strain out the remaining oils before serving.

Serve warm with ketchup and mustard dipping sauces.
Recipe Notes
This easy-to-make recipe is made in different variants. If you've mastered this recipe to your liking, you can even choose to make your own pancake mix from scratch.
Nutrition
Sugar:

1g

:

Calcium:

219mg

Calories:

383kcal

Carbohydrates:

57g

Cholesterol:

111mg

Fat:

11g

Fiber:

6g

Iron:

3mg

Potassium:

337mg

Protein:

13g

Saturated Fat:

3g

Sodium:

531mg

Vitamin A:

303IU

Vitamin C:

1mg
Nutrition Disclaimer
Commonly Asked Questions
How do you get the batter to stick to the hot dog?
If there is an instance that you're having trouble sticking your batter onto your hot dogs, simply dust a bit of flour all over your hot dogs. This trick allows the batter to stick so long as you give it a good mix. You're then ready to fry it into your crunchy snacker.
How to store leftover corn dogs?
Once cooked, your leftover corn dogs can be stored in your fridge for up to 6 to 7 days. Remember to store them in an airtight container. You can also freeze them for 1 to 2 months but be sure to keep them in a freezer-safe bag.
How do I reheat leftover corn dogs?
To reheat your corn dog, place your corn dog on a baking sheet and reheat them in the oven at 350 degrees F for 10 to 15 minutes or until fully heated through. If they are frozen, reheat them straight out of the freezer for 15 to 18 minutes.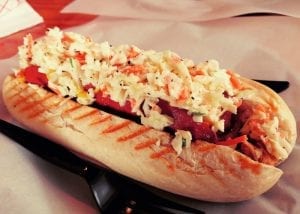 Conclusion
Try this hot dog on a stick recipe today and we assure you it's going to be easy. Whether or not you are an amateur or an expert in cooking, you can make this undoubtedly scrumptious snack. Share it with friends and family and bring a new snack favorite at home!
Topics:
1 Comment
This recipe is perfect, but it makes enough batter for about 30 hot dogs! If you're really only making 8, cut it way down.

Reply