Enjoy Panera Bread's popular seasonal dish with our Copycat Summer Corn Chowder Recipe. A bowl of warm, creamy chowder tastes best when it's cold and rainy. But Panera's take on this dish is perfect for summertime. With fresh corn kernels, a creamy base, and hints of spice, this is a warm meal you'd eat even when it's sunny. This isn't one of Panera's most popular soups for no reason, after all.
Chowders really do hit the spot best when it's rainy and cold. But this dish is so versatile that you can enjoy them all throughout the year, even when it isn't chilly. Chowders, like Panera's, are well-loved for its signature creamy, hearty soup. Perhaps the most popular is the Clam Chowder, but Panera's summer chowder also tastes just as yummy. Since it's a seasonal dish, they only serve this chowder during summertime. That's because in the U.S., corn harvesting season starts in June, which is also the start of their warm, summer days. But that shouldn't stop you from enjoying this delicious chowder at any time of the year. You can simply use store-bought frozen corn kernels, regardless of the season. And since you're using them in warm soup, they'll be cooked through perfectly thanks to the heat. Your chowder will end up tasting just like Panera's! 
With our copycat recipe, you won't have to wait for Panera's seasonal summer corn chowder to come back on their menu. You can make this dish while in the comforts of your own kitchen. It's easy to cook, and you'll only need a few ingredients you can buy almost anywhere. Lastly, no chowder is complete without its side salad. Try our Copycat Panera Bread Asian Sesame Chicken Salad Recipe and you're all set for lunch!
Panera Summer Corn Chowder Copycat Recipe Video
How To Make Panera Summer Corn Chowder Copycat
This delectable, creamy chowder soup with fresh corn kernels and spices is the perfect comfort food for any season. With our Panera Summer Corn Chowder Copycat Recipe, you can enjoy this corn chowder dish whether it's winter, spring, summer, or fall.
Advertisement
Continue Reading Below
Ingredients
5

cups

vegetable stock

3

tbsp

all-purpose flour

1

tbsp

unsalted butter

2

tbsp

olive oil

4

cups

corn kernels

1

medium yellow onion,

roughly 8 oz, diced

1

russet potatoes,

roughly 4 oz, diced

½

cup

red bell pepper,

diced

½

cup

yellow bell pepper,

diced

1

cup

heavy cream

¼

cup

white wine

Salt,

to taste

Ground black pepper,

to taste
For Serving:
2

tomatoes,

roughly 2 oz total, diced
Instructions
Heat oil and butter in a pot over low heat. Add onion and saute until translucent.

Add corn, bell peppers, and potatoes. Saute briefly.

Add flour. Roast briefly.

Deglaze with white wine and reduce briefly.

Add stock and bring to a boil. Once boiling, reduce heat to medium.

Cover pot and let it simmer for at least 15 minutes, or until vegetables soften and raw flour taste is gone.

Transfer soup into a blender and puree until smooth. Stick blender can also be used as substitute.

If needed, strain soup back into the pot to discard any leftover solids.

Return soup back to heat and add cream. Season with salt and pepper to taste. Adjust accordingly.

Evenly distribute soup into bowls, then garnish with diced tomatoes. Serve and enjoy!
Advertisement
Continue Reading Below
Advertisement
Continue Reading Below
Commonly Asked Questions
Is this copycat recipe vegetarian?
Yes! Just like Panera's Summer Corn Chowder, our chowder recipe uses ingredients that are all vegetarian-friendly. Instead of chicken broth, we use vegetable stock for its base. The other ingredients, from corn to peppers, are all plant-based. However, this recipe isn't vegan-friendly since it uses butter and heavy cream which come from cows. Although, you can simply replace these ingredients with vegan-friendly ones.
Is chowder supposed to be thick?
Some chowder recipes are thicker than others because they use flour (which thickens the soup). On the other hand, chowder recipes from New England are still creamy, but definitely not as thick. That's because they don't use flour as a thickening agent. They rely instead on starch from potatoes.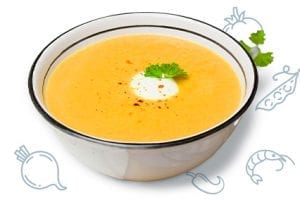 Conclusion
You won't have to wait for summer to come around to get a taste of Panera's popular summer corn chowder. With our copycat recipe, you'll be enjoying this dish whether it's sunny or rainy season. This healthy chowder dish is a warm, hearty meal that definitely brings long-lasting comfort.
Advertisement
Continue Reading Below
Topics:
Advertisement
Continue Reading Below
Advertisement
Continue Reading Below