After tasting that delicious and crispy fish tacos from California Pizza Kitchen, you're probably craving for more. Our copycat mahi mahi tacos recipe brings you the homemade flavors of CPK's mouthwatering taco dish. It's the perfect meal to share with your friends and family. The wonderful taste of seafood combined with the crunchiness of the tortillas make this the best afternoon meal.
Upgrade your usual taco recipe by adding some delicious mahi mahi fish and white rice into the mix. Just like a burrito, it's a meal that goes well with rice, fish, and other wonderful toppings. We also added a Sriracha-Ranch dressing option for a more flavorful experience. Enjoy the savory taste of this fish taco recipe, and feel free to make other fancy mahi mahi dishes on the side like our Mahi Mahi Burgers With Mango Salsa or Mahi Mahi Steaks.  
CPK's Crispy Mahi Mahi Fish Tacos
Experience the taste of California-style tacos in this flavorful and colorful dish that is easy to make, fun to prepare, and delicious to eat. For this taco recipe, you need to have these basic main ingredients: mahi mahi fish, corn tortillas, and rice. These three ingredients make up the unique taste of this taco dish. 
Mahi Mahi Fish: What Is It?
The mahi mahi or dolphin fish, is the preferred fish for this taco recipe since, unlike other fishes, doesn't have that extreme "fishy" taste that may overpower the whole dish. A mahi mahi fish has a firm and lean appearance with a mild and subtle sweet taste. It's the perfect seafood choice for our taco. You can find the mahi mahi fish at your local fresh or frozen section. It's usually sold in fillets making it easier and convenient to cook them. Our recipe also requires a skinless mahi mahi fish so you can fully enjoy its tender fish meat. 
If you're looking for another kind of fresh fish alternative, you may substitute tilapia or cod. Cut them into thin fillets so that they fit our corn tortillas. Once you have your mahi mahi fish ready, coat them in breadcrumbs and fry in oil. We're aiming for that delicious crunchiness that is the perfect addition to this taco recipe.
Corn Tortillas vs Flour Tortillas
Just like our fried mahi mahi fish, we want our tortillas to have that extra crunch which a corn tortilla can offer. The warm and slightly toasted corn tortilla appearance makes this a scrumptious dish to munch on. A corn tortilla is also the healthier choice since it's made from fibers and whole grains which has lesser calories. In general, corn tortillas are the preferred choice for crispy taco recipes like our Taco Bell Doritos Locos Tacos Copycat Recipe and Chicken Tacos with Fresh Corn Salsa. 
Meanwhile, flour tortillas are entirely made from flour mixed with water and other seasonings, and then rolled into thin circular doughs. It's a tortilla best suited for burritos, quesadillas, and soft tacos. You can use flour tortillas as a substitute for your fish taco, but remember that you might miss out on some of the delicious crispiness. 
What Kind of Rice To Buy
We used a plain, non-sticky, long-grained, white rice for this recipe. This recipe requires a rice ingredient that has a mildly sweet to neutral flavoring. White rice is starchier which gives it that soft and delicate texture making it delicious and chewy to eat. The plain white rice blends well with the crunchiness of the mahi mahi fish, and corn tortilla making it a tasty food combination. 
When cooking the rice, make sure to follow the instructions at the back of the packaging as rice varieties require different proper handling. Cleaning the rice beforehand also helps remove some of the dirt and starchy texture which prevents the white rice from being extra sticky. 

Tip: To clean it, soak your rice in deep water. With clean hands, stir the rice grains and remove the starchy residue. Do this for at least 1 minute.
On the other hand, brown rice is the healthier alternative since it's higher in fiber and other nutrients. However, using brown rice can affect the overall taste of the dish. If you're planning to use brown rice, then prepare for a bit of a nutty flavoring, and firmer texture. Cooking brown rice is also slightly different from white rice since it requires a change in the rice to water ratio. 
The Best Toppings for Mahi Mahi Tacos
Adding flavorful toppings to your tacos is the next exciting step. There are a variety of possible toppings for this taco recipe. Our recipe contains leafy vegetables which are shredded green cabbage and reddish-purple radicchio, then sprinkled on top of these are the finely chopped green onions. We also included masago, or capelin roe, for additional garnishing and crunchy taste. 
For the sauces or dressing, we combined sriracha hot sauce with ranch dressing and added some salt and pepper. It's a simple dressing that adds another layer of flavoring for your fish taco. You can adjust the amount of sriracha sauce if you want it a bit spicy to your dressing. Serve this dressing with lime wedges, and enjoy the delectable mahi mahi taco recipe. 
You can also expand on the recipe by adding or substituting other herbs, vegetables, and sauces. Try including avocados, cilantro, or jalapeños for some extra spiciness. Include other dressings like sour cream, guacamole, a simple homemade marinara sauce, or some Black Bean and Corn Salsa. It's a fish taco recipe that you can always experiment on for a more delicious munching experience. 
How To Make Mahi Mahi Tacos (California Pizza Kitchen Copycat)
Make this delicious mahi mahi taco recipe that will surely improve your mood and satisfy your appetite!
Ingredients
2

lbs

mahi mahi,

skinned, boned, & cleaned, cut in 1-inch strips

2

cup

all-purpose flour

3

eggs,

lightly beaten

4

tbsp

water

2

cup

panko breadcrumbs

kosher salt

freshly ground black pepper

vegetable Oil,

for frying

1

cup

white rice,

plain, non-sticky, long-grained

10

small corn tortillas,

warmed

¼

head cabbage,

finely shredded

¼

head radicchio,

finely shredded

3

green onions,

finely chopped

masago,

for garnish
For Dressing:
1

cup

ranch dressing

8

tbsp

sriracha hot sauce,

or more to taste

kosher salt

freshly ground black pepper
Instructions
Cut mahi mahi into 1-inch strips after cleaning.

For the breading, prepare all purpose-flour, lightly beaten eggs with 4 tablespoons of water, and breadcrumbs, separately in each bowl.

Season the fish cutlets with salt and pepper.

Dredge the fish in the flour, then the egg mixture, and lastly in the breadcrumbs.

After breading the fish pieces, heat about 2 inches of oil in a Dutch oven.

Wait until the temperature reaches 375 degrees F before frying.

Once the oil is hot, fry the fish in batches until it's light golden brown in color.

Remove from the oil and let it drain on paper towels.

Proceed to prepare your rice according to package directions.

To make the dressing, combine the ranch and sriracha hot sauce in a small bowl. Add about a tablespoon of sriracha at a time.

Then, season with salt and pepper. Place in the refrigerator until ready to use.

To assemble, start with laying the tacos on a flat surface.

Pour a small scoop of cooked white rice, followed by strips of fried mahi mahi.

Place the cabbage, radicchio, and green onion on top.

Serve with lime wedges, and your sriracha-ranch sauce.
Nutrition
Calcium:

48mg

Calories:

343kcal

Carbohydrates:

45g

Cholesterol:

57mg

Fat:

15g

Fiber:

2g

Iron:

2mg

Potassium:

130mg

Protein:

8g

Saturated Fat:

3g

Sodium:

646mg

Sugar:

2g

Vitamin A:

133IU

Vitamin C:

9mg
Nutrition Disclaimer
Commonly Asked Questions
How do you reheat mahi mahi fish?
It's best to reheat fish inside the oven at a low temperature since fish can easily be overcooked. Preheat the oven between 275 degrees F to 350 degrees F. Place your fish on an oven-safe pan or plate. Loosely cover the fish with an oven-safe aluminum foil so that the mahi mahi fish can regain its crispiness. At the same time, this prevents it from losing moisture.
How to reheat corn tortillas without breaking them?
Preheat the oven to 350 degrees F. For a faster and effective reheating, stack your corn tortillas into a pile of 3 or 5 depending on how much you use. Then, wrap each pile with tin foil. Place these on a baking sheet and insert inside the oven. Allow to bake for 15 minutes and enjoy again!
How to store leftover cooked rice?
It's important to refrigerate your leftover rice immediately. Transfer the rice inside an airtight container then place inside the refrigerator. It can stay inside the fridge for up to 2 days. When it's time to consume it again, reheat by adding a teaspoon of water to regain its moisture and chewy texture. Reheat using a microwave on medium heat while stirring every 30 seconds.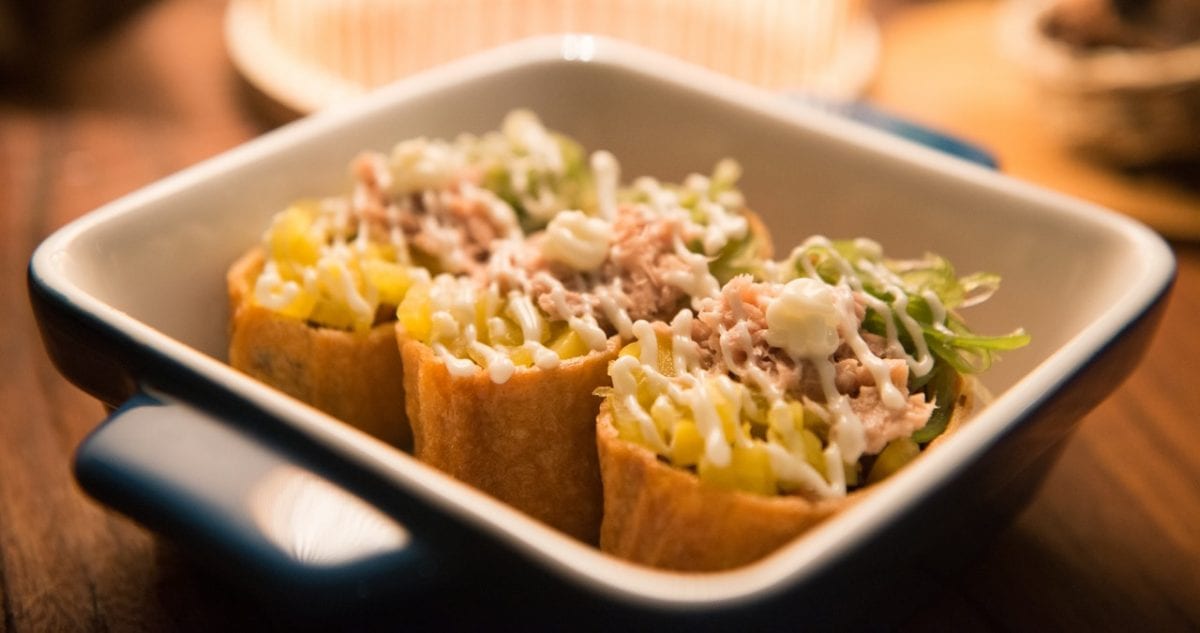 Conclusion
Add this mahi mahi taco recipe in your meal plans for a more exciting afternoon lunch time. It's a simple recipe that promises a delectable California-style taco recipe. This fish taco recipe is oozing with delicious toppings and sauce which goes well with the mahi mahi and rice. Give it a try today!
Topics: