Start your day right with a hearty dish that will keep you energized the whole day! Our breakfast souffle recipe is a filling dish that you can share with family and friends. You can never go wrong with a breakfast souffle of sausage links, eggs, and creamy cottage cheese that you can find in any country restaurant. Bake these warm in the morning or add them to your breakfast meal prep!
What Is A Souffle?
Souffles have two components: a base flavor and egg whites. The egg white is the key ingredient that allows souffles to rise. They give off the fluffiest texture like biting into a cloud, making them a popular dessert to serve. They are also often baked and served in ramekins.
But these days, people are starting to enjoy souffles without using a ramekin. Take souffle pancakes for instance, being one that has broken the mold and became a popular dish since its rise in Japan. Let's also not forget about the just-as-fluffy souffle dessert to go with the hype that is the Cloud Bread.
While souffles are well-known for being sweet, a savory souffle recipe like ours is not far off. Just take a look at our Panera breakfast Egg Soufflé Copycat Recipe to give you a glimpse of yet another savory version of this dish. Whichever way you wish to serve it, people are still going to love its fluffy interior that you simply can't get from any other dish.
Now that you know the basics of souffle, we'll be showing you how to make breakfast souffle in less than an hour.
A Hearty Breakfast Souffle Recipe
Souffles can be intimidating to make, but we've devised this egg and sausage souffle to be easy and delicious!
Our souffle recipe does not call for just egg whites. Instead, we'll be recreating that perfect souffle rise using the whole egg. Whisking the eggs for five minutes on high using an electric mixer does the trick of it. This quick method will yield a foamy, thick mixture and increase the volume of the eggs, imitating a souffle rise. Now that's what we call hassle-free and easy to whip up!
Souffles are usually baked in individual ramekins which you can also do in this recipe. Learn how to do it and get more tips in making this recipe by checking out the Recipe Notes just after the instructions! However, if you're serving a crowd we suggest making a breakfast souffle casserole. Using a baking dish helps to evenly cook your breakfast souffle. Baking them uncovered also allows the dish to rise properly and gives you that cloud-like texture you're looking for.
You don't need to cook eggs and sausages separately now with this souffle recipe! Just like how they do it in a Southern cafe, toss everything in a baking dish, and you've got yourself the perfect sausage souffle breakfast. Read on as we show you how to make a souffle at home for your family and serve it up with a hot cup of coffee to complete.
We also have a bunch of tasty souffle recipes that you can try. If you're looking for a similarly hearty souffle dish, try our Copycat Farmers Market Restaurant Carrot Souffle. For a sweeter alternative, our Sweet Potato Souffle will do the trick!
How To Make Alabama Breakfast Souffle
Make a breakfast dish in one casserole with this souffle recipe! Enjoy a simple dish of perfectly fluffy eggs, juicy sausages, and creamy cottage cheese to jump-start your day.
Ingredients
16

sausage links

12

eggs

2

tbsp

dried onions,

or 1 cup of sweet onions, diced

2

tsp

dried parsley

½

tsp

salt

¼

tsp

pepper

1

dash

mace,

optional

2

cups

cottage cheese,

large curd

½

cup

milk
Instructions
Preheat the oven to 325 degrees F.

Cook the sausage links. Once browned and cooked, set them aside.

Beat the eggs with an electric mixer on high speed for 5 minutes until a foamy mixture is formed.

Add the onions, parsley, salt, pepper, and mace into the egg mixture. Then stir in the cottage cheese before pouring in the milk.

Place the sausage links in a 13x9x2-inch glass baking dish then pour the egg mixture evenly over the sausages.

Place the casserole, uncovered, in your preheated oven.

Bake for 20 to 25 minutes or until a knife inserted in the center comes out clean.

Serve warm, and enjoy!
Recipe Notes
If you don't have any mace on hand, you can simply replace it with some nutmeg powder. This will add a nutty taste to your dish for extra flavor!
Try sprinkling grated cheese on top before the souffle finishes baking for a cheesy topping.
To bake your egg souffle in a ramekin, cut up the sausage links into bite-sized pieces and mix them with the egg mixture instead of layering them. Make sure to also grease your ramekins so that your breakfast souffle can be easily removed. 
Nutrition
Sugar:

2g

:

Calcium:

73mg

Calories:

191kcal

Carbohydrates:

3g

Cholesterol:

190mg

Fat:

13g

Fiber:

1g

Iron:

1mg

Potassium:

193mg

Protein:

14g

Saturated Fat:

5g

Sodium:

471mg

Vitamin A:

327IU

Vitamin C:

1mg
Nutrition Disclaimer
Frequently Asked Questions
What can I use in place of sausage links?
Our souffle recipe calls for any kind of sausage links that you may like. Some alternative recommendations are Kielbasa, Andouille, Bratwurst, and Italian Sausage. But if you don't have any sausages on hand, feel free to opt for some hot dogs. You may also change things up by using bacon or ham.
Can I remove the cottage cheese from this souffle recipe?
The cottage cheese for our recipe adds a creamier texture and saltier taste to your breakfast souffle. But if you have none on hand, feel free to replace it with some cream cheese and ricotta. To further maintain creaminess, try substitutes like fromage blanc or greek yogurt.
How do I make this souffle recipe vegan?
You can replace the sausages with vegan-friendly sausages, whole tofu, or tempeh. To replace the milk, try using soya, cashew, or rice milk. Lastly, feel free to simply remove the cottage cheese or use your desired vegan cheese, grated, for the same cheesy flavor.
How do I reheat my breakfast souffle?
If you're making this recipe ahead, feel free to store in the fridge covered in foil or plastic wrap. To reheat your souffle, remove the covering and place it on a baking dish to heat in the oven. Let it reheat for 20 minutes at 325 degrees F for a perfectly warm egg and sausage souffle. However, we still recommend serving them fresh from the oven as souffles tend to fall even if they're perfectly cooked.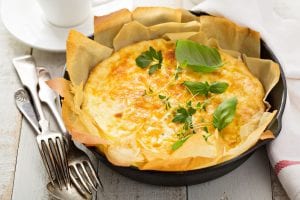 Conclusion
Change up the game on souffles by recreating our breakfast souffle recipe at home! It's delightfully savory, packed with rich flavors, and is guaranteed to please any crowd you're planning to serve. Make this baked egg souffle dish for breakfast and enjoy slices of savory fluffy egg souffle for a great meal to start your day right.
Topics: