Muffins are perfect for breakfast. It's light to the tummy with enough sweetness to make it a delectable treat. Read on as we show you how to make an absolutely delicious treat with this grape muffin recipe. You might be familiar with different types of muffins. However, it is rare for bakers to sell grape muffins. People commonly use grapes as juices, dried treats (raisins), or eat it as it is. Discover how to switch up your usual sweet treat with this grape muffin recipe!
For this muffin recipe, we recommend using red grapes because it is sweeter. However, feel free to use green grapes if you want a little sourness in your muffin. To find out more about the difference in red and green grapes, read on our CAQ section down below. In addition, we're also using margarine instead of butter in this muffin recipe, to ensure that the muffins will be soft and moist.
Grape muffins are great for breakfast or even as a snack. Try making these muffins in the comfort of your home and pair it with a cup of great coffee. Enjoy grape muffins with a cup of Dreamy Cinnamon Hazelnut Coffee to jumpstart your day.
How To Make Grape Muffins
Have a flavorful breakfast with this grape muffin recipe! It might be a bit unheard of but grapes go perfectly with delicious and fluffy muffins.
Advertisement
Continue Reading Below
Ingredients
2 ½

cups

flour

1

cup

sugar

2 ½

tsp

baking powder

1

cup

milk

1

tsp

vanilla

2

eggs,

well beaten

½

cup

margarine,

melted

1 ½

cups

red seedless grapes,

cut into pieces
Instructions
Preheat the oven to 375 degrees F and line 12 muffins tins with paper cups.

Combine the flour, sugar, and baking powder into a bowl then make a well in the center.

Add the milk, eggs, butter and vanilla.

Stir until the ingredients are combined. Lightly fold in the grapes.

Bake it for 25 to 35 minutes, until a toothpick comes out with just a few moist crumbs on it.

Let cool and serve!
Advertisement
Continue Reading Below
Advertisement
Continue Reading Below
Commonly Asked Questions
My muffins are dry. What should I do?
There are a handful of reasons why muffins turn out dry. The most common reasons are overbaking and overworking the batter. In cases of overbaking, you can check first the level of dryness. If the muffins are dry on the inside, use a technique called the wet glaze. All you have to do is soak some icing sugar in milk. Then, using a toothpick, prick some holes into the muffin and start brushing it with the wet glaze. On the other hand, in cases of overworked muffin batter, all you have to do adjust the dough. For instance, adding more flour will be the immediate solution to a sticky batter.

Are there any differences between green grapes and red grapes?
There are quite a lot of differences between the two types of grapes. Perhaps, the most obvious is the taste. Green grapes are much sourer than the red ones. In terms of antioxidants, red grapes are superior. Due to the lack of anthocyanin, the pigment that produces red and purple hues in plants, the production of antioxidants in green grapes is limited.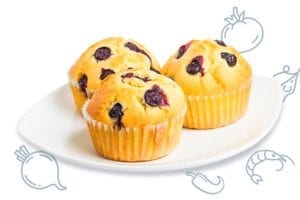 Conclusion
With this recipe, you can now make grape muffins either for breakfast, as a snack, and even for dessert. Serve this warm or a little bit cold and it will delicious either way! Grape muffins are a nice addition to your baking arsenal. Plus, it will be definitely easy to make since grapes rarely go out of season.
Advertisement
Continue Reading Below
Topics:
Advertisement
Continue Reading Below
Advertisement
Continue Reading Below