No-Bake Chocolate Cheesecake Recipe
Recipes.net Team
Published
July 1, 2020
If you're in the mood for something sweet or need to whip up a quick item to bring to a potluck, this no-bake chocolate cheesecake is just what you're looking for. As the name suggests, there is no baking involved making it easy-peasy. But most importantly, what we especially love about no-bake recipes is the significant decrease in clean-up required after! 
This recipe calls from crushed Oreo cookies as the base of your chocolate cheesecake. However, if you're not a fan we will provide some alternatives at the end of this recipe!
Be prepared to blow your guests away with the recipe that has all the bells and whistles of slaving away in the kitchen when in reality, you will need no more than an hour. 
No-Bake Chocolate Cheesecake Recipe Video
How to Make No-Bake Chocolate Cheesecake
Rich and decadent, and yet remains incredibly light. Give our quick and easy no-bake chocolate cheesecake recipe a try.
Preparation Time:
30

mins
Total Time:
5

hrs
30

mins
Ingredients
24

Crushed Oreos

3

tbsp

Butter,

melted

20

oz

Cream Cheese,

softened

1/2

cup

Confectioner's Sugar

4

oz

Unsweetened Baking Chocolate

1

tbsp

Vanilla Extract

8

oz

Whipped Topping
Instructions
Start removing the frosting from your Oreos. Place Oreo cookies into a ziplock bag and crush.

Pour crushed Oreos into a mixing bowl and add melted butter.

Stir to ensure that the butter is evenly distributed throughout the crushed Oreos.

Line the base of your cake tin with parchment paper. This step is not essential but it makes things easier when you want to remove and serve the cake.

Spread and flatten the Oreo mix to create the base of your cheesecake. You can use a spatula or the base of a glass - or even your hands if you prefer. Let set in the fridge while you move on to the next steps.

In a mixing bowl combine the softened cream cheese and confectioner's sugar.

Whisk until stiff peaks form. You can use a handheld mixer for this step!

Use a double-boiler to melt the unsweetened baking chocolate.

Add vanilla extract to melted chocolate. Stir well.

Add the melted chocolate, a little at a time, to the cream cheese mixture. Fold chocolate in so as not to over mix.

Next, fold the whipped topping into the mixture. Once again, be careful not to over mix.

Pour the mixture into your cake tin. Spread and ensure you get some of the mixture in all the corners and edges of your tin.

Pop into the fridge for 4 - 5 hours or overnight and allow to set.

Top with whipped cream, more chocolate and even fresh fruit before serving!
Recipe Notes
You can choose to lay your ingredients out for convenience, as we have done in the video. However, we find that this leaves you with more dirty dishes than necessary.
Additionally, since this recipe requires no heat, you don't have to worry about something burning over the stove. So we suggest you take your time and minimize the number of plates and bowls you use!
Nutrition
Calories:

3kcal

Carbohydrates:

5g

Fat:

55g

Protein:

23g

Saturated Fat:

22g
Commonly Asked Questions
What can I substitute Oreos with?
If you're not a fan or don't want to be left with a bowl of Oreo frosting (although we don't see the problem), you can swap them out for any cookie of your choice. We find that chocolate chip cookies are a great alternative for Oreos. You might also want to mix it up with melted chocolate and chocolate chips if you're going for a chocolate chip cookie base! This will leave you with a no-bake chocolate chip cheesecake.
Can I make this no-bake chocolate cheesecake vegan and dairy-free?
Absolutely! It would call for a lot of substitutes, though. But it would still be an easy recipe to follow! It just depends on the availability of the ingredients in your area. Firstly, you can use margarine as a direct substitute; adding a very small pinch of salt to margarine would get you closer to the flavour of butter. Secondly, this recipe relies heavily on cream cheese to hold its shape. For an alternative, 20 ounces of drained silken tofu can be used. And lastly, to compensate to the loss of flavor from the omission of cream cheese, replace 4 ounces of baking chocolate with approximately 13 ounces of melted dark chocolate along with a half cup of maple syrup.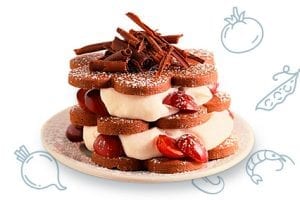 Conclusion
Everybody loves a no-bake recipe! They're so easy to make and taste just as good as their baked counterparts. You can make this the night before a party and let it set in the fridge. In addition, you can involve your kids in the process, which is a good way to keep them occupied on a Saturday afternoon. Say goodbye to rushing and washing up as you're trying to get a million other things ready.