A creamy and luscious chocolate cheesecake is hard to resist. Baking a cheesecake, however, can be tricky, especially if you're not an experienced baker. If you're craving for a rich and decadent chocolate cheesecake, no need to worry about the troubles in making baked cheesecake. With this recipe, we'll teach you how to make an easy no bake chocolate cheesecake.
What Is No-Bake Cheesecake?
Traditionally, cheesecakes are made by baking. But no bake cheesecakes have become popular over the years for good reasons. They are a lot easier to make and taste as good as the baked ones. Plus, you don't have to worry about over or underbaking them.
A no-bake cheesecake is similar to baked cheesecakes as they both have a graham crust and cream cheese filling. They both use almost the same cheesecake ingredients, except that no bake cheesecake filling doesn't use eggs. Instead, it  uses whipped cream.
Another difference between the two types of cheesecakes is the texture. The whipping of the cream gives no-bake cheesecakes light and airy texture. Baked cheesecakes, meanwhile, have a dense and velvety texture.
Another difference between the two types of cheesecakes is the texture. The whipping of the cream gives no-bake cheesecakes light and airy texture. Baked cheesecakes, meanwhile, have a dense and velvety texture.
Since you don't need to bake it, you need to chill it in the fridge for a few hours for the filling to set. The chilling process may take a long time compared to baking, but the result will be worth the wait.
Choosing The Chocolate for The Cheesecake
The secret to a delicious chocolate cheesecake is using the right chocolate. In baking, you have multiple choices when it comes to chocolates. You can make a no bake chocolate cheesecake using a cocoa powder or go for Nutella like our No Bake Nutella Cheesecake. But using melted chocolate makes a huge difference.
Chocolate chips are ideal for melting chocolate as they are easier and quicker to melt. However, they can be oily because of their coating. If you want a smoother texture, chocolate bars are a good alternative. Make sure to choose high-quality chocolates though, like Guittard or Ghirardelli, for best results.
No-Bake Chocolate Cheesecake Recipe Video
How To Make No-Bake Chocolate Cheesecake
This decadent, no-bake chocolate cheesecake is easy to make and rich in chocolate flavor. It has an Oreo crust and chocolate filling that are temptingly divine.
Ingredients
For Crust:
24

Oreos,

Crushed

3

tbsp

Butter,

melted
For Filling
20

oz

Cream Cheese,

softened

½

cup

Confectioner's Sugar

4

oz

Unsweetened Baking Chocolate

1

tbsp

Vanilla Extract

8

oz

Whipped Topping
Instructions
Crust:
In a bowl, mix the crushed oreos and melted butter together.

Transfer the mixture into the pan, spread flatten to create base. Set aside to chill.
Filling:
Mix cream cheese and confectioners sugar until well-incorporated.

In a large bowl, place the chocolates and melt them over boiling water. Once melted, add the vanilla extract.

Fold the melted chocolate into the cream cheese mixture.

Fold in the whipped topping and mix until well-incorporated.

Put the filling into the pan with the crust.

Place the chocolate cheesecake in your fridge. Keep chilled for 3 4 hours to overnight, until firm.

Top with whipped cream, chocolate shavings, and drizzle chocolate sauce before serving!
Recipe Notes
When melting the chocolate, make sure it will not have contact with water to avoid seizing. If this happens, you may have to start with a new batch of chocolate. 
Nutrition
Calcium:

76mg

Calories:

412kcal

Carbohydrates:

31g

Cholesterol:

52mg

Fat:

31g

Fiber:

2g

Iron:

4mg

Potassium:

214mg

Protein:

6g

Saturated Fat:

16g

Sodium:

311mg

Sugar:

21g

Vitamin A:

774IU
Nutrition Disclaimer
Commonly Asked Questions
Can I use a different crust?
Yes. You can use chocolate crushed graham crackers if you want an even richer chocolatey taste. But feel free to experiment with your favorite biscuits. A store-bought premade chocolate pie crust may work well, too. But a homemade version is always a better option.

How can I store a no bake chocolate cheesecake?
If you have leftovers, it's best to store them in your fridge. Place them in an airtight container to prevent them from drying out. If you don't have a container, simply cover them with plastic wrap or foil.

Can I freeze a no bake cheesecake?
Yes! You can freeze no-bake cheesecakes and eat it later. It's important to chill it in the refrigerator first until the filling is set before placing it in the freezer. Place a plastic wrap directly on the surface of the cheesecake. This will help prevent any condensation from forming. Put it in an airtight container or add more plastic wrap until it's properly sealed. When you're ready to eat your cheesecake, thaw it in your fridge overnight.

Why is my cheesecake not setting?
There are several factors that may have caused this problem. One of them is that your cheesecake didn't have enough time in the fridge. Your cheesecake should spend at least 4 hours in the fridge to set, but it's best to leave it there overnight. Another reason the filling is not set is because you have over mixed it. You might have knocked out all the air in the mixture, making the filling too soft.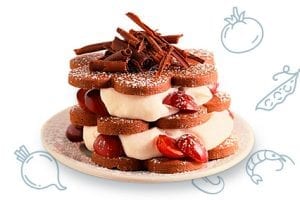 Conclusion
No-bake cheesecake is always a home baker's favorite because of the zero-hassle. This easy no-bake chocolate cheesecake is rich in luscious chocolate flavor, from the Oreo crust to the chocolate filling.
It's a creamy and decadent treat that you and your guests will surely enjoy on any occasion. Make yourself a delicious chocolate cheesecake and get your sweet fix less the mess and hassle today!
Topics: