One of the most popular ways to eat our favorite breakfast potatoes is to turn them into crispy and crunchy hash browns every morning. Everyone loves the good smell of perfectly cooked hash browns. These are very simple, and have easy-to-find ingredients, too. All you need to do is to follow this hash browns recipe to get that exact look and taste that you're looking for!
Hash brown is also a perfect pair with other fried and toasted breakfast dishes such as Chicken Omelette and Avocado Toast with Cauliflower Mash, try these breakfast meals and we promise, it will fill you up good! We'll teach you how to make hash browns with a classic taste and an added crispy crunchy touch that will complete your first meal of the day.
Tips In Cooking Hash Browns
We all think of McDonalds hash brown when it comes to crispy hash browns, but with this homemade recipe, you may now create a breakfast of your own!
Aside from being crunchy, we want to achieve that finely grated, well-seasoned, and golden-brown result. In order to get that, here are some tips you might want to remember in making shredded hash browns.
First, wash the potatoes properly. Drench them down in the water for it to release those extra starch. Afterward, you have to dry them out properly as well. You can also parboil your potatoes for 10 minutes before actually cooking your boiled potatoes for another 20 to 30 minutes.
Second, remember that seasoning can do magic, so put as many salt and pepper as you need. You can use kosher salt or garlic powder, too. You'll be surprised by how seasoning takes your potatoes to a whole other level. Lastly, when it comes to frying, we have to let it cook on its own without flipping it every second. Wait for 2 to 3 minutes or until it gives crispy edges and a golden brown look.
If you want to know how to make delicious crunchy air fryer hash browns, make sure to check our CAQ section below to find out!
What To Serve With Hash Browns
This homemade hash browns recipe can be easily incorporated into your daily morning meals such as breakfast sausages and perfect sunny side up eggs, with these amazing potatoes, you'll have the ideal breakfast you've been wanting!
You can also serve your freshly cooked hash browns with fluffy yet crispy Belgian waffles or whole wheat pancakes. Have some nice warm milk or coffee for your drink? What a delight!
Other Ways To Cook Hash Browns
Potatoes, a natural superfood, can be cooked in so many ways. Hash brown is just one of them but you can totally make so many dishes out of it. Have you tried making a Hash Brown Potato Casserole, turn it into a Cheesy Hashbrown Casserole, too by simply adding cheese and sour cream to your raw ingredients! How about our Cheesy Potatoes freshly baked from an oven casserole of cheese and tender potatoes.
You would also enjoy sweet potato hash browns in this delicious breakfast casserole with a great number of veggies and cheese. If you haven't heard of Zucchini Hash Brown, then maybe you'd like to give it a try! You can also try making baked hash browns with our copycat Cracker Barrel Hashbrown Casserole Recipe.
Then again, you could never run out of choices on how to cook your potatoes, if you don't want a shredded version like hash browns, you can always choose if you'd want a Classic Mashed Potatoes or Cheesy Crockpot Mashed Potatoes, both are so creamy and cheesy you could also pair it with bread and rice meals for breakfast!
Our Easy Oven Roasted Potatoes, Garlic Mashed Potatoes, and Scalloped Potatoes are all so easy to do in your kitchen as well! Go for these recipes and level up your potato cooking experience!
How To Make Crispy Crunchy Hash Browns
Turn your favorite potatoes into crispy and crunchy hash browns and incorporate them into your morning meals! So simple yet satisfyingly good!
Ingredients
2

russet potatoes,

peeled

3

tbsp

butter,

clarified

salt and ground pepper,

for seasoning
Instructions
Shred the potatoes in a large bowl filled with cold water.

Stir until the water is cloudy. If so, drain and submerge the potatoes again under new cold water. Then stir again to dissolve starch.

Drain the potatoes and pat dry them with paper towels to squeeze out the excess moisture.

Heat the clarified butter in a large non-stick pan over medium heat.

Put the shredded potatoes into the heated butter and season them with salt and black pepper.

Cook and stir the potatoes for 5 minutes until a brown crust forms. Continue to cook and stir until the potatoes are browned all over. Once they're cooked, you are now ready to serve.
Nutrition
Calories:

13kcal

Cholesterol:

4mg

Fat:

1g

Protein:

1g

Saturated Fat:

1g

Sodium:

1mg
Nutrition Disclaimer
Commonly Asked Questions
How do I air fry hash browns?

Preheat your air fryer at 360 degrees F. Grease your air fryer basket with oil and place the hash browns into the basket. Cook for 15 minutes, flipping halfway through until golden brown on both sides. Serve and enjoy your crispy crunchy air fryer hash browns!

How do I make hash brown patties?
Simply add one egg to this recipe to make your patties. Beat the egg and mix it with all other ingredients for it to hold all together. Take a scoop for you to fry, and wait until it's brown before you flip to the other side.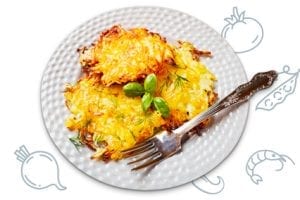 Conclusion
Hash browns have simple ingredients yet it completes your daily breakfast meal. You can easily achieve that crispy texture in a matter of minutes and serve it with your favorite egg and bacon plate!
Related Hash Brown Recipes