Splurge on yourself with a movie night at home and a healthy serving of this slowly caramelized popcorn!
While it's so easy to just pop some in the microwave and sprinkle it with heaps of whatever powder comes with the package, it's better to make something more healthy and delicious at home. Hardly any preparation is needed for this recipe. And with a few simple ingredients, you got a yourself a deliciously sweet caramel popcorn!
We all know that packaged popcorn is full of saturated fats, and an awful dose of sodium. This is why you see a lot of health claims that link eating popcorn to risks of heart diseases and other health complications. Such claims refer to consuming popcorn in regularly large amounts. And because of the compound diacetyl found in the flavorings, popcorn is mistaken as unhealthy.
Contrary to these claims, popcorn in itself is high in fiber and low in calories. And it is considered a healthy snack if without the artificial flavoring, consumed in the right portion sizes, and seasoned with healthy flavoring alternatives. With our help, you can make a healthy version of this popcorn in no time!
To start, we want to make sure you have the right choice of oil when cooking the popcorn. Grapeseed oil is a high-smoke point oil which means it is great for high heat applications. Because it has a neutral flavor compared to other oils like olive oil with a pungent smell. It will let us add taste to the recipe without worrying if it will blend with the oils. However, if you don't have this in the pantry or if grapeseed oil is expensive in your country, substitute it with either canola or vegetable oil. Season the popcorn and set it aside.
To prepare the flavoring, you only need a couple of simple ingredients: butter, brown sugar, vanilla, and baking soda. You want to find the sweet cream kind of butter which is either salted butter or butter made from sweet cream. Melt butter, add the brown sugar and bring to a boil. During this step, make sure to stir the mixture so it won't stick in the pan.
The reason we're adding baking soda in the caramel mixture is so that it creates tiny air bubbles creating a softer popcorn texture. For the salt, use kosher salt if you have one available. Kosher salt brings out the flavors and will have a more intense salty taste than iodized or sea salt. Though if you're controlling your sodium intake, just add a pinch to season the recipe, then add as you may need later. Once you coat the popcorn with the mixture, let it cool in a cookie sheet for a couple of minutes before serving.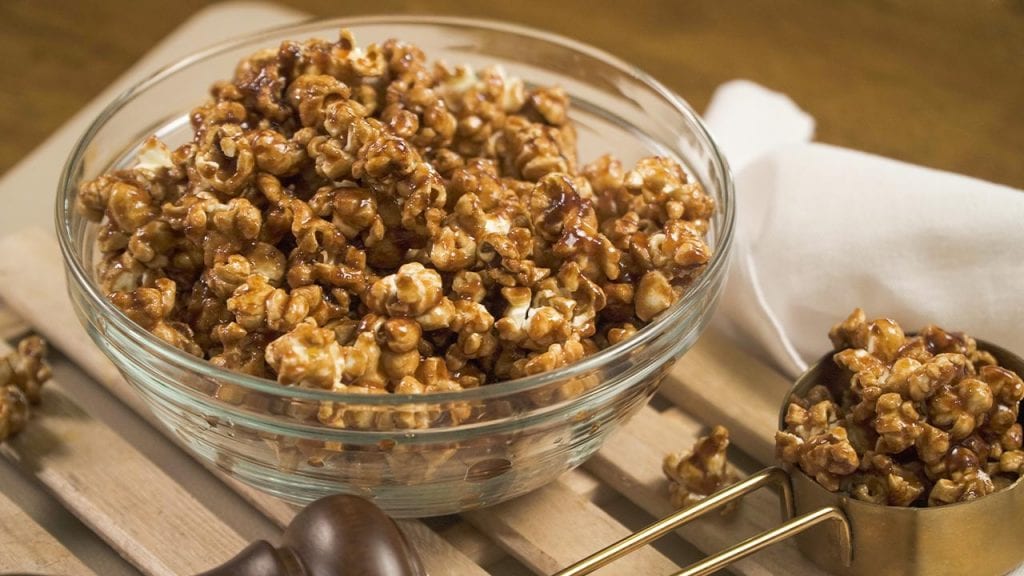 Homemade Caramel Popcorn Recipe
How To Make Homemade Caramel Popcorn
Ingredients
5

cups

popcorn,

popped

salt,

to taste

½

cup

unsalted butter

½

cup

muscovado sugar

2

tsp

vanilla extract

½

tsp

baking soda
Instructions
Season the popcorn with salt and adjust the seasoning as necessary. Set aside.

Place the butter in a medium saucepan and melt it over medium heat.

Add the sugar into the saucepan and stir until thoroughly mixed. Keep stirring and bring the mixture to a simmer.

Let the mixture cook for roughly 5 minutes without stirring. Add the vanilla at the 4-minute mark and stir.

Continue to simmer the mixture for 1 minute and then add the baking soda.

Pour the caramel mixture over the popcorn. Use a spatula to gently fold the popcorn with the mixture until all are covered.

Transfer to a baking sheet lined with parchment paper. Cover with aluminum foil and let the popcorn cool. Serve and enjoy!
Recipe Notes
To store the popcorn for later, put it in a seal-tight container and place it in the freezer. You want to keep the moisture out and store it in a cool dry place. Storing homemade popcorn this way will help it last long for a week or more.
Nutrition
Sugar:

27g

:

Calcium:

31mg

Calories:

367kcal

Carbohydrates:

38g

Cholesterol:

61mg

Fat:

24g

Fiber:

2g

Iron:

1mg

Potassium:

92mg

Protein:

2g

Saturated Fat:

15g

Sodium:

169mg

Trans Fat:

1g

Vitamin A:

736IU
Nutrition Disclaimer
Frequently Asked Questions
Can you flavor popcorn before popping?
Yes, though it's not the most recommended. Since fat is already flavored, using oil to cook popcorn can already be considered a seasoning. However, for actual seasoning, the best time to season the popcorn is when it's already popped. The surface of the popcorn is already exposed therefore, it is easier to season with the flavorings.
What oil is best for cooking popcorns?
On the healthy side, using extra virgin olive oil and other vegetable oils is best for cooking popcorn. However, if you consider the heat to use in cooking popcorn, you will need an oil that has a high smoke point. Grapeseed oil has a high smoke point good for high heat applications such as popping popcorns. It has a neutral taste too which will not mess with the flavoring you will put in the popcorn later.
Is microwave popcorn a healthy snack?
Microwave popcorn is linked to many health problems and serious lung diseases. This is mainly caused by chemicals and additives put in the microwave popcorn to season and preserve its flavor. However, popcorn alone is not bad for you. It is a high fiber, low-calorie food that you can snack on. And because it is highly satiety food, it is even said to promote weight loss. The way to make popcorns healthy is by preparing the flavors yourself, reducing the amount of salt added and making sure that you're using less additives as much as possible. That's why always recommend making your own flavorings at home just like this recipe.
How to store leftover popcorn?
To store leftover popcorn, put it in a seal-tight container, and store in the freezer. Putting it in the freezer will help keep its quality. Don't worry, popcorn doesn't freeze and you can instantly eat it the moment you take it out of the fridge!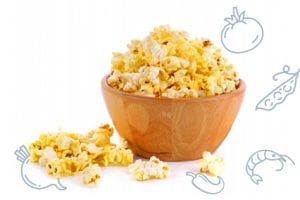 Conclusion
This homemade caramel popcorn is such a nice twist to your usual butter of cheese flavored popcorn snack. Either you're planning a weekend movie night or pajama party with friends or you just plan to have them all for yourself, you'll never go wrong with a healthy popcorn recipe. Try it and let us know what you think in the comments!