Perk up your day with this herb-filled egg salad recipe that's effortless to make. This egg salad is perfect for picnics, holidays, lunches and snack times. It's a timeless protein-rich salad that you can easily whip at home.
Eggs are very nutritious, being good for the brain, liver and eyes. It also contains no carbs and sugar. In this egg salad recipe we're cooking boiled eggs with tenderly cooked whites and creamy yolks. We'll be mixing our diced eggs with creamy ranch dressing spiced with a lot of fresh herbs. We're turning the classic egg salad into an aromatic and even more flavorful one in this egg salad recipe.
This dish will be an instant favorite and you won't go out of recipe ideas that you can do with it! You can fill it in a tasty and healthy chicken salad sandwich or grilled chicken salad wrap. But you're wary of carbs, you can definitely enjoy this egg salad on its own as well, as it's a healthy dish that's incredibly satisfying and simple to make.
How to Make Creamy Egg Salad with Fresh Herbs
A quick and easy egg salad recipe that serves perfectly boiled eggs mixed with a rich and creamy ranch dressing, fresh herbs, and lettuce for the perfect salad mix. This herb-infused egg salad is perfect for your next filling and healthy meal.
Ingredients
½

red onion

½

cup

basil leaves

chopped lengthwise

½

cup

parsley

finely chopped

8

eggs

boiled, peeled and chopped

¼

cup

chives

finely chopped

2

tbsp

mayonnaise

2

tbsp

wholegrain mustard

1½

tbsp

lemon juice

1

cup

lettuce

any salad greens of choice (spinach, flat-leaf parsley)

cayenne pepper

for taste

salt

for taste

ground black pepper

for taste
Instructions
To get perfectly boiled eggs with a creamy yolk, submerge the eggs in a single layer in a saucepan, filling the water level up to an inch above the eggs. Boil on high heat for 1 to 2 minutes.

When the water boils, remove the heat, and leave the saucepan covered for 12 minutes. Prepare an ice bath for your eggs.

Slice the onions and soak them in another bowl filled with iced water for 15 minutes. This key step will remove the sharp aftertaste that you get from the onions.

After 12 minutes, transfer the eggs to the ice water to peel the eggshells easily.

Chop the boiled eggs, basil leaves, chives, and spring onions, then place them in one mixing bowl.

In the same bowl, add in the mayonnaise, wholegrain mustard, and apple cider vinegar. You can choose to put sour cream instead of mayonnaise. Mix the ingredients together.

Tear the lettuce into bite-sized pieces and place them in a medium-sized salad bowl.

Garnish it with cayenne pepper, salt, and ground black pepper to taste, and you're ready to dig in!
Recipe Notes
Add this egg salad into your keto diet by adding in avocado cubes and serving it with a strip of cooked bacon. If you're feeling extra, add some tuna to amp up your protein. And if you want more greens in your salad, you can put in sage, chives, and scallions in the mix.
If you chose to use sour cream instead of mayonnaise you would notice that your salad will turn runny. If that happens, you can chill it in the fridge for a couple of minutes before serving to get rid of its runny texture.
Nutrition Facts
Calories:
191
kcal
|
Carbohydrates:
4
g
|
Protein:
12
g
|
Fat:
14
g
|
Saturated Fat:
4
g
|
Cholesterol:
330
mg
|
Sodium:
842
mg
|
Potassium:
228
mg
|
Fiber:
1
g
|
Sugar:
2
g
|
Vitamin A:
1464
IU
|
Vitamin C:
16
mg
|
Calcium:
76
mg
|
Iron:
2
mg
Commonly Asked Questions
How long do egg salads last?
If you want to keep your egg salad and serve it later, store it in the fridge within 2 hours of preparing. Store it in an airtight container then refrigerate. It can last for about 5 days. The same applies for pretty much any salad with mayonnaise on it. Careful in leaving your egg salad on the counter since it can go bad in just 2 hours at room temperature. Once you notice an off odor, flavor or appearance from your salad, discard it right away.
What can I use as a substitute to mayonnaise?
If you want a healthier alternative for mayo you can replace it with ricotta or Greek yogurt. You can also use cottage cheese or hummus or go for a keto egg salad by using mashed avocado. If you're after an easy-to-find ingredient that can replace mayo, use mustard which we also used in this recipe. You can also go dairy and mayo-free by experimenting with salad dressings and oils to create the perfect vinaigrette.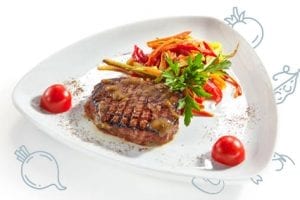 Conclusion
Enjoy a creamy and protein-filled egg salad that will surely fill you up! In this egg salad recipe we're adding in fresh herbs that go well with our perfectly cooked boiled eggs and silky ranch dressing. We're keeping our ingredients plain and simple then amping up our spices for an amazing flavor. This is the perfect addition to your list of go-to tasty and healthy dishes. Make the easiest egg salad recipe at home and go crazy on how you serve it!