Add a twist to your regular spread with this Golden Corral honey butter recipe! Recreating this 30-minute recipe would be such a breeze to make since it requires minimal ingredients that you can easily pull out of your fridge. This whipped honey butter recipe will instantly make your everyday breakfast better. You can spread it on a slice of gluten-free crockpot bread and toast it. In addition, you can also pair this with our coffee whirl for a more energizing breakfast. 
You might have seen in other honey butter recipes that they use either butter or margarine to make this famous Golden Corral spread, but we definitely suggest using real butter to give you the best results. This honey whipped butter is both sweet and tangy, with a hint of fruitiness and tartness from the raisins. Not only is this honey butter spread perfect for breakfast, it's also great for making appetizers or meal starters. Now go ahead and get your hand mixer and start whipping this Golden Corral honey spread!
How to Make Golden Corral Delicious Whipped Honey Butter Recipe (Copycat)
Time to say goodbye to your boring spreads with this creamy, sweet and tangy Golden Corral honey butter recipe. It only requires six ingredients, but the pay-off is definitely worth it.
Advertisement
Continue Reading Below
Ingredients
1

cup

honey,

creamed or whipped

2

sticks

butter,

softened

½

cup

mayonnaise

½

cup

sugar

1

cup

raisins

¼

cup

white vinegar
Instructions
First, combine the butter and honey in a medium-sized bowl and use a hand mixer to beat the mixture until it turns light and creamy.

Pour the mixture into storage containers and seal tightly. Place them in the refrigerator for 10 minutes.

After refrigerating the containers, let them stand for 1 hour at room temperature.

Lastly, fold in the mayonnaise, sugar, raisins, and white vinegar to the mixture and serve. Enjoy!
Advertisement
Continue Reading Below
Advertisement
Continue Reading Below
Commonly Asked Questions
How do you use honey butter?
Honey butter is more versatile than you think. First, you can spread it over your toasted bread or put it on top of your pancakes as a substitute for your regular syrup. Do you have a bowl of plain vanilla ice cream? Mix in some honey butter to elevate its flavor! Moreover, you might be surprised that honey butter can also be used for savory dishes. Remove the mayonnaise and turn it into a glaze. Try it with this classic fried chicken recipe and you'll know what we're saying.

How is honey butter different from regular butter?
Honey butter is perfect as a spread because it's whipped, making it lighter and easier to spread. It has less volume compared to regular butter so you can't use them interchangeably. In other words, one tablespoon of regular butter is not the same as one tablespoon of whipped butter. Hence, we suggest that you use regular stick butter when baking pastries.

Does honey butter need to be refrigerated?
If you want your homemade spread to last longer, we suggest storing it inside the fridge. This can make it last for a month or even longer. You can also just keep it at room temperature on your counter, but it would only be good for a week.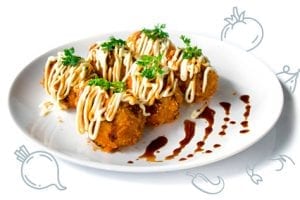 Conclusion
This recipe screams sweet and tangy buttery goodness! A perfect addition to your boring baked goods. Try this copycat Golden Corral honey butter recipe now and make every bread, bagel, and biscuit taste special.
Advertisement
Continue Reading Below
Topics:
Advertisement
Continue Reading Below
Advertisement
Continue Reading Below