This famous snack traveled across the Caribbean as several countries have made their own versions of this tasty dish. The Cubans love their empanadas with ground beef stuffing. While North and South American countries and the Philippines relish their chicken empanadas with spices and vegetables. Now, we're head over heels in recreating this stuffed pastry with rich and delicious flavors.
Our chicken empanadas will give you all the reasons to love stuffed food recipes even more. Not only this empanada recipe is delicious, but it's also easy to cook. 
Also, it's not just meat and veggies that you could stuff into your empanadas, you can also stuff your dough with your favorite fruits and berries for a sweet treat like what we did in our Sweet Strawberry Empanadas Recipe.
Serve this satisfying dish any time of the day! You can even customize the size of your empanadas to your liking.
What Are Chicken Empanadas?
Empanadas offer us a tasty combination of chicken, and veggies pocketed and baked in a sweet flaky crust. This chicken empanada recipe uses fresh lean chicken meat, cream cheese, and spices. This will give you a sweet and creamy yet tangy and meaty flavor.
These baked chicken empanadas are made by stuffing a generous amount of mixed filling in the middle of the round dough. To achieve its semi-circle and crown-like edges, the dough has to be cut in rounds and folded in half. When the filling is fully blanketed, you have to seal the empanada by pinching its edges until flat and close.
Feel free to experiment on the ingredients with your choice of filling when it comes to your choice of meat, veggies, seasoning, and spices. If you're looking for something hot, our Poblano Chile and Cheese Empanada Recipe is here to satisfy your cravings. This empanada recipe used poblano pepper and Manchego cheese for a cheesy and spicy combo.
You can cook these cute yet bulky empanadas through baking in the oven, just like how we did it in this recipe. But you also have the option of deep-frying them just like how we did it in our Empanada With Greek Yogurt Dipping Sauce. If you want to learn how to air-fry empanadas then check out our CAQs section down below.
Tips In Making Chicken Empanadas
The great thing about cooking at home is that you get to adjust your own preference of texture, taste, flavoring, from cooking to serving, just like making a crust from scratch. Here are some of the tips that you can do in making homemade empanadas to get that sweet and flaky pastry that goes best with our savory chicken stuffing:
Put an ample amount of egg white at the edges of the dough

to glue your empanada covering. 

Make sure to close the empanadas properly

to prevent the stuffing from spilling during the baking process. Use a fork to close the empanadas by pressing the dough together making a flat surface. 

You can also punch  3 to 5 small holes in your empanadas

using a toothpick or fork to let the steam out and prevent them from bursting open while baking.

Don't forget to brush your empanadas with egg wash or butter

before putting them in the oven. This will give you a buttery taste and a nice golden brown color too.
Aside from our easy chicken empanadas, you can substitute other ingredients to come up with something new. If you got some Turkey leftovers from last night's Thanksgiving, you can use it as stuffing and make Leftover Turkey Pot Pie Empanadas. Or you can make healthy and vegetarian-friendly Plant-Based Empanadas.
You can do so much to your empanada filling, from picking the meat of your choice, the veggies you can add, or even the saltiness and spiciness level it has. We can't wait for your kitchen to be filled with the tempting aroma brought by these freshly baked empanadas. So let's get right into it.
Frequently Asked Questions
Can I make chicken empanada filling ahead of time?
Yes, you can. After making the filling, store it in the fridge for up to 4 days until you're ready to cook them. If you want to store them for a bit longer, you can place them in an airtight container and keep them in the freezer for up to 3 months. When you're ready to serve them, proceed to place the empanada filling on the dough, sealing, and baking them according to the recipe instructions.
How to air-fry empanadas?
You can make your empanada filling just like how we did it in this recipe, but to air-fry them, first prepare your air-fryer at 325 degrees F. Put some non-stick spray on your basket and place your stuffed empanadas in a single layer. Cook them for 8 minutes and enjoy.
Can I freeze chicken empanadas?
Definitely. Make sure that your empanadas have completely cooled down before freezing. Place them inside a freezer bag in a single layer and remove as much air as you can then seal. They will last for up to 6 months. Remember to brush your empanadas with egg wash before frying or baking them. To reheat, bake them on a lined baking sheet in a preheated oven at 400 degrees F for 20 minutes.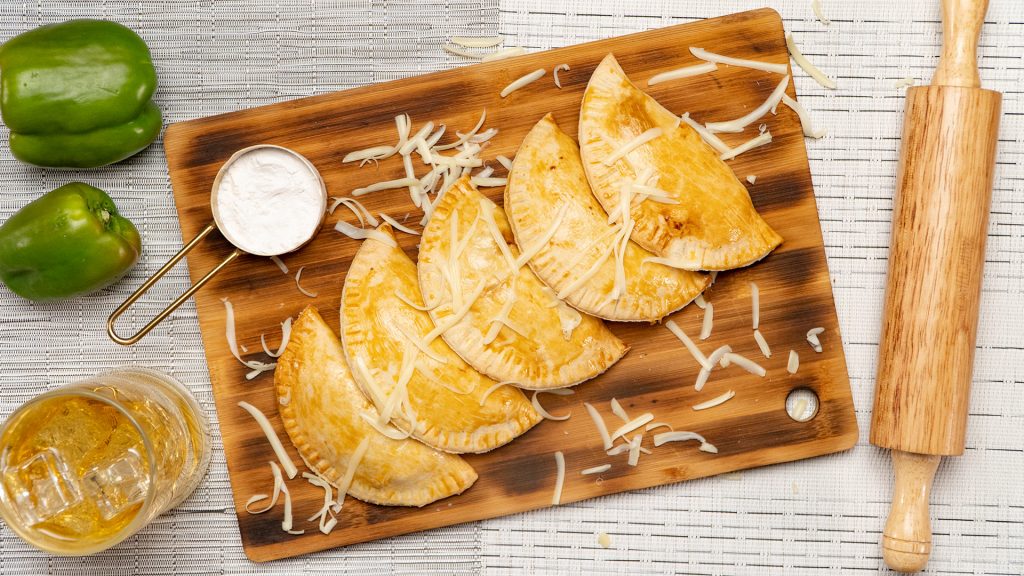 Flaky Chicken Stuffed Empanadas Recipe
How To Make Flaky Chicken Stuffed Empanadas
Relish the delicious taste and aroma of freshly baked chicken empanadas. Serve this meaty and cheesy snack any time of the day.
Ingredients
15

oz

pie dough,

prepared and chilled

3

cups

chicken,

pre-cooked, chopped (white or dark meat)

1

cup

Monterey Jack cheese

4

oz

cream cheese,

softened

2

oz

bell pepper,

of your choice, diced

1

tbsp

cumin

1

tsp

chili flakes,

or diced jalapeños

salt and pepper,

to taste

all purpose flour ,

for dusting
Instructions
Preheat the oven to 400 degrees F then line a baking sheet with parchment paper.

In a bowl, combine the chicken, cheeses, bell peppers, cumin, and chili flakes.

Season with salt and pepper, then mix to combine. Adjust taste accordingly.

Roll out the pie crusts until 2-mm thick and cut out rounds with a 12-cm cookie cutter.

Spoon roughly 2 tablespoons of filling into the center of each round.

Fold the dough over and pinch the edges to seal or use a fork.

Place onto your lined baking sheet and bake for 15 minutes until golden. Serve and enjoy!
Nutrition
Sugar:

1g

:

Calcium:

140mg

Calories:

394kcal

Carbohydrates:

27g

Cholesterol:

43mg

Fat:

26g

Fiber:

2g

Iron:

2mg

Monounsaturated Fat:

10g

Polyunsaturated Fat:

3g

Potassium:

154mg

Protein:

12g

Saturated Fat:

11g

Sodium:

358mg

Trans Fat:

1g

Vitamin A:

634IU

Vitamin C:

9mg
Nutrition Disclaimer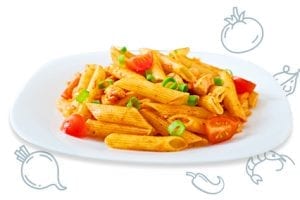 Conclusion
There's no doubt why this delicacy is so popular worldwide. Not only is it savory and sweet, but it's also easy to customize and cook. You can pair this with your lunch or dinner, or even eat them as is. Serve this flaky chicken stuffed empanadas immediately, break it in half and savor the aroma of our freshly baked meaty and cheesy dish.